Cricut Word Collage Vinyl Sewing Quilting Canvas Bag
Ok, now that I'm sure we're alone and my MIL isn't listening to my crafting surprise I can tell you that I'm taking a boring creme colored canvas bag that I bought at Hobby Lobby and turning it into a fun vinyl decorated bag for her sewing needs!  She's a very talented quilter and terrific at sewing.  Sometimes she goes to sewing circles (like our crops) or sewing shows and I KNOW she needs another bag to tote around her sewing things.  (Especially shopping at a sewing show.  Am I right?  Totally.) 😉
I used the Cricut Expression 2 along with my Gypsy, the Cricut Word Collage Cartridge and vinyl to make the bag. 1st I flipped the image so I could cut on the reverse side of the vinyl, that way it will be facing the right way when I'm ready to iron it on. I also used the Gypsy to help me resize the image to fit the bag.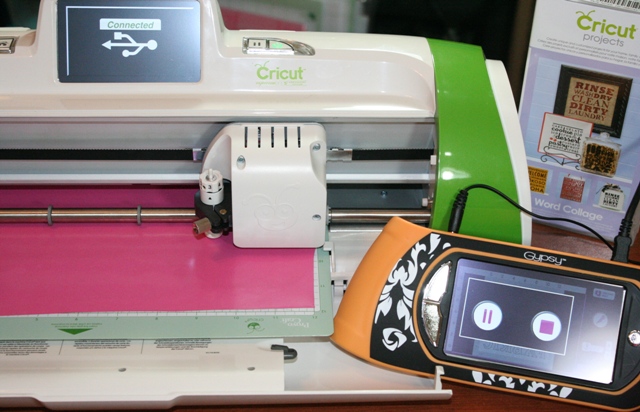 Here you can see the Gypsy & CE2 working together.  The Gypsy runs the CE2 when it's plugged into it AND the CE2 also displays that "Connected" sign on its screen.  I'm iron on vinyl.
I have a daybed in my craft room.  That's a quilt my Dad had made for a wedding gift for me & DH.
I bought a tiny ironing board AND a craft room dedicated $6 iron just for working with vinyl.  This way I could stop stealing the iron from our laundry room (which I almost never remembered to return).  In this photo I'm about to iron the vinyl down.  Then I'll tear away the clear backing from the top of the vinyl.  Can you see it?  It's there.  It's just transparent.
The bag is a little wrinkled, but the vinyl is perfectly flat! 😉
I think she'll really enjoy this bag. I do think it's cuter in person than in the above photo. LOL!
Happy Crafting!