Paper Doll Teacher Card & Fixing a Stamping Mistake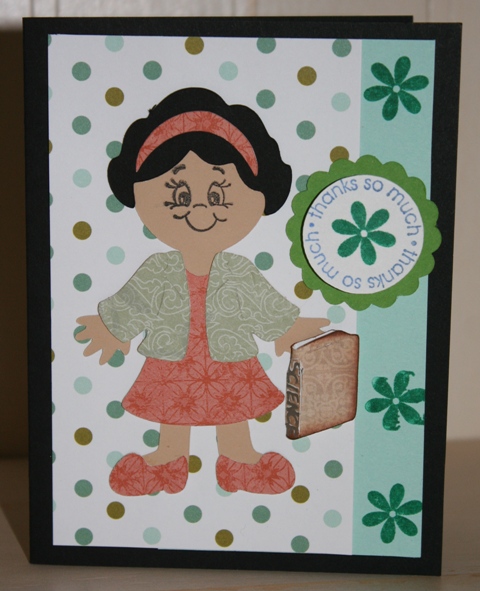 Cute little teacher doll…and a mistake stamping! 😐
Yes, it is still Teacher Appreciation week.  I'm thinking of starting a new National program, or maybe even an International one called Mother Appreciation Week.  What do you think?  I mean, why do we just get a day?  Maybe because we don't have a whole classroom of kids! 😉  I heart teachers and it's true that I am just coming off my "birthday month", but I'm still pretty sure this Mother's Week plan is a good idea. 😀
Love the little book!  Plus…here's a close up of my mistake!

What I Used:

I used the Everyday Paper Dolls cartridge for this card.  If you look on page 67 you'll find this little "Career" (that's what they call her) woman.  Under Accessories 1 (+ Shift) , you'll find the book.  The polka dot paper & the blue paper that matches it is from Paper Trey Ink.com and the rest of the paper is just from my scrap stash.  The scalloped circle is from my stash using Mini Monograms.  Here's more info on that. The stamps on the circle are from the Stampin' Up "Think Happy Thoughts" stamp set.  The ink pad is Glorious Green from Stampin' Up.  (I LOVE their ink!!)  I used Peachy Keen stamps to make the face.  I used one of my new birthday presents to write "Science" on the side of the book.  The pens are Souffle 3-d Opaque Ink pens
. First I wrote in white, then wrote over it again in black.  I used a ColorBox Fluid Chalk Inkpad in Chestnut Roan to ink the edges of the book.  Then I stuck a few pop dots inside it so it would look like it had pages.  I made this card before 8am…and at the last minute, so I didn't have time to make actual pages, though that would be soooo cute!
In my hurry to finish this card in time for DS#2 to get to school with it, I made a mistake.  I began stamping the flower but moved the stamp before finishing and made a mess.  Oh no!! 🙁  Don't worry though, I was able to fix it…and so could you.  Check this out!
I used this little circle punch by Marvy to cut a circle out of the same paper I'd made the mistake on.  Then, I just restamped that with the flower again.  It's not what I'd wanted initially, but it was a decent fix.  Try not to get so caught up on things being just right.  Sometimes, it just has to get done, you know what I mean? 😉