Graduation Cap Card on Wild Card Cricut Cartridge & Some Other Graduation Cart Images Listed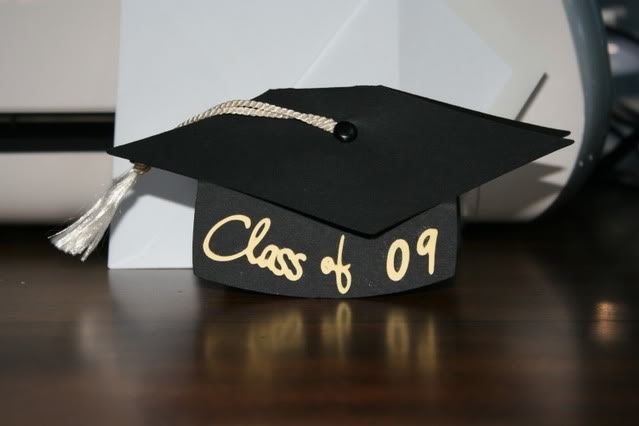 I know it's 2010, I promise!
This morning one of my Facebook Friends, Wilma, asked me if there was a cartridge that has graduation themes. (I list some at the bottom of this post.) I remembered this graduation cap that I made about a year ago. You know what's crazy? I thought I'd posted it already. I spent a bunch of time this morning looking for the post to share with her, but I didn't find it. If you find it on my site, just let me know I've double posted. If not…then I'm just going crazy. (Most likely, LOL.)
Excuse the blobbled out area. I apparently had a fear of showing my signature, LOL.
I can't remember specific sizes about this card since I made it so long ago and it was sent off to DH's cousin's son, Cody…who is such a doll.  Anyway, my very favorite part of this card is that I had a moment of genius (or craftiness, depending on what compliment I feel the need to give myself, LOL) and I decided to use a bookmark tassel as the tassel for the grad cap! Really, I think I was just patting myself on the back because I'd bought this little set of "decorate your own bookmarks and add tassels" and never used them.  At least the tassel has made itself useful. 😉
Let's get down to brass tacks:
This card was created using the Cricut Wild Card cartridge.  Page 73 has the grad hat and "class of" phrase.  Page 59 has the "Congratulations" sentiment.  I actually cut that Congrats sentiment in a few places so I could lay it out as one long word.  The cut actually has "Congratu-" then under that part has "lations".  I needed it to be all one word, so I just clipped it with a pair of scissors in a few places.  Duh! I see I didn't cut the little dash off of the "u". How weird. Oh well. I used a black brad to attach the tassel too!
I hope this gives you a few ideas for upcoming Graduations!
More cartridges that have graduation things:
Locker Talk – has the word "Graduation" in a banner image, grad cap, graduate certificate image
A Child's Year – Graduation cap, diploma rolled, diploma rolled tag
Wild Card – things I showed above, diploma rolled, tassel, "For the Graduate" sentiment. Also has a Ribbon (pg 69) which might be helpful.
Everyday Paper Dolls – Graduation Gown, Diploma, you can make a little graduate!
I'm sure there are tons of other images that could be listed here, but hopefully that will get you started!