Tim Holtz Sewing Room Sizzix Die Altered Sketch Book

Don't miss the bottom of this post to see the finished product!

I love the way this turned out! I created a REMOVABLE cover for a plain sketch book for my nieces 18th b'day. She is an artist who also likes to sew. She got a dress form for her birthday, so I was happy to be able to make the book fit her needs and reflect her interests. She loved it! (Read on to find out about the cool new tape I used to make the cover removable. I'm in love with it!)
Grungeboard
I used the (new to me) Sizzix Bigz Sewing Room Die By Tim Holtz to create the dress form, buttons and thread spool. I ran it through my Big Shot using Grungeboard (plain). I've had grungeboard for a while, but had never used it. I'm in love with that too now! It's so awesome. You can do just about anything to it without destroying it. I thought that would be perfect for making these items so they could be reused if Super Niece decides to do that. Guess what other cool thing I used? Fabric paper! That's what I cut the dress form out of. Very cool. Since that part is fabric, I later used Fabri-Tac to glue it to the grungeboard. It worked like a charm!
I inked the grungeboard spool and buttons using ColorBox Fluid Chalk Ink Pad Cat's Eye Chestnut Roan and Yellow Ochre inks.

Oh, how I LOVE the Tim Holtz Woodgrain embossing folder! Here are other places I've used it.
I used that Copic marker to color the dress form. Next, I ran the inked buttons, spool and the colored dress form through my Big Shot. It's easier to color and ink things before embossing them. If you emboss them first you have a lot of bumpy areas to color.
Want to know how to use Sizzix Dies in your Cuttlebug?
Click HERE. In your Big Shot? Click HERE.

It once was a plain sketch book. 😉
The Scotch Restickable Mini Tabs ARE AMAZING!! If they get dirty you can wash them off, let them dry and use them again. I used them to make the cover for this book removable. You do that by putting a piece of Scotch Tape down on one or both (as preferred) sides of your item. Then you peel the backings off of Scotch restickable tabs and stick them to the piece of tape. Close your item. Now you can open AND close it as often as you'd like. LOVE IT!
I used this Cuttlebug 5×7 Embossing Plus Folder – Monogram Seals to create the metal looking #18. I first saw it when I went to a Cricut Circle Crop HERE. You know who was there and showed it to me? Teresa Collins! She was really nice. 🙂
This works by running it through your B plates in your Cuttlebug. You can also use a Big Shot. I love how you can get the look of metal by using metallic foil paper. Don't you? I used American Crafts Foil Paper.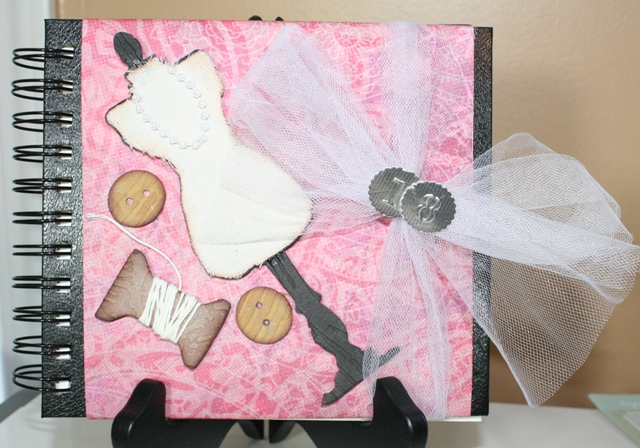 At last! We have a cover!
What do you think? I think it's SEW pretty! All of the Sizzix die embellishments are applied to that pretty pink cardstock. I love the effects some ink and embossing made to the grungeboard. Guess who just ordered a bunch more of it? Yep. That was me. LOL!
GO GET YOUR CRAFT ON!