Cricut Doodlecharms Back to School Bus Card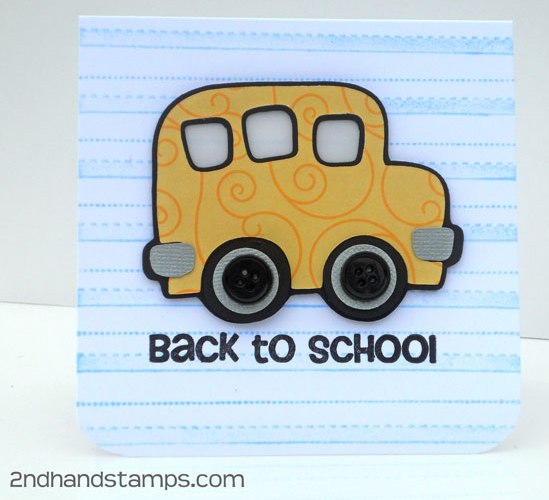 How cute is that card that Abbey made?  I love it!  She used Joy's Life Holiday Occasions stamps for the sentiment.  The cutie pie bus is from the Cricut Doodlecharm Cartridge.
Back to School Joke:
Why is it dangerous to do math in the jungle? Because when you add four and four you get ate (eight).
Joy's Life's Life:
Where does the time go?!  My kiddos started back to school this past Monday.  Unreal.  It seems like summer break just started a few minutes ago.  We had some super fun over the last few weeks which I'm surely grateful for.  We went to Disney World (Magic Kingdom), Sea World, Universal Island of Adventures and Universal Studios.  Whew!  We also saw the Blue Man Group perform and were on the 4th row, which was cool.  I'm going to scrapbook those fun days (eventually/maybe soon).  I rode every roller coaster I could get myself to!  That includes the Manta and the Kraken at Sea World and the Hulk and Harry Potter's Dragon Challenge at Universal Islands of Adventure.  That was so much fun!!  The Hulk is my favorite.  I rode the Manta 2x and the Kraken 3x.  I rode all the coasters and water rides in the Magic Kingdom, but after those other coasters they really aren't as intense.  It's so funny that I did all that because I used to be scared of heights!  I'm trying to "do the thing I fear" which is a little mantra of mine.  I don't want to miss out on doing things because of a lame fear of heights.  Remember when I panicked at the Skylon Tower in Canada?  Embarrassing.  Or more recently when I flew for the first time in a while and almost tore a hardback of Harry Potter in half?  Good grief.  I'm working on it!  LOL!
Now that the kiddos are back in school, look for more things to be going on here. I took a LOT of time off during the summer, but it's time to kick Joy's Life back to … well…LIFE! 😉
See You Tomorrow!!