Happy Thanksgiving Removable Post It Sign – Cricut Decor
Happy Thanksgiving…in a few weeks.
It's November!  Time to switch out the Halloween decor on my red Cricut Expression to something non-spider, non-spooky. 😉  This time I decided to use the Post It Craft Paper that Post It/3M sent me.  I really love this stuff.  Remember that Happy Haunting sign I made with it?  I moved that thing from the bag I last had it on to my front door.  I put it in the center of my Fall wreath for Halloween and it looked great.  You know what?  It's still sticky enough to put somewhere.  Too bad Halloween is over. 🙁  Oh well…On to pumpkin pie Thanksgiving.
BEFORE I went all Thanksgiving on it.
It took me a while to get the vinyl off my Cricut. IDK why this vinyl was so stuck on. I had to use Goo Gone to help me get it all off. Normally, it's not that difficult to remove indoor/Cricut vinyl.
HERE'S WHAT I USED: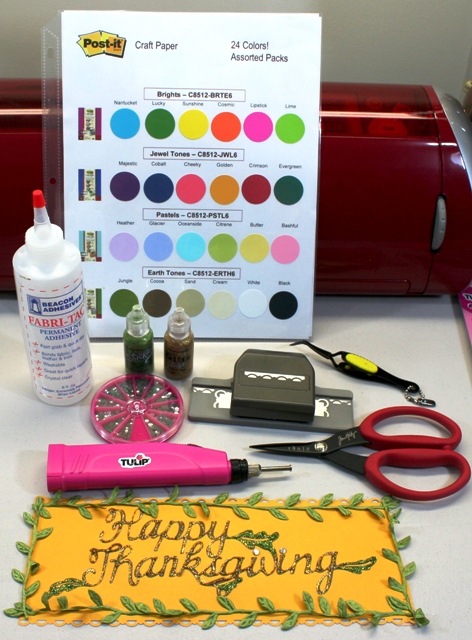 I used Beacon Adhesive's Fabri-Tac to attach that pretty ribbon to the sides of the craft Post It paper. That Post It paper was pretty impressive. I was able to cut it on the Cricut, use that Stampin Up paper punch on it, glue ribbon on it with Fabri-Tac, use Tulip's Glam-It-Up cordless crystal & stud heat setting tool to set some Tulip crystals and it held the other craft Post-it paper Stickled Happy Thanksgiving as well. That really does impress me. I don't remember where I got that ribbon. I bought it last year.
Here's the Cricut cutting the Post-It Craft paper.
Here's how the "Happy Thanksgiving" cut looked before I added Stickles. This cut is from the Thanksgiving Seasonal Cricut cartridge. I like punches. This paper punched out easily. YAY!
Here's the sign AFTER STICKLES and during it's crystal blinging from the Tulip Glam-It-Up tool. You can find these Tulip tools in Michael's. I think I've found them in the T-shirt aisle with all the Tulip paint. 😉
SIMPLE application!! Just peel the backing off of the Post-It craft paper and stick it on whatever you want to stick it on…in this case my Cricut Expression!
All made over and ready for the upcoming holiday. What's nice is that I can peel this off and stick it somewhere else if I want to. So fun!
Well, I'm off to work on some more crafty posts. I hope you have a GREAT DAY!!
5 winners who've left comments on non-give away posts will be chosen at the end of NOVEMBER for some crafty prizes. Of course you can still leave comments on Give Away posts too!