Living Dead Gate Fold Zombie Card – Cricut A Frightful Affair
Woo hoo!  This is my first "gate fold" card.  Am I the last person to ever make one?  They are so easy!  If you haven't tried one, here's how to make a Gate Fold card: Find the center of a 6×12 piece of paper.  Fold each side in toward that center point and crease with bone folder for a crisp edge.  EASY!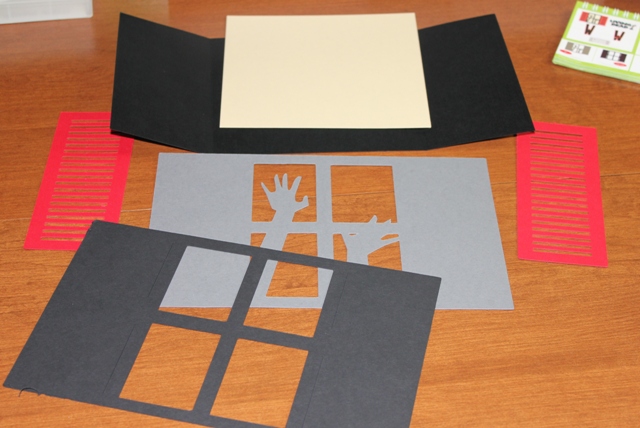 I'm using images from the Cricut A Frightful Affair Cartridge
 on pg. 45.  I cut the shutters to fit my 6″ L x 3″ W sides.  That part was easy but the images for the inside of the card had to be trimmed.  If you're using a Gypsy you could manipulate the image to fit but I was letting my Gypsy take a nap, sooo…it was trimmer time.
I used the Tim Holtz Woodgrain embossing folder
 on the shutters and the window frame.  I LOVE this folder.  Here are a few projects I've done sporting the woodgrain folder.
Curious about embossing machines?
I've got a video comparing two of them: Big Shot vs. Cuttlebug Video.
This Preserves embossing folder is great for the background.  YAY…I finally used it for something!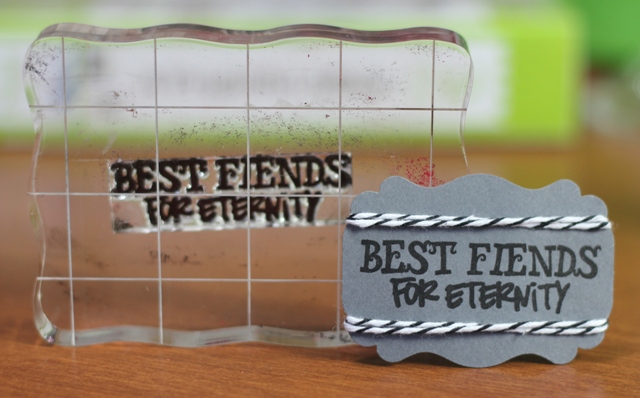 I used one of my all time favorite punches the EK Success Real Estate Sign and then stamped on this sentiment from my Halloween Puns stamp set.  I think it fits perfectly!  I'm making this card for one of my dearest "fiends" … my brother.  He and I both love scary movies, so this is a great card for me to give him, especially at Halloween!
I had a blast making this card.  I know my brother is going to LOVE it!  Next, I'll write a message on the right and left sides of the card saying something funny.  He always writes me the funniest cards so I hope to give as good as I get.  I didn't emboss the sides so I could write my message.  The only thing I wish I'd done differently with this card is to create a back for the stamped tag.  Well, we'll pretend we don't notice the twine tied back there.  Did you see anything?  Nah.  Me neither.
Don't get eaten by any zombies today…or tomorrow…