Pasture Birthday Cow Twisted Fold Greeting Card
I had such a good time making my first gate fold card that I wanted to try another kind of fold I've never made.  I came across a whole new kind of card!  Well, new to me anyway.  It's called a twisted greeting card. I learned how to make it from this video.  It's such a great idea!
 I love it when complicated looking things are fairly simple.  I will admit that getting the individual pieces down was time consuming for me but hey, it helped me put off cleaning my craft room so I call this…time well spent.  LOL! I'm using the Martha Stewart Fence punch.
Why yes, I am using that Tim Holtz woodgrain embossing folder
 again right after my last post.  It's the thing I turn to for any woodgrain look.  This time I inked my embossing folders and then ran the barn through.  Have you ever tried that?  You can get some cool looks doing that.
How to Ink Embossing Folders:
Here's a Video I Made About How to Ink Embossing Folders
The whole reason I'm making a card today is because I forgot to send a birthday one to my husband's aunt, whom we are close too.  OOPS!  I'm horrible but I'm trying to make up for it.  I'm using sentiments from Barnyard Puns.  My youngest son came up with the "Oh Barn!" sentiment.  He also came up with "Oh Ship!" which is on Pun in the Sun.  Both of them make me laugh and I love having a chance to use this one.
I used the Cricut Create a Critter cartridge to make the barn and the cow (you'll see him next).  I have Create a Critter 2 but I keep coming back to this one!  Remember, if you like the artist, Nancy Kubo, who created CAC you can also find her work at Lettering Delights.  There you can use a non-Cricut machine to create with her images.
How perfect do I like to be with glue?  Um…not very.  I'm using Beacon Zip Dry Paper Glue
 which can be rubbed off after it dries.  Thumbs up to that!
Wow, I just realized that I used the EK Real Estate Sign punch in the last post too.  LOL!  Hey, I love what I love!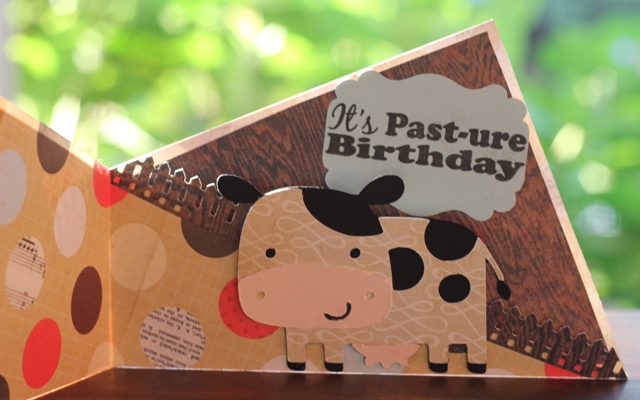 I'm going to add some photos of our family to the little pocket behind the cow.  That's always a nice thing to add when sending a card to relatives who are far away.
I hope you're Mooing well today!