Vinyl Bat Swarm Travertine Tile Drink Coaster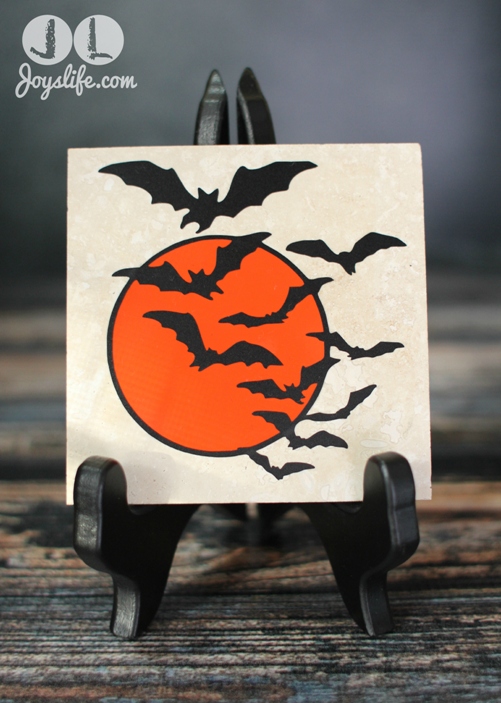 I told you I'd show you how I used the Free Printable I offered yesterday and here it is!  I used it to make a decorative tile that I'm using as a drink coaster.  Here's how to make it:
I imported the file into the Silhouette software and cut it out in vinyl.  Here's how to import and cut a file like this using the Silhouette Studio software.
Need vinyl?  I like to buy mine from Expressions Vinyl.
Supplies
I'm using orange outdoor and black indoor vinyl scraps, travertine tiles from Lowes and sticking 3/4″ felt pads to the bottom of the tile.  Use a measuring tape to be sure of the dimensions for your vinyl.
One thing I like about this project is that it's small enough to be able to use scraps.  I keep mine in a 12×12 plastic container so I can keep up with them.  I'm cutting the vinyl out using the Speed at 8, Thickness 9 and blade 2.  They're the suggested settings in the software and work well for both of these kinds of vinyl.
Here I am using my favorite vinyl weeding tool, a Fiskars Heavy Duty craft knife.  When cutting the vinyl out at this size, I lost one of the tiny vinyl bats.  It was the one at the very bottom.  If I'd made a larger project, I'm sure it would have come out with no problem.
Transfer tape helps you easily move your vinyl from its backing to your project.
Layer your vinyl pieces and apply then to the tile.  Easy!
Now my mug has a spooky place to to sit!  Like that mug?  I have a Keruig in my craft room and I got it in hopes that it stood out enough that everyone might deliver it back to the craft room if they saw it in the kitchen cabinet. 😉   With my daughter away at college, I thought the guys might get the hint.  Do they?  Not usually.  LOL!  I got my "Hers mug" from Amazon.  Currently, I'm drinking Mandarin Orange tea in it.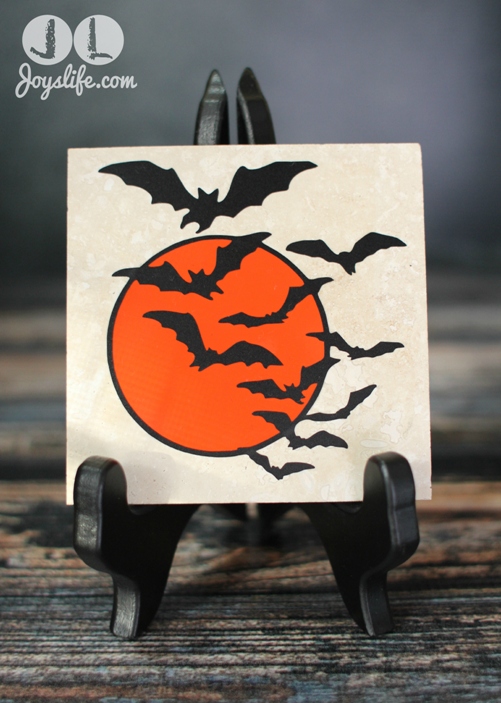 Have a crafty day!