The Cricut Imagine – Machine Cuts, Writes AND Draws
READ ABOUT THE CRICUT IMAGINE HERE!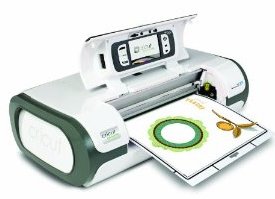 Oh yeah baby!! And for my next trick…I'll grow a money tree in my back yard! I am really excited about this new machine. It's the reason I haven't plunked down money for any other kind of machine. I need to try this one…you hear that DH? I NEED THIS MACHINE!! Truthfully, he already knows the wallet pain is coming. Someone told me about this machine and I've been hording nickels since then. (Except for that little shopping excursion on HSN…but that's different those were little purchases…we hardly even need to count those.)
Let me now do my weird little Cricut dance…be glad this isn't television.
P.S.  I haven't seen it in person yet, but I'm guessing that anyone who wants the abilities of this machine can also achieve them using the Cri-Kit gel pens and/or the Cricut markers.  So, don't panic.  It's cool, but that ability to draw and cut with your Cricut already exists.