Cricut Vinyl Beach Scene from the Formal Occasions Cartridge
How crazy is it that this beach scene came from the Formal Occasions Cricut cartridge?
Guess who's ready to bake in the hot sun? Me!! It's still cold outside, but this beach scene surely makes me look forward to the heat. I love the heat. I'm like a snake on a rock when it's hot outside. I'll go outside and sit in a chair and tell DH that I'm going out to bake. I'm not into tanning, but I do love to bake until toasty. LOL!
This whole scene is made out of vinyl! Vinyl is so much fun to work with. It is a crafting true love of mine.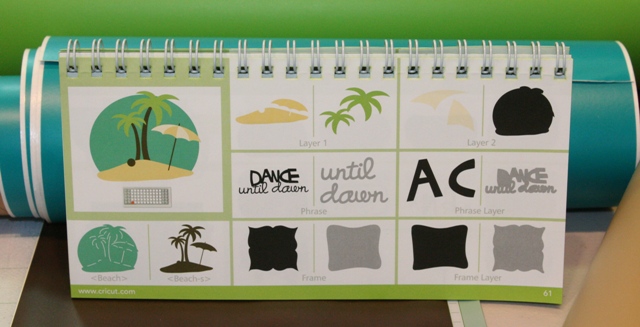 When I think Formal Occasions, I think beach scene! LOL! Not really. This cartridge amuses me. I've found a lot to love about it though!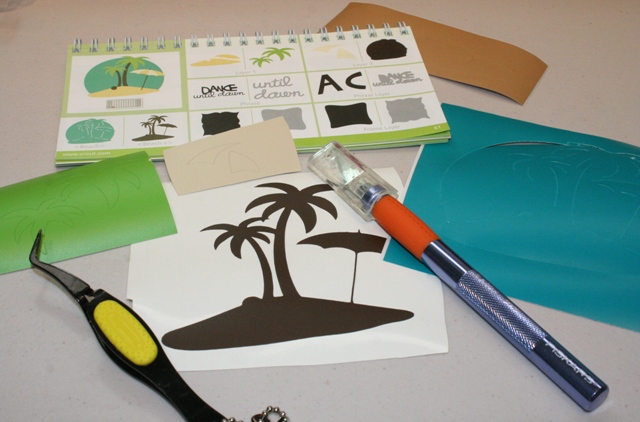 Here I'm weeding the vinyl.  Weeding is where you remove the vinyl you don't want to use from the vinyl you do want to use.  You can use many different tools to weed the vinyl.  When I worked in a vinyl sign shop we did everything with an Exacto knife.  I've started using it almost exclusively again.  I don't suggest it unless you're very comfortable using an Exacto knife, because they are extremely sharp.  However, you can also use scissors and the Cricut pick tool (which I use a lot in my Cricut Vinylology DVD) or tweezers.  You can find the pick tool in the Cricut Tool Kit and sometimes you can find it sold individually.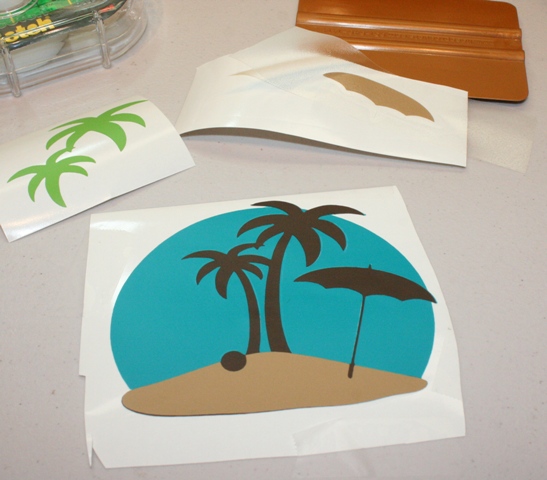 The backing kept trying to roll up while I was layering the different pieces, so I taped it to the table with Scotch tape.  In the background, you can see an umbrella piece covered with clear transfer tape.  I'm a big believer in using transfer tape.  It makes layering much easier than doing it without.  You can use clear Contact paper as a transfer medium, but I do not prefer it.  I also use a squeegee to adhere my vinyl.  You can use a credit or gift card if you don't have a squeegee.  (I use my drivers license to scrape ice off my windshield when I don't have my ice scraper, so I'm big into multipurpose cards.  LOL!)
TA DA!! I try to give my Cricut a new look every few months.  Vinyl is the perfect way to do that.  Next, I'll put something on the middle of my Cricut like I did HERE.  It's past time to remove that Christmas adorned little gnome, but I like him!!  I kind of hate to see him go.  Maybe I'll just pretend he's the Travelocity gnome and he'll soon be jetting off to that tropical paradise on the right.  That is if he can unstick himself.  LOL! 😉
Happy Crafting!