It's time to check out the Design Team's creations!
ROSY
The sentiment is from Joy's Life "Mother & Daughter" Stamp Set.  I also used:  Cricut Gypsy, StoryBook Cart, Kate's ABCs Cart, DCWV Spring Stack, DCWV Solid Color Cardstock, 1/2″ Punch, Brads- Small & Medium, Small Flower Brads, BIC Markers, Brown Ink Pad, Paper Trimmer, Small Hole Punch, Corner Rounder Punch
You can visit Rosy at her blog: http://sweetdelightspapernmore.blogspot.com 
JIN
Inspiration comes easy with Joy's latest set of stamps. Yummy Puns is definitely her best work yet! Today, I am using a stamp from that collection for my card. Using my favorite Make-the-Cut tool, I made a shaped card by creating several Shadow Layers.
The strawberries are from Lettering Delights' Sweet Nothings SVG set.  The "berry best wishes" sentiment is from Joy's Yummy Puns stamp set.  It was stamped on a layer that was created by using a decorative punch on both the top and bottom edge.  A piece of twine wrapped around the card and tied over a button completes the card.
You can visit Jin at her blog: https://www.underacherrytree.com
MELISSA
If you craft Spring maybe it will happen… there is still snow here…lol, if it were only that easy!
Today's project is from the Pooh and Friends cartridge, I used the Rabbit and he is cut at 5.22 and  also the fence and it's cut at 2.63. The Flower Shower Spring Stack from DCWV has this really nice paper with glittered flowers, I thought it would bring a little spring into my life!! For the clouds I used recollection brads and of course I needed my sentiment, POPPING by to say, "HI!" from Joy's Yummy Pun Stamp Set thought it would be perfect. Isn't he just adorable!
Visit Melissa at her blog: http://melissa-moecreations.blogspot.com
THERESA
This card is an A6 size, Background paper is from K & Company "Berry Sweet" Designer Papers, Watermelon cut at 3″ from Simply Charmed, Basic Card Stock in Green, Lime, Raspberry, Watermelon on an Action Wobble. The "Thanks a Melon" sentiment is from Joy's Life Yummy Puns stamp set.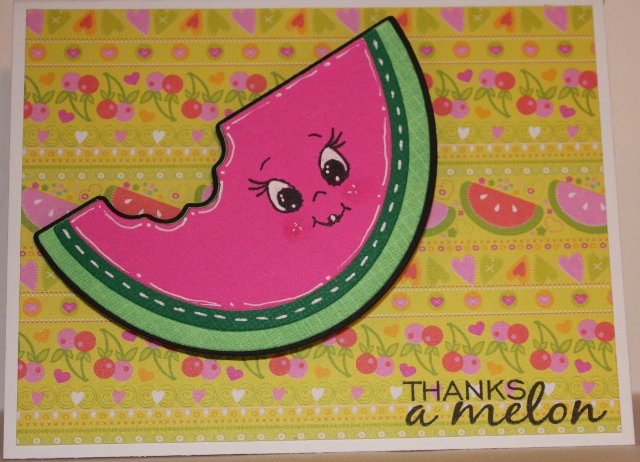 You can visit Theresa at her blog: http://www.thescrapbookingqueen.com
TAMMY
I am so ready for Spring and with Spring comes bunnies, I thought that this Bunny from the SVGcuts.com "Spring Bunnies" set was so cute with his Furry Friend, I used a free svgcuts.com scalloped rectangle file to create the card and used a Goodness & Fun Digi paper for the yellow dotted paper. The sentiment is from Joy's Life "Lots of Puns" stamp set and the banner it is stamped on is from the SVGcuts.com "Birthday Dinos" set. I doodled with both a navy pen and a yellow pen to finish my card and I really love the way it looks!
You can visit Tammy at her blog: http://tammyjennings.blogspot.com
KYLE
This spring inspired card is fun and simple to make! It is a regular A2 sized card. The paper is from DCWV Mod Retro Stack (it is so awesome!).  The "Thank You" stamp is from Joy's Mother & Daughter stamp set.  The flower was cut at 3.75 from the Smiley Cards Cartirdge (the face is from Peachy Keen Stamps). Add some twine and some extra details, and your project is finished! I hope I've inspired you to make something this week!
You can visit Kyle at his blog: http://thegreencricut.blogspot.com
AMANDA
For this weeks project I created some Bee-utiful bumble bee suckers. The sentiment on the wing of her bees is from Joy's Life "Lots of Pun Stamps" set. This set is available on Joy's product page. To create these fun suckers I covered some blow pops with yellow tissue paper. I used small rubber bands to secure the tissue paper at the bottom of the suckers, and then drew the stripes on using a black marker.
The wings are made up of two hearts and a square from Plantin Schoolbook welded together with the Gypsy. To put the suckers all together, I inked the edges on the wings, stamped on the sentiment, punched a hole in the center of the wings to put the sucker's stick through and attached the wing with glue dots.
You can visit Amanda at her blog: http://amandascraftsandmore.blogspot.com
RUTHIE
I used the Smiley and New Arrival carts for my card.  The "Congratulations" sentiment comes from Joy Life's Mother & Daughter stamps.
You can visit Ruthie at her blog: http://www.septemberninth.blogspot.com/
Thank you to all of the designers!