Silhouette Cameo 3D Valentine Candy Box

Today I used Lori Whitlock's great Candy Box 3D file and some bits of soft and pretty floral ribbon to create these romantic and useful boxes.  I cut the boxes out using my Silhouette Cameo.
I am so amazed that a half a sheet of 12×12 paper created one of these boxes. Doesn't that blow your mind? It's hard to believe that with half a sheet of paper and some adhesive you can have such a special container that is as much the gift as whatever it contains, but it's true!
Your paper cutter does all the work. Your job? Pretty easy. You're going to fold on the perforated lines, glue the long tab and the two small tabs. Simple!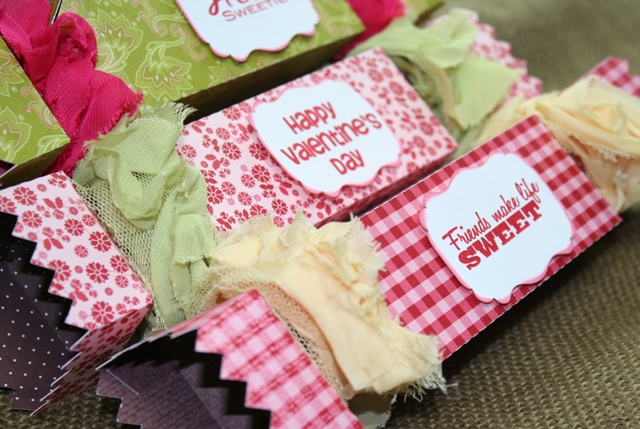 I used the Ek Real Estate Sign Punch
and sentiments from Joy's Life Yummy Puns and Holiday Occasions stamps to create some sweet tags for the boxes.  Using Clearsnap Fluid Chalk Cat's Eye Inkpad in Rouge, I added a little color to the tags. You can make these boxes fit any occasion by changing the paper and varying the ties on the ends. Thank you, Lori, for another amazing and creative file! I love using them!