Fun & Easy Football Party Ideas
This shop has been compensated by Collective Bias, Inc. and its advertiser. All opinions are mine alone. #ScoreMoreFans #CollectiveBias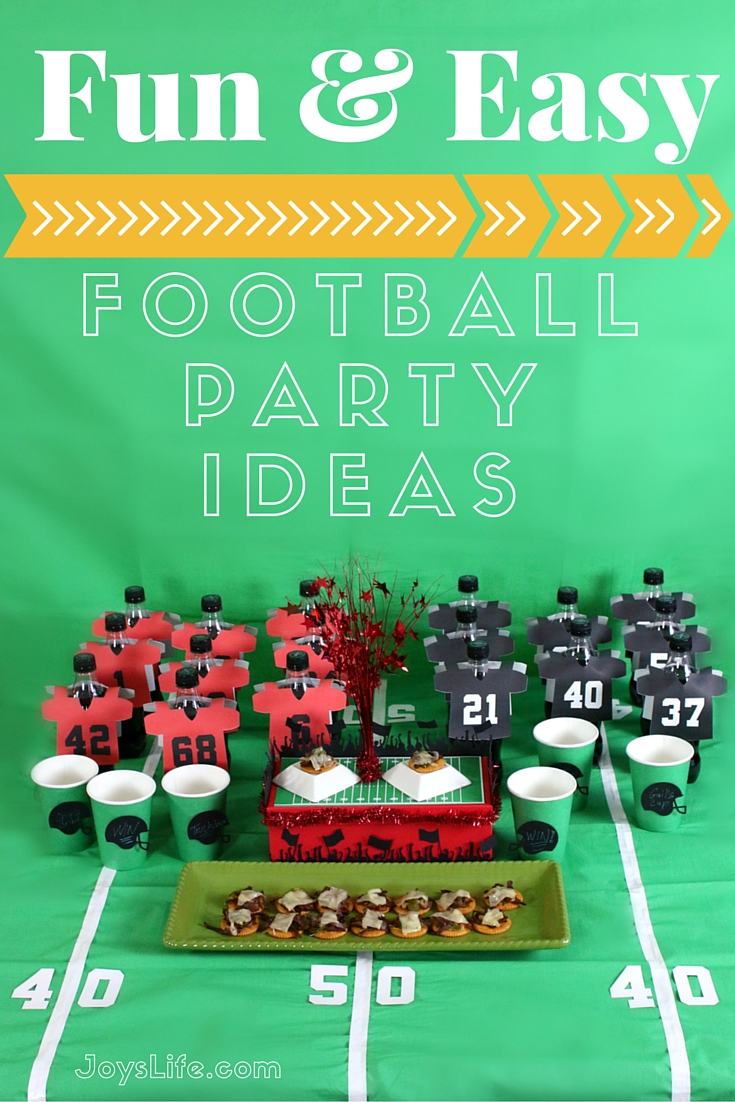 It's playoff season!  It's a fun time to throw a party whether it's just with your family in front of the TV, or if you're having over a big group.  Here are some fun and easy football party ideas that the whole crowd will enjoy!
First, let's eat!  The food is always the star of the show, right?  You know it!
These Philly Cheesesteak RITZ® crackers are so good, so good…bah bah bah bah!  They're so good that they're part of my halftime show.  See?  The crowd went wild!  I'll tell you how I made the halftime stage in just a little bit, in the meantime, here's the delicious recipe with these simple ingredients.
Philly Cheesesteak RITZ® Crackers
Print Recipe
Share by Email
Share on Facebook
Share on Twitter
Pin Recipe
Ingredients
RITZ® crackers

1/2

lb

Thin sliced roast beef

1/2

lb

Thin sliced white american cheese

1

large onion

1

bell pepper

salt

2

Tbs

Olive Oil
Instructions
Thinly slice onion and bell pepper.

Cut roast beef into strips.

Cut cheese slices into RITZ® crackers sized portions.

Sauté onion and bell pepper in olive oil until onions are caramelized.

Add meat and salt.

Heat the meat with the onions and bell peppers.

Remove from heat.

Place approximately 1 Tbs of the mixture on a RITZ® cracker and place a slice of cheese on top.

Serve.
These Philly Cheesesteak RITZ® Crackers are a real treat!  You've got to try them.  Really.  They'll be a hit for sure!
Ok, I talked about the halftime show stage.  Let me show you how I made it.  It's really, really easy.
All you need to make a halftime stage is a box.  You could use the RITZ® Crackers box or a shoebox, whatever you have.  This is a red box leftover from Christmas.  I used my Silhouette Cameo to help me cut out an audience which I glued to the three sides and front.  Next, I printed out this football field and glued it to the top.  I hot glued some sparkly trim around the top of the box to give it a fun look.  I thought that a halftime show might shoot off fireworks, so I added the top of an old balloon weight to the box.  I punched a hole in the top of the box and inserted the topper.  Ta da!  A halftime stage!  I had a blast making that.
Isn't that a fun way to display a few of your appetizers?  I turned some small ramekins over to lift them to showcase them as the main event.  It's a showstopping number with zero costume malfunctions.  LOL!
Now, let's talk about these Coca-Cola football jerseys!  Aren't they fun?
The football jerseys were created by welding two shirt pieces together using the Silhouette Cameo.  By welding, I simply mean attaching two shirt pieces together using another small piece.  The small piece I added are the lines that create the shoulders.  To keep it simple, I used white paper and printed out the jerseys, using my Cameo to cut them.  I folded them over the Coca-Cola and used a Glue Dot to keep them in place.
If you need help with your Silhouette Cameo, check out my tutorials.
The Silhouette Cameo 3 is the newest machine!  Don't miss this post! >>> The NEW Silhouette Cameo 3 Compared to the Silhouette Cameo 2
These Coca-Cola's are ready for the party!
Let me tell you how I made this inexpensive football field tablecloth.  It was fun and easy!  My husband and I made it together.  It's best if you have two people if you have to lay long lines for the field.
We created our football field tablecloth on this table in our den.  This is the room where we watch the game, so it's the right place for a fun table full of yummy treats!  (Plus, this table really needs to get refinished, so adding a paper tablecloth to it was an upgrade.  LOL!)  Seriously though, we thought this was super cool.  We cut a green paper tablecloth that my mother-in-law was getting rid of (thank you for gifting it this way!) in half.  This is a standard paper tablecloth that you can find in many stores.  Next, we made lines by using 3/4″ white electricians tape.  That stuff worked great!  We were able to lift it and stick it back down when we made small mistakes.  You can pick it up at the hardware store for a few dollars.  You could make numbers out of tape too, but I had no patience for that, so I cut those out with the Cameo too.  I think it turned out great and made a terrific background for the table.
Did you spot those green cups?  I used black paper and cut out football helmets, again with the Cameo, and simply glued them to the cups.  I could have used vinyl to have them stick down better, but I thought these were perfect to use as labels for the cups to keep up your cup at a party.
Let your guest write their name or team chant on their helmet and stick it to their cup with a little dot of glue.  Easy…and probably funny.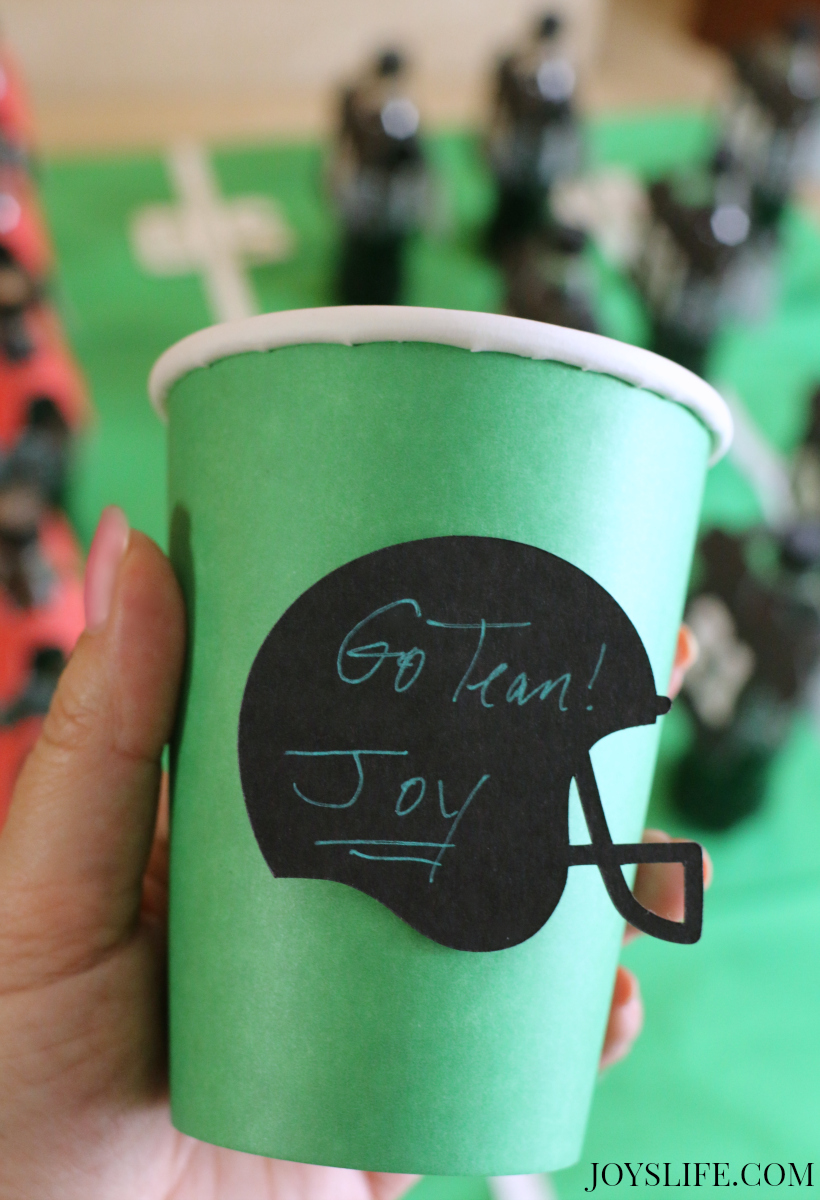 After I put this photo up I realized that my "Go Team" looked like a "N" instead of an "M".  In my family, this kind of thing usually leads to jokes like, "Where do you want Tean to go, Mom?"  Then constant "Tean" ribbing for the rest of the night.  I love it.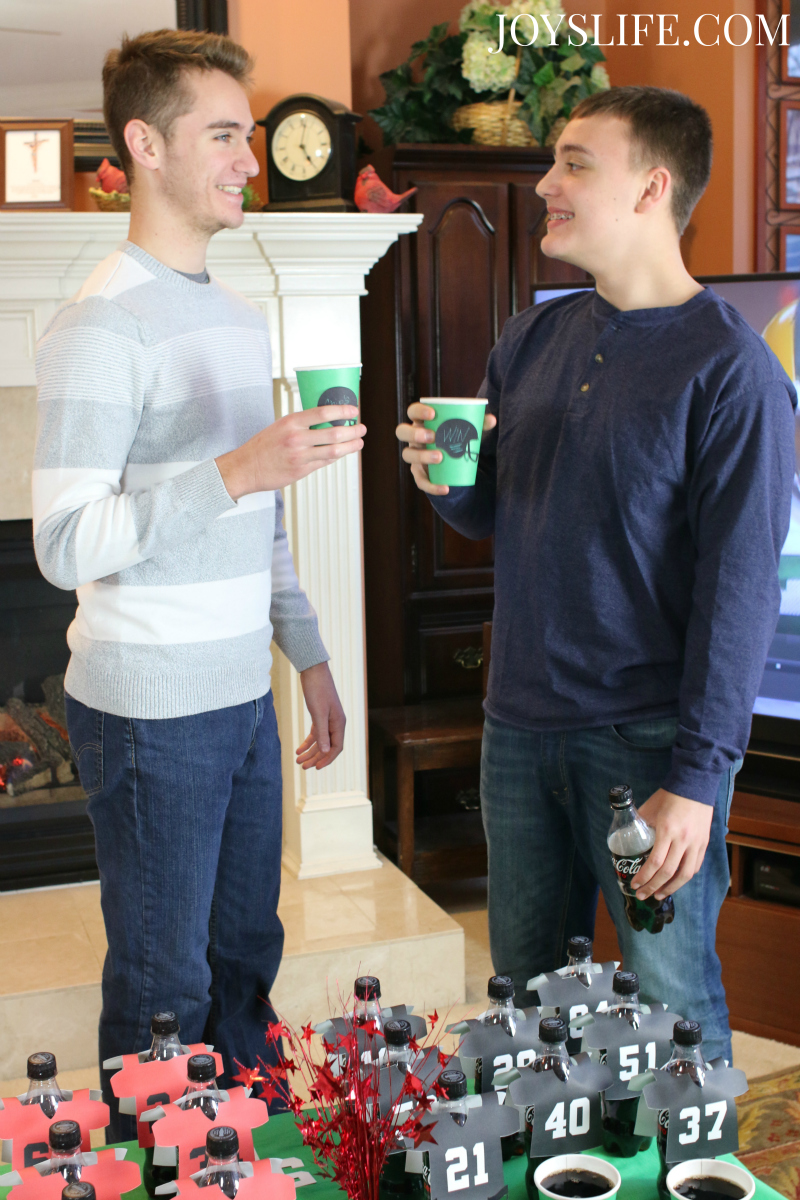 Add some of your favorite people and you've got a great football party!
I promise I had 22 players and then some of them disappeared.  I think disappeared really means that someone drank my players.  LOL!  Oh well.
I picked up all of my Coca-Cola and RITZ® Crackers at Walmart.  They had everything I needed for my yummy recipe too!
Score with your biggest fans with these fun and easy ideas!  I think it really livens up the viewing space when you bring the football field to the room.  Take it to the house!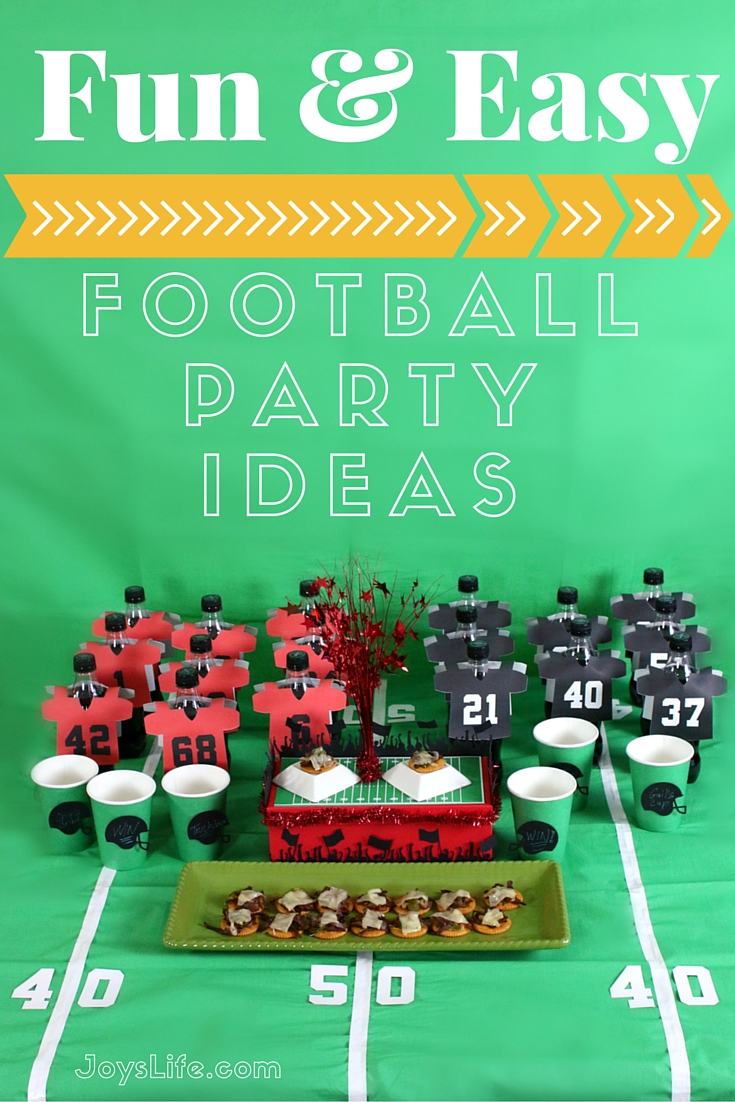 What's your favorite football party decorating tip?