5 Days of Give-A-Ways on Joy's Life.com!!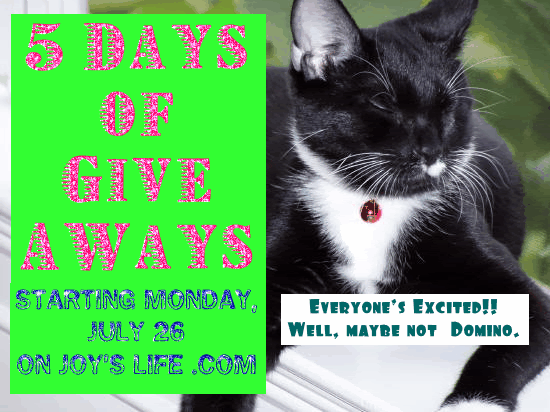 That's my furry BFF, Domino. (Don't be afraid. I have non-furry friends too. LOL!)
I wanted to do a little something to celebrate the start of CHA which is the International Craft and Hobby Association trade show.  I'm sad that I'm too swamped to go, but I'm happy that some of my work will be there at the Cri-Kit's booth #2041.  I'll show you a video about what I made soon!  I sincerely hope that my work took some large suitcases with it because I want it to bring me back pictures and lots of cool stuff.  I also hope that my work has it's own money because I don't think I can afford it's shopping habits.
So, be sure you check in with me all week starting Monday (and before and after that too…because you never know what SuperJoy might post).  I can tell you that I bought some Cricut cartridges in anticipation of this Give-A-Way!!  Woo hoo!  Hey, I'll also have crafty posts to go along with my give-a-ways.  YAY!
HAVE A WONDERFUL WEEKEND MY CRAFTY FRIENDS!!