Make a Sturdy Floral Gift Bag with a Bottle Cap Center

This week's "52" will be delayed.  I had to have more work done on the tooth that I had a root canal on a few weeks ago.  Ouch!  I hope you enjoy this post while I take some time off for healing.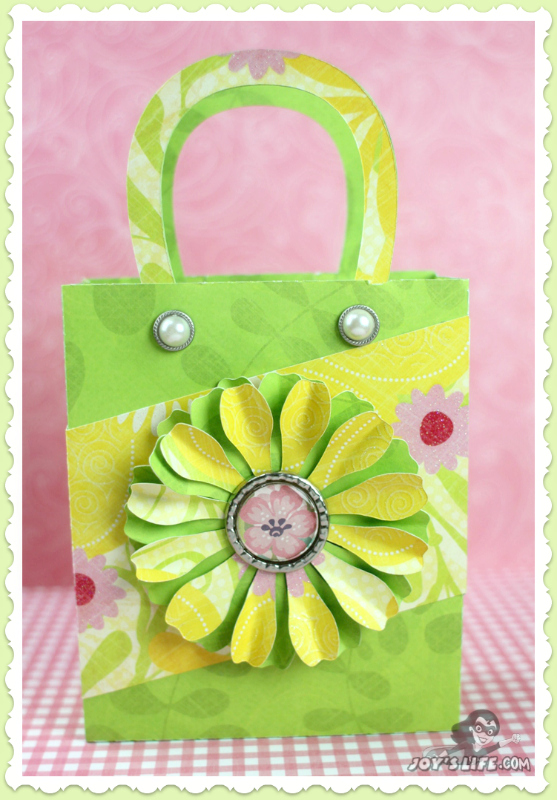 I made this gift bag using the .svg file "B is for Birthday" from Svgcuts.com.  I'm so impressed with how easily it came together and how sturdy it is!
I cut out the layers of the bag using my Sizzix Eclips.  Have you seen that machine?  I love it!  Here are some other projects I made with the Eclips.
I attached the handles using brads.  This bag is so nice.  The area where the brads are attached on the inside are covered by a fold of paper.  It makes a really nicely finished bag.  Two thumbs up to that…and if I had another thumb I'd put it up for not getting scratched by brads due to that fold.
I used Craft Glue Dots
to attach the different layers of the bag.
Using a 1″ circle punch, I cut out a coordinating image to fit inside a flattened bottle cap.  I attached the 1″ circle to the flattened bottle cap using Craft Glue Dots®.  Next, I covered the image with a 1″ epoxy sticker.
Want to make your own flattened bottle caps?  See the video on this post!
I attached the bottle cap to the bag using Pop Up Glue Dots.  The paper I'm using is K & Company Citronella and K&Company Brights designer paper pads.
Want more bottle cap information and ideas?  Check out these posts and videos!
I wrote this post while on the Glue Dots Design Team.
Have a great day!