Happy Halloween Photo Card with Craftwell Cut 'N Boss & Teresa Collins
I love this picture I took of my sons back when they were shorter than I am.  It looks like Iron Man should probably have slept with one eye opened.  LOL!  It was super fun making a frame for this Halloween photo card using a bit of craft felt and the Craftwell Cut n' Boss.
I made this easy to reference felt "sandwich" image so we can all remember the setup.  Here's a link to a .pdf of more Cut 'n Boss platform combinations.
I'm using the "happy frame" die from the Teresa Collins Lifestyle Die Collection.  Can you believe how well that felt cut?  I am so impressed!!  It even cut out the tiny centers of the letters.  Now, just so you know the letter "A" is made as a solid in this die, so that's exactly how it should look.  I printed out that photo of my boys, hand cut it and mounted it purposefully sideways to a black piece of cardstock.
I used Simple Stories Frankie & Friends cardstock and a Core'dinations Kraft card base along with some sequins and the felt photo to make my card.  I cut a space out of the patterned cardstock for the felt frame to fit.
I ran a black Memento pen around the edges of the cardstock and then cranked the whole thing through my Xyron Creative Station.  I glued sequins onto the card using Glossy Accents as my adhesive.  Then I attached the photo using the Xyron Mega Runner.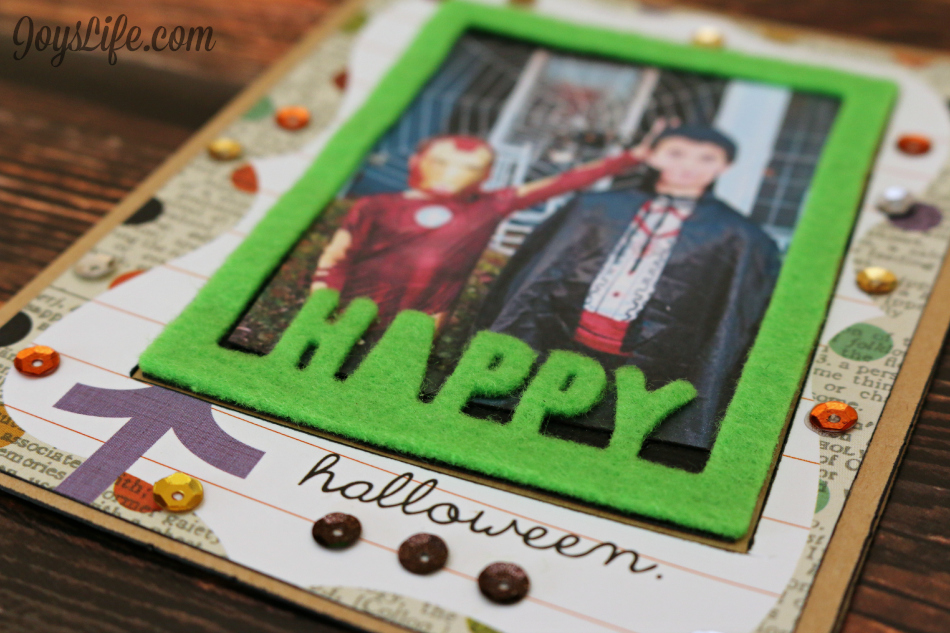 Aren't you floored at the precision of the cut felt?  I didn't think it would cut but it did!  Now I want to make more things out of felt using the Cut 'n Boss!  I'm going to use this same die and make a Happy Birthday card.  It's cool that the "Happy" is so versatile.  Simply vary the word below it and you've got a whole different theme.  So cool!
Happy Crafting!
I created this post while participating on the Craftwell Design Team.