Target Back to College Haul & $25 Gift Card Giveaway
This is a Sponsored post written by me on behalf of Brita for SocialSpark. All opinions are 100% mine.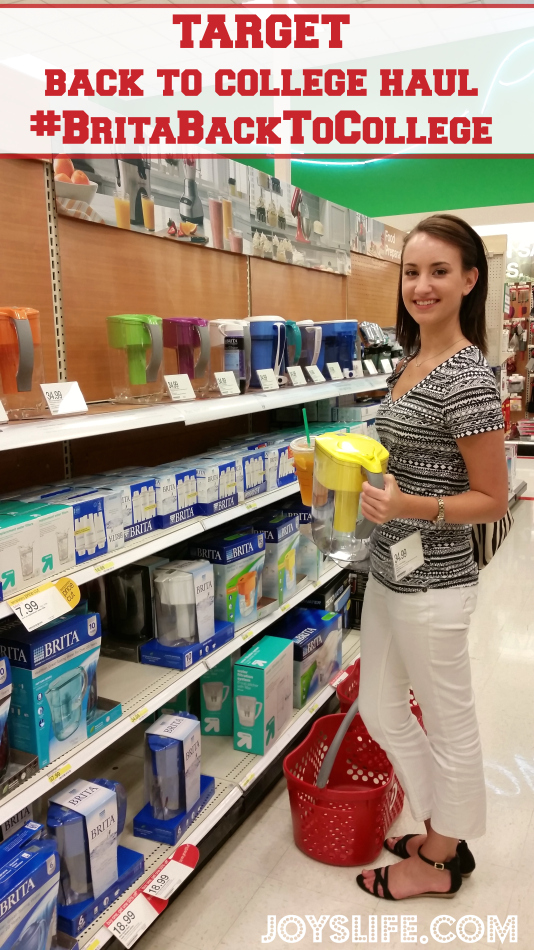 My daughter leaves to go back to college this week so we headed out to Target to pick up a few more things that she needed and really wanted for her dorm.  We had a great time shopping together!  Here she is picking out a Brita® water pitcher.  She likes it because it helps the water taste better.  It's filtration system also reduces impurities from tap water, so I know that dorm room water is also healthier than right out of the same faucet they had when my husband went to school there!  Plus, if it tastes better then that means she's drinking more water and I know that helps her feel better and more energized.
 She's been wanting a Brita® Water Pitcher for a long time.  You can hear us talk about it in the video too!  One thing we didn't talk about was that having Brita® pitchers and Brita® water bottles are a great way for your college students to save money.  No more ton 'o plastic bottles to constantly buy just to have the empties thrown into the trash.  I say, decrease waste and get a Brita® reusable water bottle.  The water tastes great, saves you money and doesn't end up in a landfill the next day.  Score!  You know what else we learned?  You could use water from the Brita® water pitcher to make Coffee, Tea and Soda Streams drinks.  Um…that's genius.  Why did that never occur to us before?  Using good water to make water based drinks makes those drinks taste better.  Where were we on that one?
Curious about what my daughter and I have to say about what she picked?  Check out this video!  This is a one take video so…this is just how we are.  LOL!
She actually cleans.  Not at home, of course, but in her dorm.  LOL!
There's the haul!  Watch the video above to hear why she chose what she chose.
Want to get your own Brita® while Back to College shopping?! I have a $25 gift card to give away! Just leave a comment on this blog post stating which Brita® item you want for a college dorm! Brita® is available at Target.  I'll post the winner here on August 20!
Congratulations to the winner!
Kristin Stuthard says August 12, 2014 at 12:50 PM The Brita 10 cup pitcher sounds really awesome! TY for the giveaway 🙂
Happy Back to College"ing"!