Snowman Coffee Holiday Gift Idea – Quick Easy & Under $10
This is a Sponsored post written by me on behalf of Dollar General. All opinions are 100% mine.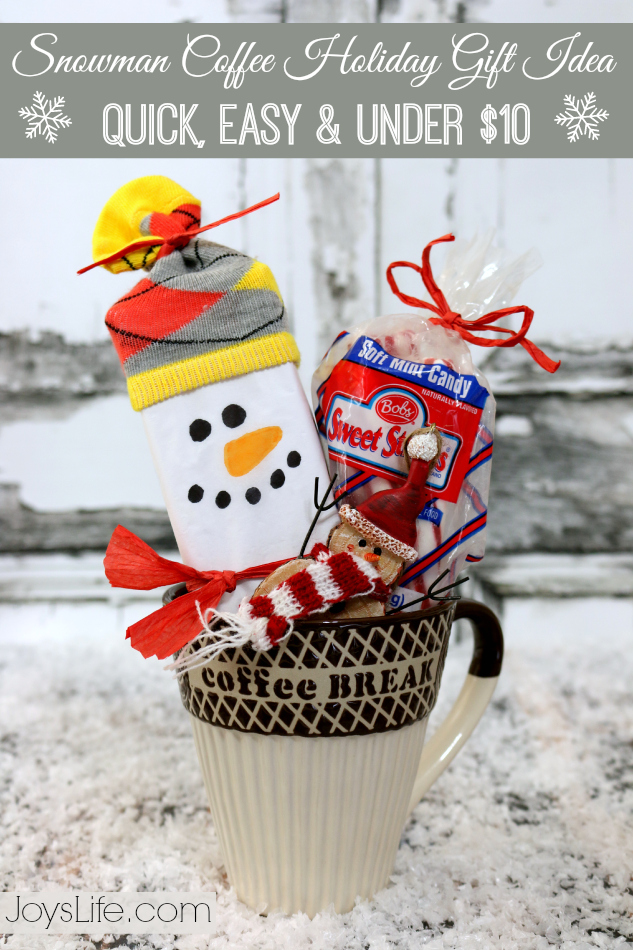 Have you ever been on the way to a holiday party or a family get together and found out that you need a gift for someone that you had no idea would be attending?  It's happened to me.  What if you don't even know them?  Difficult!  I created this gift for just such an occasion.  It works great as a gift for anyone and is perfect for giving in bulk too but when I made this, I was thinking of when you need to make something…in the car…on the way…to the party.  Yes!  Been there, done that.
I decided that a good general gift for a majority of people might be a peppermint cocoa mix and a mug.  If you think they might not like cocoa consider a small box of cookies.  That will work for this gift too.  I bought all of these things at Dollar General.  Raffia $1, Tissue paper $1, Peppermint Hot Cocoa K Cups $2.00, Coffee Mug $2.50, Baby Socks $3.00 = $9.50.  If you can find a single pair of baby or other small socks, you'll save enough to add an ornament and some peppermint sticks.
Wrap the cocoa or a thin box of cookies in the tissue paper.  If you're at home, tape the tissue paper in place.  If you're in the car use the raffia to tie it in place.
Next, we'll make a snowman hat to go on top of the wrapped box.  If you're making this gift in bulk, you'll get eight snowman hats out of this $3 pack of baby socks.
Slip the sock over the top of the wrapped box.  Ta da!  You have a hat!
To make it look a little more festive and hat-like, gather a bit of the top of the hat and tie some raffia around it.  Cute!
Draw a face onto your snowman.  If you're in the car, I know you've got a pen around somewhere.  If you really want to stay true to the colors, Dollar General definitely has some markers or crayons that you can buy.  They'll take you over the $10 mark with my current supply list though.  Tie raffia around the middle of the snowman to use as a scarf.  Unfurl the ends of the raffia for a flyaway scarf look.  Stuff tissue in the bottom of the mug and add the snowman.  That's your gift!  So cute!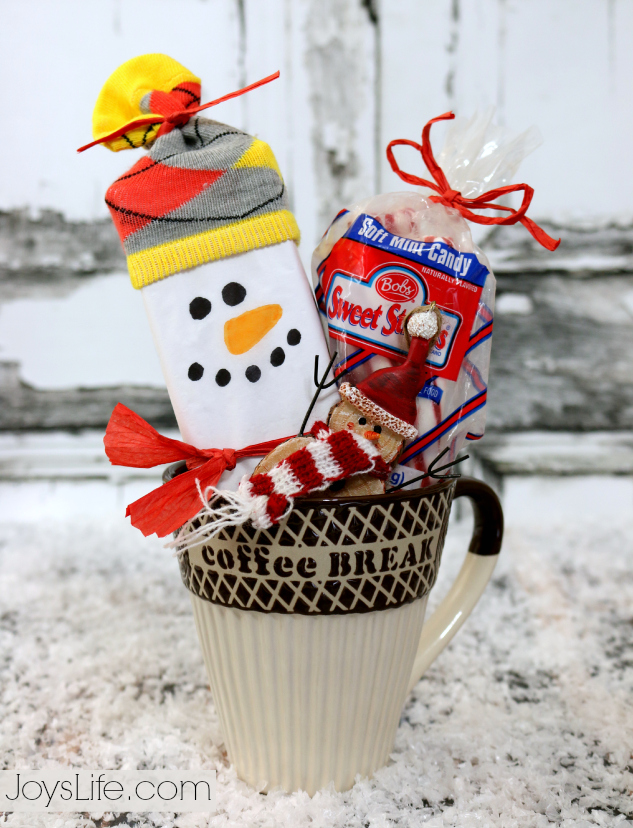 If you're headed home to create your "Under $10" gift, then consider supplies that you have on hand so you can add extras to the mug.  You could use copy paper to wrap the box and stuff the mug.  Replace the tissue paper and buy a $1 ornament.  If you have other string or yarn on hand replace the raffia and buy peppermint sticks.  There are so many options at Dollar General!  While I was there I found lots of items that really helped me get ahead helping old St. Nick fill stockings!  Sometimes he needs helpers, so I pitch in where I can. 😉
Find more Dollar General Holiday Inspiration here!  Follow @DollarGeneral on Twitter and Facebook too!
Happy Holiday Creating!