Cricut Cartridge Checklist UPDATED
I've updated the Cricut Cartridge Checklist and it has all of the newest cartridges PLUS all of the cartridges for the Cricut Imagine! YAY! Don't forget to print yours out. It's great to keep for yourself or to use as a helpful little reminder for your loved ones, LOL.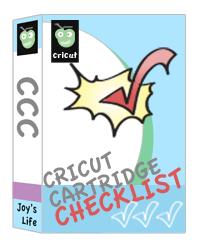 Cricut Cartridge Checklist & App – No Longer Available
Thanks so much for your support of the Checklist and App over the years! In 2019, we decided to stop updating the app and checklist due to time constraints and technology changes. Plus, Cricut has a very good online presence (which they did not have in the past), and with so many digital purchases happening via their site, you can find them in your Cricut account. Thank you again sweet Cricut friends! Happy Crafting!!
Also, here's a link to all of the Discontinued Cartridges.
Have a Great Day Friends!!