Cricut Music Card and CD Gift Tins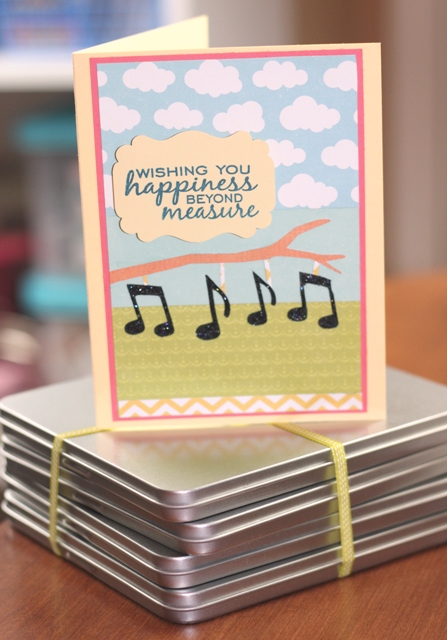 My baby brother just had a birthday! He loves music and is lucky enough to work in the field he enjoys. He has a super cool job. He creates commercials for radio and television. Sometimes TV stars drop by to do sound work on their shows and he gets to take part in that too. Since he's also a fan of music, I made him this card to go with a stack of CD cases and CDs he can use for recording his favorite stuff. Be sure to see the photo of the CD's I'm using! They're so cute!
This stamp comes from the Joy's Life Tag You're It Two stamp set.
 When the French Manor Cricut cartridge came out I thought I'd never use it.  I'm very surprised to find that I've used it several times.  Here, I'm just using it for a branch.  If you need a branch, you can find them on many other cartridges, so don't feel you need French Manor just for that.  LOL!  French Manor was a Cricut Circle exclusive cart and can be hard to find for a decent price.  Other carts that have branches like this, Create a Critter, Cindy Loo, Cake Basics, Give a Hoot to name a few.
With this card I was thinking, tree, sky, grass. This leftover paper served my needs perfectly! I just cut them down to the size I needed and glued them to some cardstock.
I don't know which is more weird, that I used the Hannah Montana Cricut cartridge or that I OWN the Hannah Montana Cricut cartridge.  LOL!  I used that cartridge for the musical notes.  Much like the French Manor cart, don't feel like you need the HM cart for this.  You can find notes on Cricut Paisley,Elmo's Party, Quarter Note, Cricut Rock Princess, Winter Frolic and more.  I seriously love that EK Success Real Estate Sign paper punch. I use it all the time.
When I saw Laura use these CD's back in May, I knew I had to have them!  Aren't they cute?  They are Verbatim Digital Vinyl CD-R's.  This is perfect for my brother because we grew up listening to albums on vinyl, especially the ones that belonged to my parents.  These should bring a smile to his face for sure!
Check out more great music gift ideas on this Design Team post.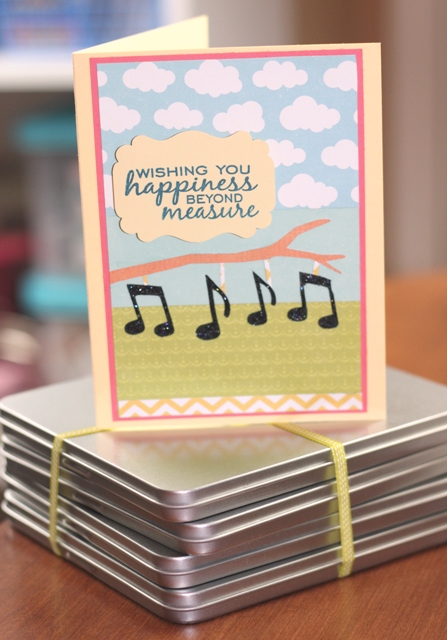 I could have decorated the CD cases but I chose to be lazy give my brother the opportunity to do with them as he wished…aka I waited until the last minute. LOL! Hey, sometimes you have tons of time to make something and other times…you're lucky to actually be on time with a phone call. Am I right? I knew it. I'm in good company with you. 😉
Live your day…wait for it…in harmony. Yeah, I went all musical there didn't I? LOL!