St. Patrick's Day Leprechaun Treat Holder
This cute leprechaun comes from Lettering Delights "Luck of the Irish".
I had a great time making this!  It's a cute holder for a small gift like this tube filled with candy.  You could also use it as a place holder at a table.  I think it would be awesome on the desk of a co-worker, student or teacher.  It's a perfect holder because it keeps the tube from rolling away.  The stamp sentiment comes from my new stamp set called Sweet Popsicle Puns.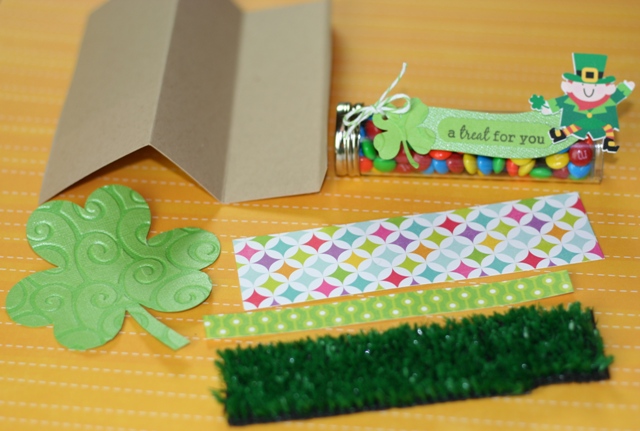 Even though I didn't use the big shamrock in the finished project, I did use my favorite ink embossing technique on it.  You can learn more about that on this post.
Here are the dimensions of the holder: It's 5 3/4″ x 5 1/4″. Score it at: 2 1/4″, 3 3/4″ and 5 1/4″. Adjust those measurements to fit the specific item you're adding.
I'm adding some fun paper to the kraft cardstock to give it a burst of color. To get the grass to stick, I just used my ATG gun. I always use permanent glue in it. If you don't have an ATG you might really like this pink Scotch ATG
gun. It's just like my red one but it's pink (and about $30 less than my red one). They used to only offer the red one and it was fairly pricey.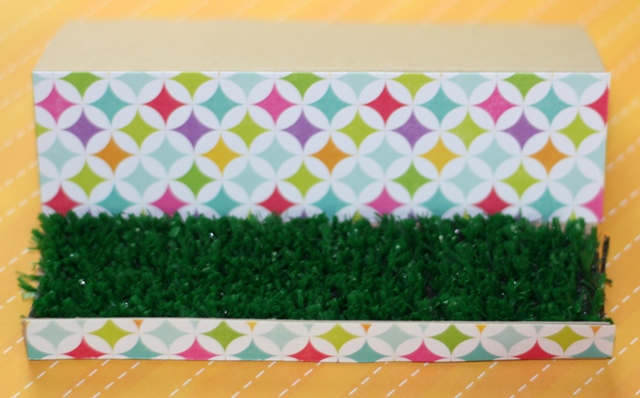 That cutie pie leprechaun came from Lettering Delights.  Here's another post where I used a similar leprechaun.
TA DA!! I hope you liked that project!
Time for a GIVE AWAY!
One winner will receive all 4 of my new stamp sets! All you have to do is leave a comment on this post and let me know which of the sets is your favorite. I'll choose a winner on Friday, March 23 and will list the winner on this post. You can see all the available stamps here.
P.S. Don't worry! If you pre-order the stamps now and you're also the winner,
I'll give you a full refund!
AND THE WINNER IS:
Jlyon711
Submitted on 2012/03/17 at 9:23 AM
Love the stuff you post! Happy St. Patrick's day! Loads of running around for me and the kids today, but always time to squeeze in a visit here! My favorite Stamp set (it was hard to choose) is Tag You're It number 2.
Have a Lucky Day!
Happy St. Patrick's Day!