Peachy Keen Guest Designer Cricut Cupcake Wrappers & Cupcake Toppers – Give Away
Hey Super Friends! It's Day 3 of my Guest Designer Week with Peachy Keen! Today I've created some cupcake wrappers using the Cricut Lite Cupcake Wrappers cartridge. Wait until you see how cute these toppers turned out!! Drum roll please…da da da da da da da da …. BANG!
Are you in LOVE with these? I need to sing like Ariel for a moment. Excuse me. "Ahhh ahhh ahhhh…ahHH aHHH AHHH". I'm done now. 😀 In that photo you see both the Peachy Keen PK-681 Retro Paper Doll Faces and the Joy's Life All Around Sentiments stamps! They both top a cupcake like superheros top skyscrapers. Majestic, cape flowing…gosh it's hungry in here…let's get on with it so I can eat one of these.
Do you remember when I made those Tim Holtz paper rosettes using his Sizzix die? I bet you thought I'd never use those rosettes, didn't you? Hmmm, maybe that was just me. LOL! Well, I put them to great use as beautiful cupcake topper adornments! I also used a 2″ scalloped punch to make those polka dotted circles. They serve a purpose besides being cute; they hide the stick. I'm using drink stirrers as the stick. The Joy's Life All Around Sentiments stamps can be punched out using 1″ and 1 1/2″ circle punches.
Here's a side photo of the cupcake toppers.
On the one side you have Peachy Keen faces, on the other side Joy's Life stamps!  I used Copic markers to color in the Peachy Keen faces.  You can read about the ones I used in this previous Peachy Keen post.  I colored in the center flower on the Happy B'day stamp using Stickles.
I used my Xyron 510 to help me put together the cupcake wrappers.  It is such a time saver!!  Ok, time to talk about the Cricut Lite Cupcake cartridge.  People have a love/hate relationship with that cart.  It can be very difficult to figure out what size to cut the wrappers and to get them to cut out without tearing.  Here's what I suggest: use the Real Dial size for these wrappers.  I cut these out at 3 1/2″.  ALSO…slow it down!!  Slow your machine to Speed 3.  You might also want to use Multi Cut 2. Sometimes those thing don't get completely cut out.  Doing a multi-cut should help, especially when using cardstock instead of a thinner paper.  I used Stampin' Up paper for most of these wrappers.
This is my favorite Peachy Keen face stamp so far! She's fun to color!
Joy's Life All Around Sentiments stamps are all around yummy. Wait. No. I didn't eat those.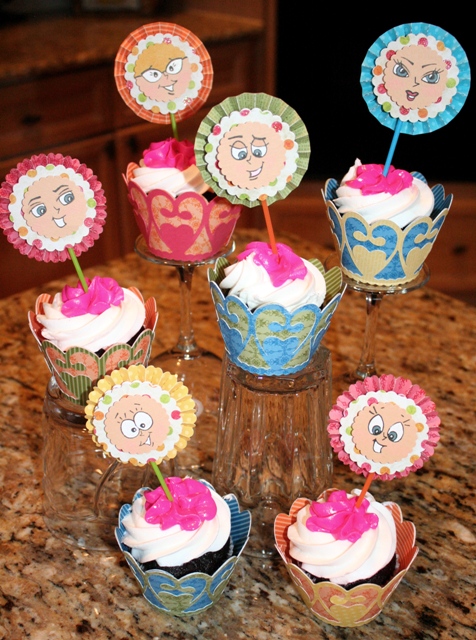 And now…time for a fun Give Away!!
Peachy Keen has given me a set of their PK-754 Critter Faces Set A to give away during my week of Guest Designing. YAY! All you have to do to be entered for a chance to win these cute stamps is to leave a comment here and also on my post on the Peachy Keen blog. I'll choose a winner Saturday, Feb 5 and post the winner on Friday's post. 😉
Have a Peachy Day!! Tomorrow brings a new Peachy creation. Don't forget!! Tomorrow is also Design Team Thursday on Joy's Life! Don't miss my Designer's post or they'll cry and throw pies at me. Well, that just happened that one time. LOL!