How to Make a DIY Portable Magnetic Manicure Frame
This is a sponsored post written by me on behalf of  The Gorilla Glue Company. All opinions are 100% mine.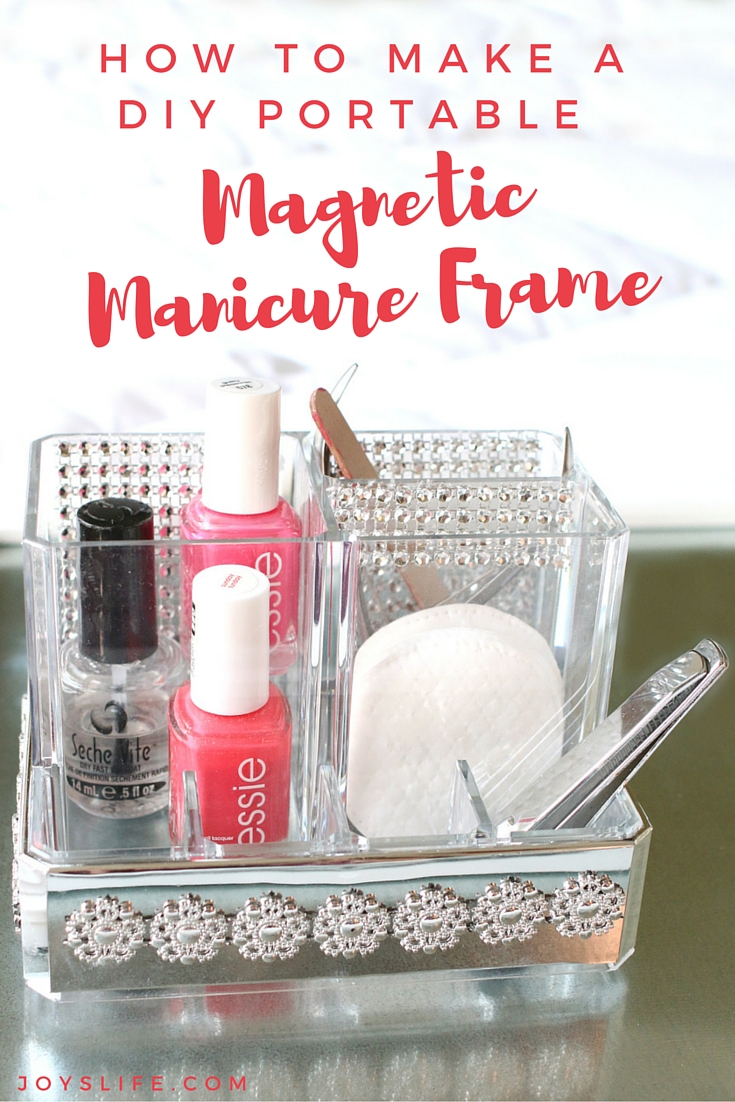 I have longed for a way to sit in bed and do my nails without everything sliding around on some haphazard lapboard or, even worse, some random magazine I grabbed to use as a lap cover.  Those have been my previous ways of protecting my bedding, self and furniture.  Let's just say, I've been extremely lucky, so far.  I decided to stop pushing my luck and create this magnetic answer!  You can make one too! Here's how to make a DIY portable magnetic manicure frame.  Don't worry, it's easy!
First, you're gonna need a few things…
Magnetic Manicure Frame Supplies
12 x 12 Photo Frame
12 in. x 12 in. 28-Gauge Galvanized Sheet (I bought mine from a local hardware store.)
Cosmetic or Nail Polish Organizer
Gorilla Super Glue Brush & Nozzle
Heavy Duty Magnets
*Your Favorite Bling/Pretty Decorations
* For my bling, I used some plastic silver colored flowers that I found in my craft stash and rhinestone bling on a roll, cut to size.  I kid you not, it's called, "Bling on a Roll".
Remove the backing from your photo frame.
An Awesome Tip
I found THE BEST manicure saving trick for lifting those prongs from the frame backs.  Use a paint key!  You can buy them for under $1 at any paint or home improvement store.  Look in the paint area.
After you've removed the back of the frame, put the 12″ x 12″ galvanized sheet in there, right on top of the glass.  Put the frame backing back on and bend down the prongs.  That was easy!  Now you have a base that will let the magnets attach.  Just remember, you need heavy duty magnets for the best hold.
I'm using the Gorilla Super Glue Brush & Nozzle.  It features a fine bristle brush that offers controlled coverage with less mess and the precision tip nozzle for quick, easy dispensing. The choice of applicator allows you to easily control how much glue is applied, so there's ultimately less mess.  It's reinforced with rubber to absorb bangs, drops and bumps the product bonds plastic, wood, metal, ceramic, rubber, leather, paper and more.
Grab some Gorilla Super Glue Brush & Nozzle and start attaching the magnets to the bottom of your cosmetic or nail polish organizer.  I'm using the nozzle end for this.
I attached a total of 4 magnets, one at each corner of the holder.
Two things:
Keep your magnets away from each other while you work on this or you'll have a stack of glued magnets.  Ask me how I know?  Also, duh!  Right?  Sometimes I just can't believe the things I do.
The other thing is that I bought a cosmetic organizer instead of a nail polish organizer.  I might buy a nail polish one in addition to this because, although this one holds my other items like I wanted it to, it only holds my nail polish in the back.  So, you buy the one that works for your needs or buy them both!  You can easily add or remove as many organizers as you'd like…and that's what rocks about this project!
Time to bling this up!  The brush end works great for getting Gorilla Super Glue on specific areas.
I needed to get glue on more of the backing, so I decided to use the brush to make a glue line inside the organizer.  I used a nail file to press down the bling where I could not reach it, so I could keep it flat while the glue took hold.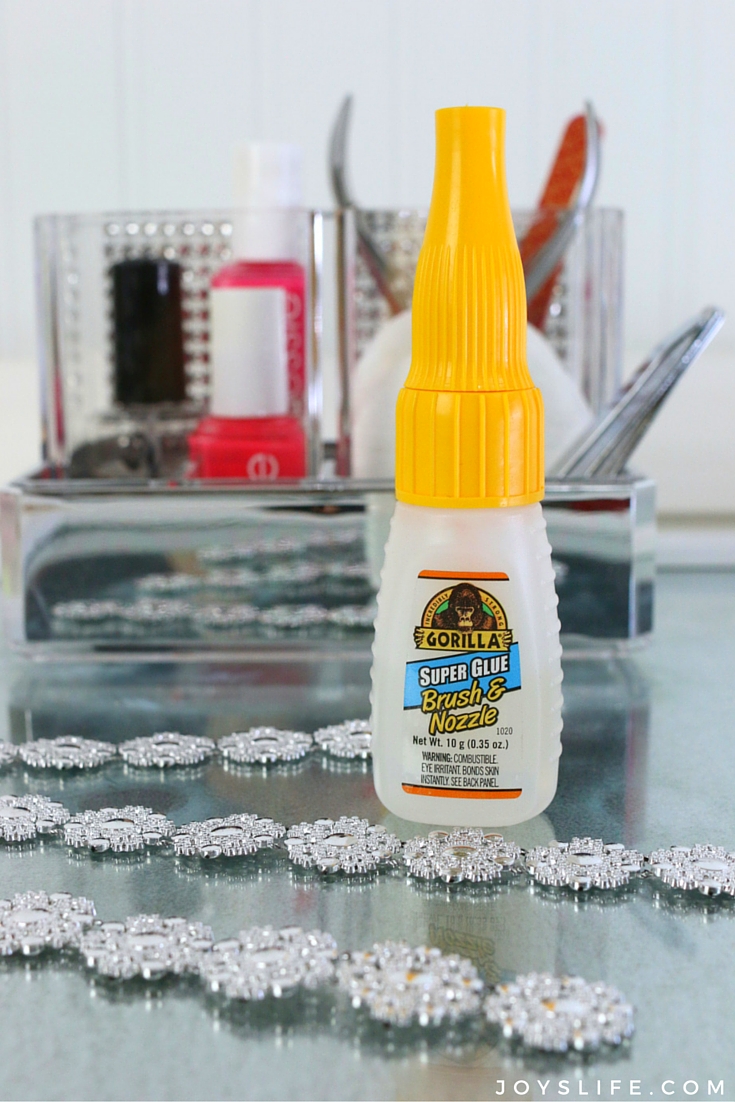 I liked the way the rhinestone bling looked, but I still thought the organizer could use a little more added design.  So, I added those plastic flowers to the front and sides.
Ta da!  See?  It stays where you put it!  Now, don't keep doing this or shaking it because magnets slide eventually, but it's perfect as a lap board!  Now my manicure items won't get lost, roll away or paint things that I don't want painted.  Plus, the glass of the frame is easy to clean off.  Lastly, this is simple to put away.  You don't need to worry about its awkward shape, just remove the organizer.  I keep the organizer with my nail things and the frame under my sink.  When I'm ready for a manicure, I just stick them back together.  Perfect!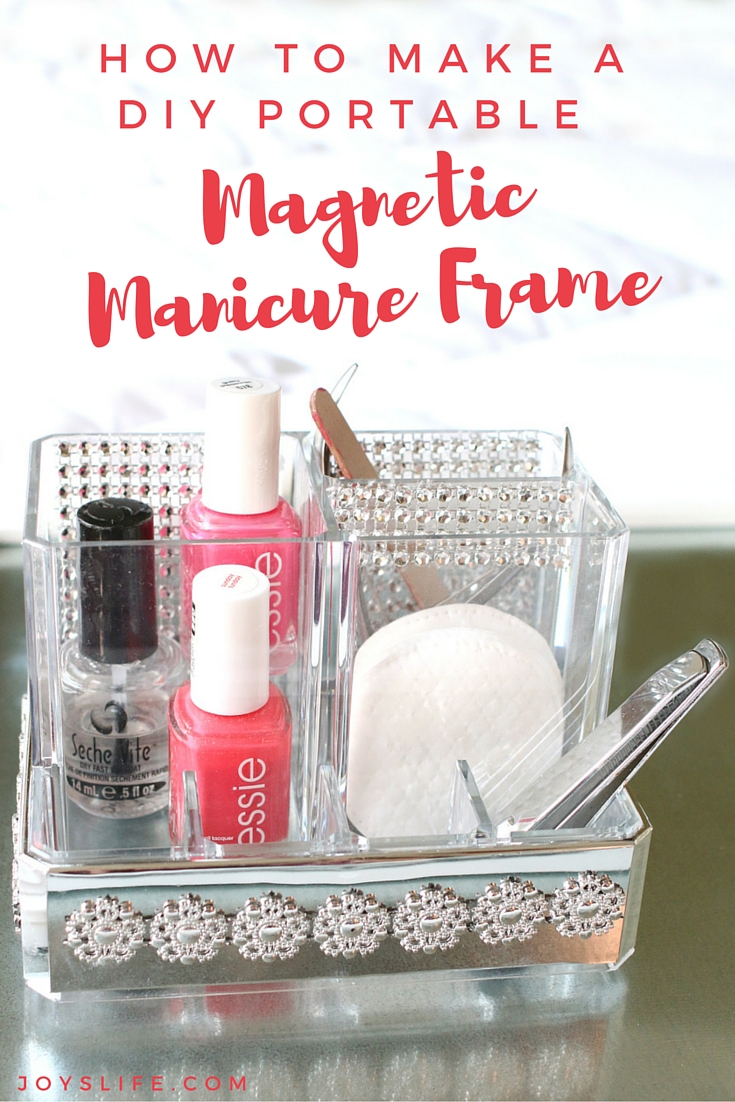 I hope you enjoyed this project and have a need for it like I do!
You can find Gorilla Super Glue Brush & Nozzle at hardware and home center stores nationwide.
Are you going to make a Magnetic Manicure Frame?  How will you decorate yours?
Don't miss this awesome giveaway!
Gorilla Super Glue Brush & Nozzle $250 Visa Gift Card Giveaway