Back to School Backpacks for Giving
This shop has been compensated by Collective Bias, Inc. and The Coca-Cola Company, Kellogg Company, J.M. Smucker Company, and The HERSHEY'S Company. All opinions are mine alone. #StartSchoolLikeAChampion #CollectiveBias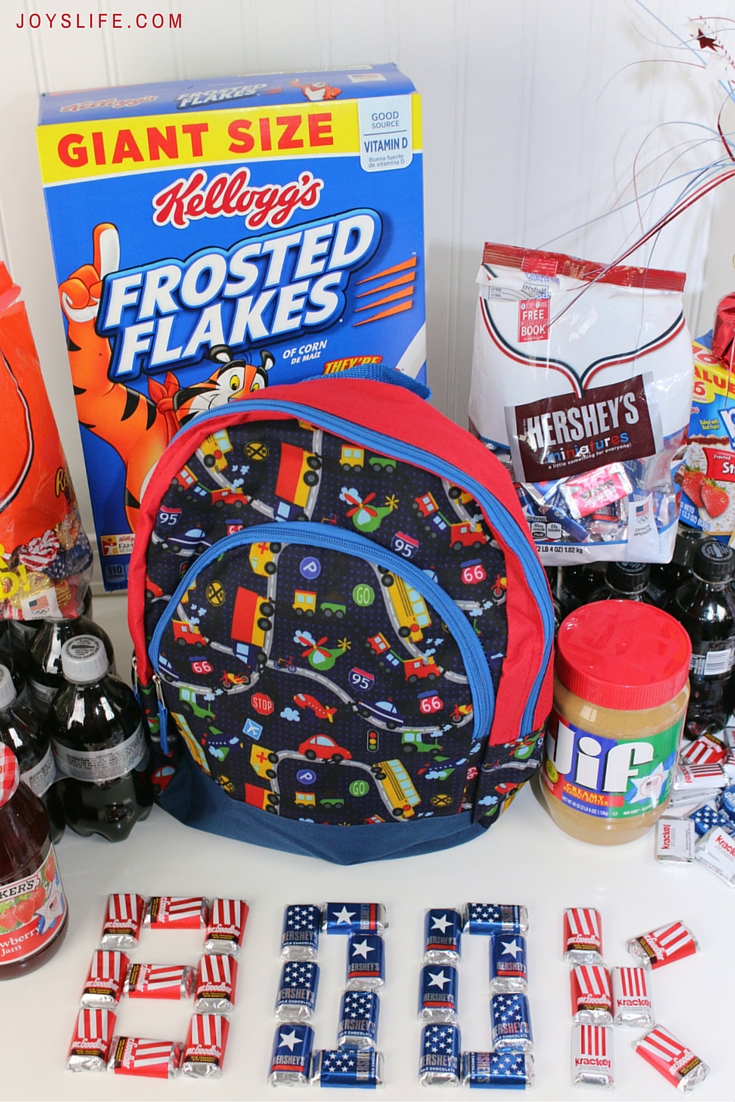 Giving back to my community is very important to me.  Sometimes it's not easy to figure out how to help others or give back, but I can assure you of one thing.  There is always need.  One of the most obvious needs is food, but come school time, there are also needs for books, school supplies and back packs.  Here's a very easy way to prepare backpacks for giving and earn up to 90 books to help fill them, and that food need, it's covered too.
One Item = One Book
Right now you can earn a free Scholastic book (up to 90 books!!!) by purchasing any of the over 100 participating Coca-Cola, HERSHEY'S, Kellogg's, or J.M. Smucker's products at Walmart from June 29th to September 30th!
These are just some of the qualifying items that I picked up at Walmart.  There are over 100 to choose from!  After you buy your items, you can upload your receipt and choose your books!  Woo hoo!  Read on to see how easy it is…
Here's how to get your free books!

1. Buy any participating Coca-Cola, HERSHEY'S, Kellogg's, or J.M. Smucker product at Walmart between 6/29/16 and 9/30/16. For a full list of participating products, refer to StartSchoolLikeAChampion.com.
2. Join or log in to Kellogg's Family Rewards.
3. Upload your receipt within 30 days of purchase.
4. Choose or donate your free book.
Prepare Backpacks for Giving
While you're at Walmart, pick up a backpack or two.  That's where I got this adorable backpack and it was very affordable.  You can add some school supplies, like markers, crayons, pencils and paper.
This backpack, paired with the free Scholastic books you'll earn from the 1 item-1 book promotion, makes an awesome donation.  If you're not sure where to give, contact your local schools, churches and community programs to find where you can best help with your donation.  Want to give even more?  Buy enough food to donate!
As athletes around the United States are gearing up to compete in Rio de Janeiro at the 2016 Olympic games, kids are getting ready to go back to school. That's why the Team USA sponsors Coca-Cola®, Kellogg's®, HERSHEY'S, and ©/® J.M. Smucker have teamed up with Scholastic to create this great, Walmart exclusive "Start School Like a Champion" program.
It's amazing that you can earn up to 90 books. That could start a small library!
What will you do with all of the books you earn?
Be SURE to TELL OTHERS about this program! It's a very easy way to give back!