Roasted White Peaches with Honeycomb and Vanilla Ice Cream
This is a sponsored post written by me on behalf of Breyers. All opinions are 100% mine.
I feel like I should just let that picture speak for itself and have a mic drop moment.  This delicious recipe could really do that, make you want to make it and eat it without me writing another word, but I want to tell you how this Roasted White Peaches with Honeycomb and Vanilla Ice Cream brought us together on an unexpectedly rainy day.
When we set out as a family to enjoy this dish, we were stumped by one thing, nope, not the honeycomb that it calls for, that was easy to make.
Roasted White Peaches with Honeycomb and Vanilla Ice Cream
Make-Ahead: Honeycomb can be stored in an airtight container at room temperature for up to 3 days.
Print Recipe
Share by Email
Share on Facebook
Share on Twitter
Pin Recipe
Ingredients
1

cup

sugar

divided

1

lemon

zested

4

ripe but firm white peaches

halved, pitted

Nonstick cooking spray

1/3

cup

honey

1 1/2

tsp.

baking soda

4

cups

Breyers® Natural Vanilla Ice Cream
Instructions
Preheat oven to 425°F.

In a small bowl, whisk 3 tbs. sugar and lemon zest for about 1 minute, or until sugar is fragrant and moist. Arrange peaches, cut side up, in a 13x9-inch baking dish. Pour 2/3 cup water into dish. Sprinkle lemon sugar mixture over peaches and roast for 25 to 30 minutes, or until peaches are slightly softened and have released their juices.

Meanwhile, lightly spray a small baking sheet with nonstick spray. In a medium heavy saucepan over high heat, bring remaining sugar, honey, and 2 tbs. water to a boil, stirring constantly. Reduce heat to medium-high and cook, without stirring, for about 5 minutes, or until a candy thermometer reaches 305°F. Remove from heat and whisk in baking soda just until blended and mixture begins to bubble. Gently pour hot mixture onto prepared baking sheet and cool. Break honeycomb into small pieces and reserve in an airtight container.

Spoon 1/2 cup Breyers® Natural Vanilla Ice Cream into each of 8 bowls. Top with warm roasted peaches and warm juices. Sprinkle with honeycomb pieces and serve immediately.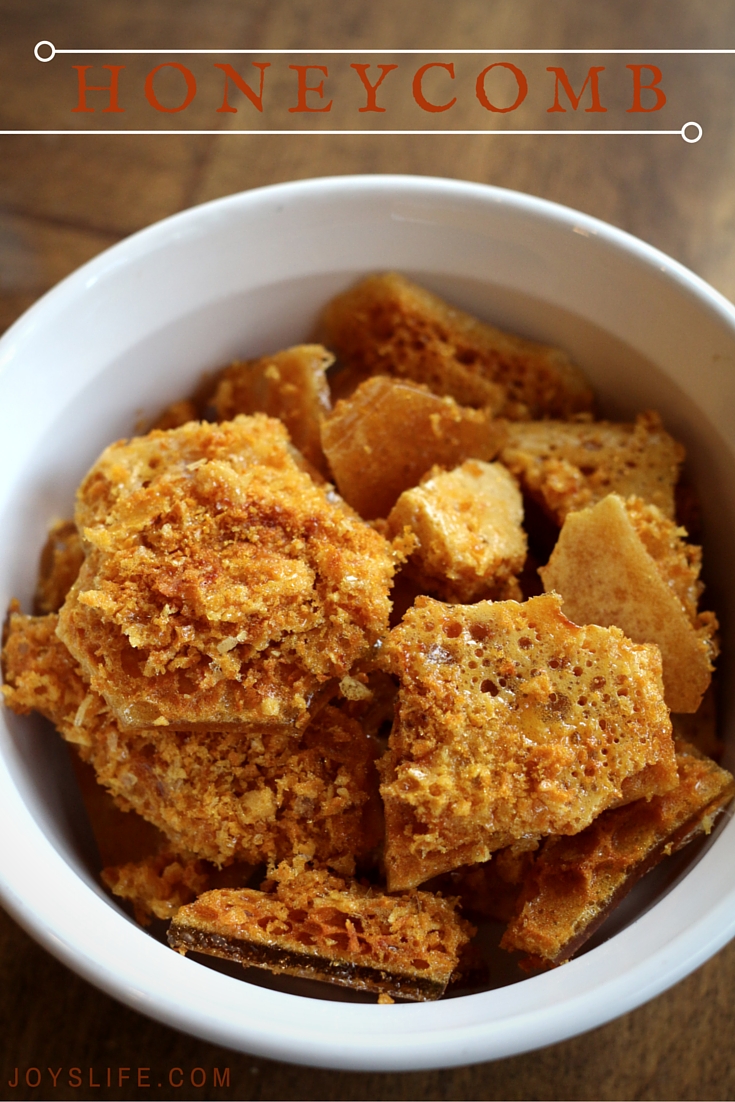 We were stumped by white peaches.  I don't know how we've lived in Georgia for 17 years and never noticed their existence but there are, in fact, white peaches and they are beautiful and tasty.  We thought they'd be hard to find, but there they were in the grocery store, right in the front!  Have you tried ever them?  You should, especially in this recipe.
We'd planned to eat this dessert outside.  My daughter laid out summer colored place mats and napkins on our patio table.  She pulled our outdoor pillows out of the box we were storing them in and made everything look inviting.  It was going to be so great!
Meanwhile, my husband whisked sugar and lemon zest, arranged the mixture over the peaches and let them roast.  It smelled so good in our kitchen!
Look at that white peach!  Isn't it beautiful?  I was saying just that while I took this picture…right about the time that it started to rain.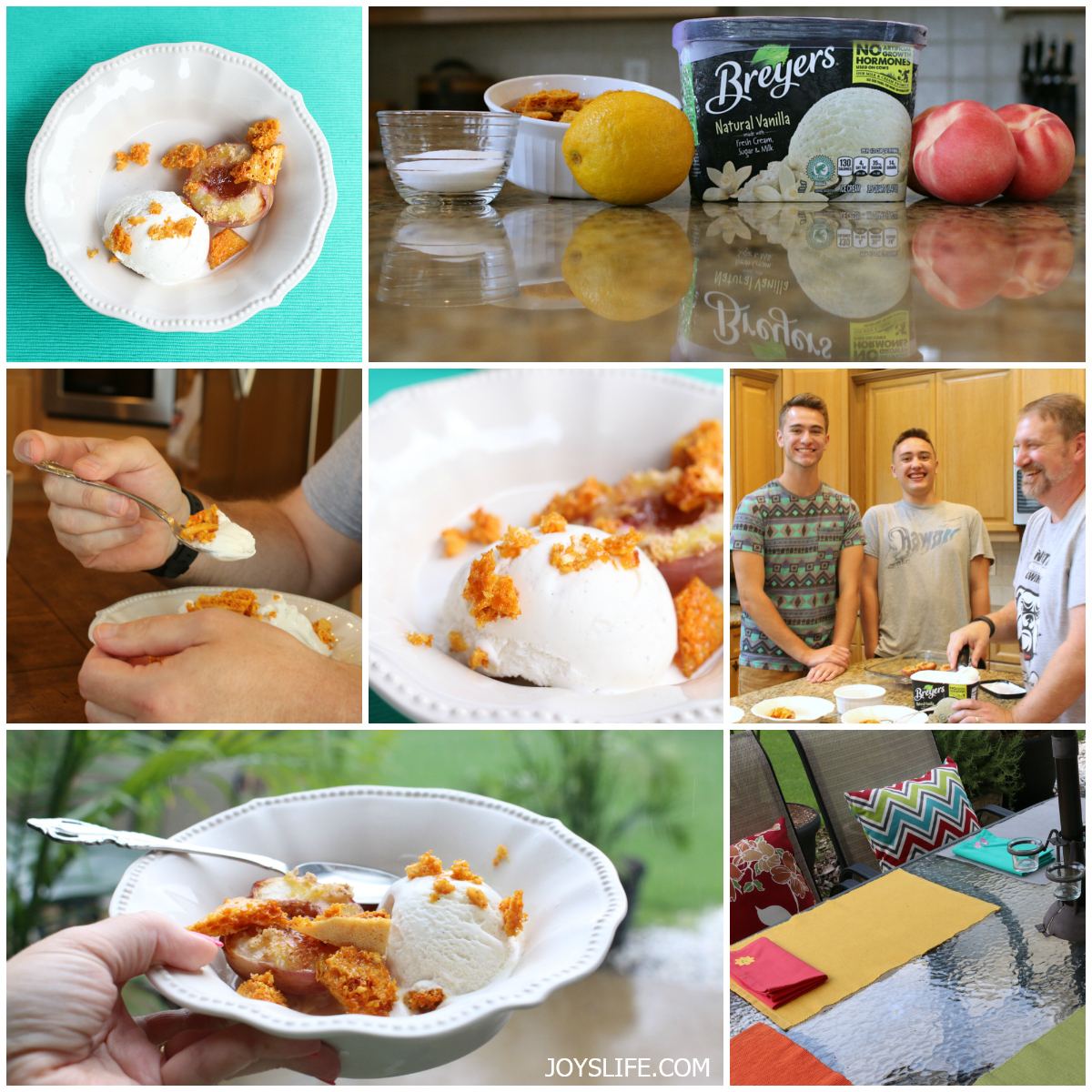 The lightning was so bad and it rained for so long, but we didn't care.  When that dish was ready we plopped down at our kitchen table and talked and laughed for a long time.  It was perfect.  We talked about the food, the kids leaving for college soon and old funny stories.  It was the kind of afternoon you hope for when the weather gets yucky and ruins your plans.  It's sort of funny that ice cream brought us together.  If it hadn't been for that recipe, we'd have been doing different things around the house, but it created a reason to unplug and hang out around the table in the middle of the day.
If you're looking for a reason to get everyone together, you're in luck.  Breyers is celebrating its 150th birthday and has partnered with celebrity chef Curtis Stone and his wife, actress Lindsay Price Stone, to create 12 recipes featuring Breyers Natural Vanilla, inspired by every month of the year, to give families a way to celebrate birthdays and special occasions with Breyers all year long.  If you're like us, try one of the recipes for a non-occasion, occasion too!  LOL!
This dessert seems super fancy, but it's within your ability to create, I promise!  We used Breyers Natural Vanilla, which is my husband's favorite Breyers ice cream.  It's made with fresh cream, milk and sugar.  I like that all Breyers vanilla is real and from sustainably farmed, Rainforest Alliance Certified™ vanilla beans and that Breyers only sources milk and cream from cows not treated with artificial growth hormones*.  You've seen me use it before, and that's why.
I say, try this recipe.  Create it for a special occasion or make it for an occasion that might become special on its own.  You just never know what happiness's will occur over the simple sharing of ice cream.
What nice times have you had while sharing ice cream with others?
Connect with Breyers on Pinterest, Twitter and Facebook
*Suppliers of other ingredients such as cookies, candies & sauces may not be able to make this pledge. The FDA states that no significant difference has been shown between dairy derived from rBST-treated and non-rBST treated cows.