Gluten Free Pineapple Coconut Chicken with Rice
I am a member of the Collective Bias®  Social Fabric® Community.  This shop has been compensated as part of a social shopper amplification for Collective Bias and its advertiser.
I wish I could stick my hand through the monitor and give you a taste of this chicken and rice dish we made for dinner.  You would LOVE IT!  You'd also appreciate some smell-o-vision because this dish smells great too!  Our whole family has been working to eat better and exercise more.  Eating at home instead of fast food is working wonders so far.  I'm back in a pair of jeans that I haven't been able to wear for a while.  YAY!  Alright.  No more waiting, I've got to tell you more about this recipe right now!
I went to Walmart with my youngest kiddo and we picked up this Star Butter Flavored Olive Oil to help add some super yummy flavor to our dinner.  It's definitely the star of this recipe!  Walmart is currently the only store that offers it, so go there! 😉  I picked up my chicken at Publix.  I love shopping there.  The people are always so nice and I'm always able to find what I'm looking for.  I like that they offer to take your groceries to your car for you too.  I don't always use that service because I'm trying to get those extra lifting exercise points in but I appreciate the offer!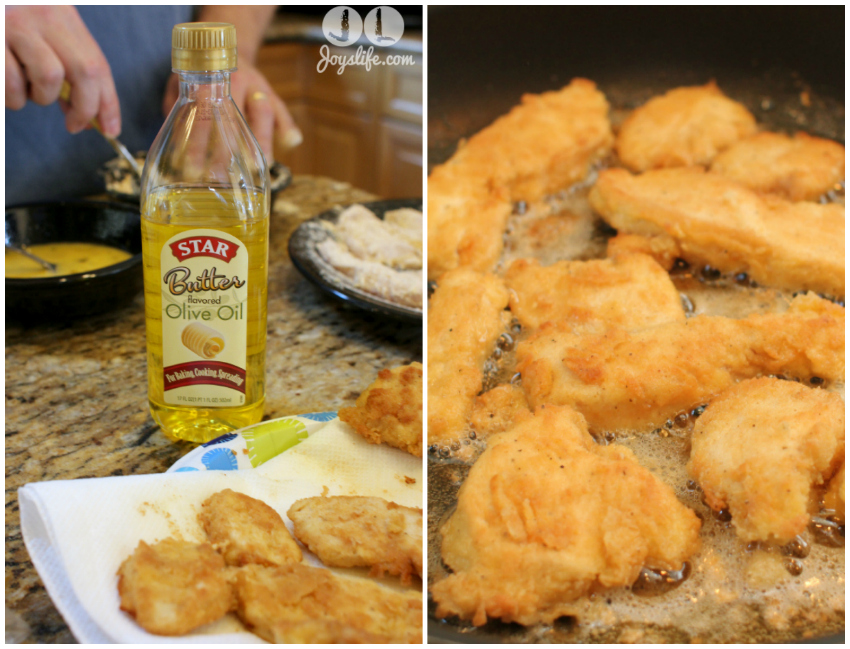 Here's where you want some smell-o-vision again.  This chicken smells fantastic!  We dredged the chicken in eggs and a coconut flour mixture and then fried it in the Star Butter Flavored Olive Oil.  One word: Amazing.  If you see in the photo on the left there is a very obvious absence of a piece of chicken.  Yep.  That was me, ruining the shot.  It was worth it.
We even added Star Butter Flavored Olive Oil to the water for boiling the rice, instead of butter.  It gave it a wonderful buttery flavor!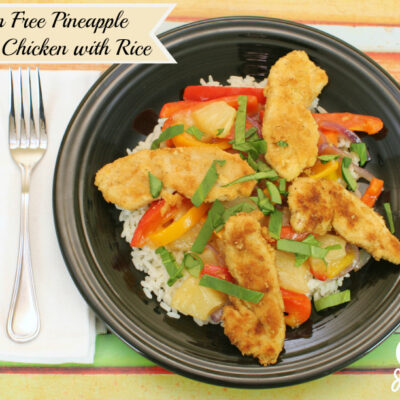 Gluten Free Pineapple Coconut Chicken with Rice
A delicious Gluten Free meal!
Print Recipe
Share by Email
Share on Facebook
Share on Twitter
Pin Recipe
Ingredients
2.5

lbs

Boneless skinless chicken breast

2

eggs beaten

1

cup

of Coconut flour

2

T

Star Butter Flavored Olive Oil

1

T

season salt

1

t

pepper

Rice

1

can of pineapples chunks

save juice

1

red

yellow and orange bell pepper

1

medium red onion

1

T

the oil

1

t

Season Salt

1

T

corn starch or arrowroot

2

oz

of cold water
Instructions
Cut chicken into thin strips about 1/2 inch or thinner.

Mix salt and pepper with coconut flour.

Place flour in a bowl or plate for dredging chicken strips.

Heat oil in a large frying pan with medium/medium high heat.

Put chicken strips in beaten eggs then coat chicken in coconut flour mixture.

Place the chicken in the heated pan and cook until chicken is fully cooked and golden brown.

Turn chicken often to keep from burning.

When complete place on a paper towel to drain and set aside.

Cook rice as directed, substituting Star Butter Flavored Olive Oil for the butter.

For the Peppers, Onions & Pineapples

Slice peppers into strips.

Cut the onion in half and slice each half into thin strips.

Sauté the peppers and onions in the Star Butter Flavored Olive Oil while adding the season salt.

After 5 min add the pineapple (be sure to save the juice to the side) and cook all until peppers and onions are tender.

Use the pineapple juice to deglaze the pan with the contents in it.

Bring the juice to a boil.

Mix the corn starch or arrowroot with the cold water until it is smooth.

Gradually add the corn starch or arrowroot mixture until the sauce begins to thicken.

Cover and turn the heat off, let sit for a couple of minutes for the flavors to meld.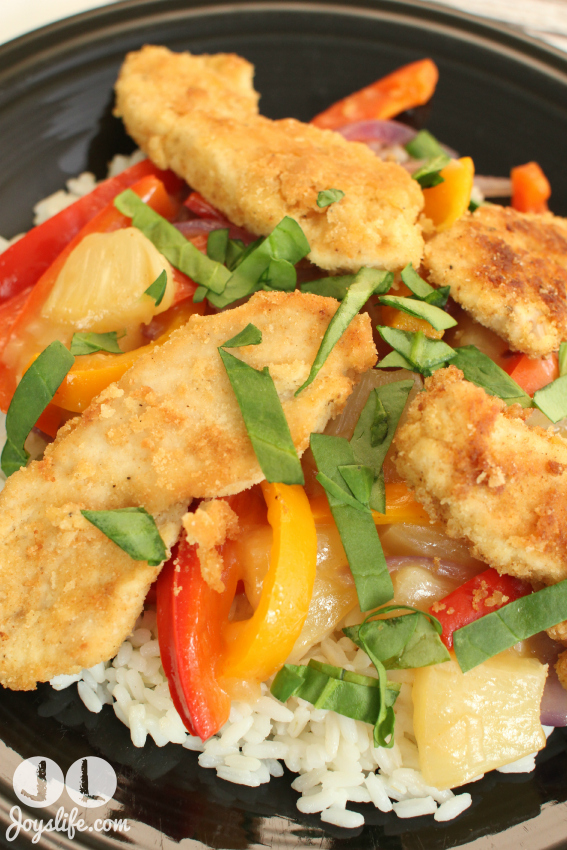 Is that super yum or what?  Answer: It's super yum!  This is a must try!  Everyone in the family loved it, including the picky eaters.  The only sad thing about this recipe is that we didn't have any leftovers, not a piece of chicken or a grain of rice.  That's what I call a hit!
Happy Cooking!