Easy Delicious Party Food – Slow Cooker Cranberry Chipotle Meatballs
This shop has been compensated by Collective Bias, Inc. and its advertiser. All opinions are mine alone. #SeasonedGreetings #CollectiveBias
When you say delicious party food, I say cranberry chipotle meatballs.  You: Delicious Party Food!  Me: Cranberry Chipotle Meatballs!!!  Let's repeat this 3-5 times and then start clapping…or we could just "cheers" our forks and eat this.  Let's do that.  Just don't ask me for my bottle of Tabasco Chipotle Sauce because you'll need that fork to defend yourself.  I'm just sayin'.  It's my new prized possession and I'm low on it and need to go to the store so…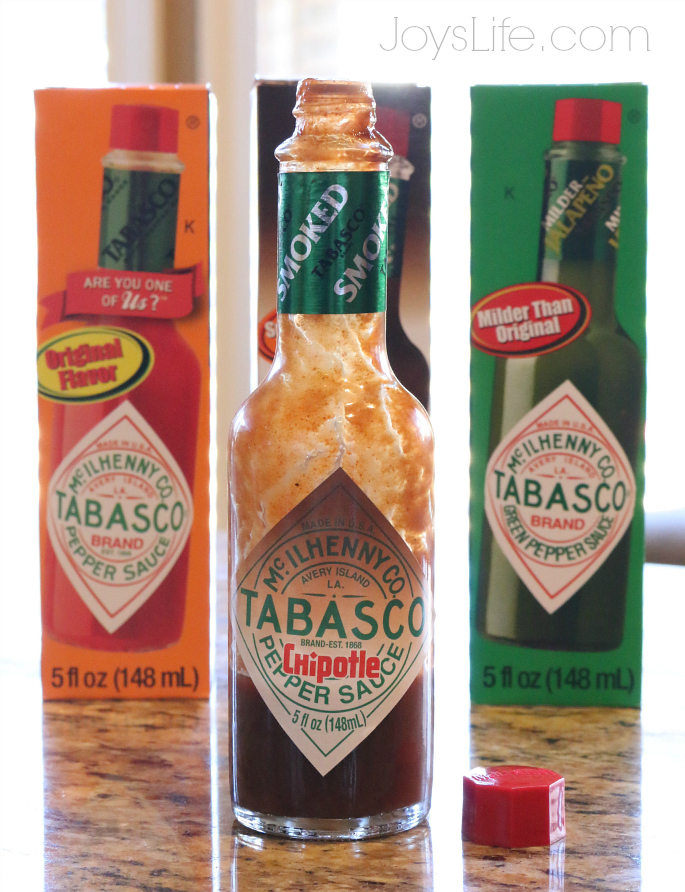 Tabasco pepper sauce comes in several varieties but my new BFF is the Chipotle flavor.  I call it, "Hello, I love you" sauce which I also sing directly to the bottle in true Doors fashion. Hey, Tabasco has a new flavor out now too. I haven't tried it yet but I'm putting it on my list. It's Tabasco brand Sriracha Thai Chili Sauce. Yum…I love Sriracha so I'm betting that's another hit with me.
This is a showdown.  Who will win?  Me with my potato chip or my husband and this recipe?  Thankfully there was enough to go around because I honestly couldn't get enough of it.  I'd never had the Tabasco Chipotle sauce before so I tested it on a chip to see if it was good.  By the time we'd gotten around to making this recipe, we were below the neck of the bottle.  That's how much we'd all eaten of it.  It is DELICIOUS.  I will be buying this again and again and again.  It's got a wonderful smoky flavor and isn't too hot either.  I'm in LOVE with it!  No, that's not too strong a declaration for a sauce.  Not at all.  If I wasn't already married, I'd marry this sauce.  Again, reasonable declaration.
Slow Cooker Cranberry Chipotle Meatballs
Easy and delicious 4 ingredient slow cooker cranberry chipotle meatballs.
Print Recipe
Share by Email
Share on Facebook
Share on Twitter
Pin Recipe
Ingredients
12

oz

Bottle Chili Sauce

1

can Jellied Cranberry Sauce

1/2

cup

Tabasco Chipotle Sauce

1

lb

Frozen Meatballs
Instructions
Mix all sauces.

Add meatballs to slow cooker/crock pot.

Pour sauce mixture over meatballs.

Cook on high for 3 hours or until meatballs are cooked through.
The best thing about the sauce is that it isn't too hot to eat by itself and it really enhances other foods too.  It's a versatile sauce that is wonderful in this meatball recipe.  This is 4 ingredients!  That makes it PERFECT for a holiday get together, football party or any time you want something easy that everyone will love.  This might become that dish that everyone asks you to bring over.  My husband quickly made this and we all enjoyed it throughout the afternoon.  Keeping it in the slow cooker kept it available whenever someone was hungry, which makes it perfect football party food too.  YAY to that!  We enjoyed some of it while watching our favorite team.  They lost but at least this dish was a win!
You can find Tabasco products at your local grocery.  I picked mine up at Kroger.  It was easy to find…so easy…I know just where to grab my next bottle.  I'm coming to get you Tabasco Chipotle sauce!  LOL!  No…seriously.  Get in my cart.
Yum…yum…yum…yum…yum…  4 ingredients.  You know you want to make it.  Easy.  Party.  Food.
You come tell me how much you love that Tabasco Chipotle sauce and these meatballs.  I wanna hear about it! 😉
Happy 4 Ingredient Slow Cookin'!