Glue Dots Favorite Things Blog Hop
Welcome to the Glue Dots Favorite Things Blog Hop!  Be sure to check out the bottom of this post for the other awesome ladies blogs and hop over to visit them!  Don't forget to enter the GIVEAWAY at the end of this post!
I'm happy to be beginning my third year as a Glue Dots Dottess
for the 2013/2014 Resource Team term!
Glue Dots has asked that the Glue Dottesses share some of their favorite Glue Dots projects, Glue Dots adhesive, what inspires us and our favorite things about fall.  Easy!
What inspires me?  
I'm inspired by the seasons.  I like to make things that are useful to me, either for the season, as a gift or in my home.  Fall leaves, crisp air and a pumpkin spice candle pretty much equal a fall mood for me.  This photo below explains my October feelings.  LOL!  It's from my "So Cute and/or Makes Me Laugh" Pinterest board.
My Favorite Glue Dots Products are… 
My favorite of the Glue Dots adhesives are the Glue Dots Pop Up dots…
and… the new Glue Dots Desktop Dispenser.
 I recently used the Desktop Dispenser in this project, which is one of my favorite Halloween projects using Glue Dots.
Here are a few of my favorite Fall Glue Dots projects:
That whole blingy tree was created with Glue Dots.  Check it out!
One of my favorite Fall project using Glue Dots is this flower ball I created back in 2011.  You can learn how I made it here.  It's easy!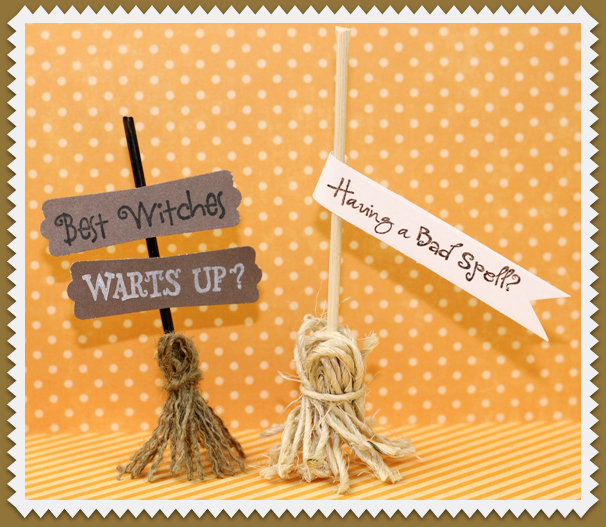 I had a ton of fun making these tiny brooms using Joy's Life stamps and Glue Dots to make my signs.  Click here to learn how to make the brooms.
Check out this fun knock off I did using Glue Dots XXL!  See that orange circle in the middle?  That's not part of the ad, that's what I made!  See that post here.
Something else I enjoy about Fall?  This recipe!
Here's a link to the recipe my family enjoys for hot cocoa.  I hope you like it too!
Be sure to check out the blogs of these awesome Dottesses!
Dawn Barrett
Donna Budzynski
Erin Bullock
Joy – You ARE HERE!  Welcome!
Jessica Griffin
Danielle Hunter
Smitha Katti
Samantha Taylor
Grace Tolman
Glue Dots Blog
And now for a Giveaway!