Instant Cocoa Mix Bulk Recipe
My kiddos love hot cocoa/hot chocolate.  I've been buying it for the Keurig which is nice and easy but gets expensive after a while.  My husband told me that he loved the hot chocolate mix his mother made when he was a child.  He said she made it in bulk so they always had it around.  That's all I needed to hear.  I asked her for her recipe and she sent it right over!
I told you it made a lot!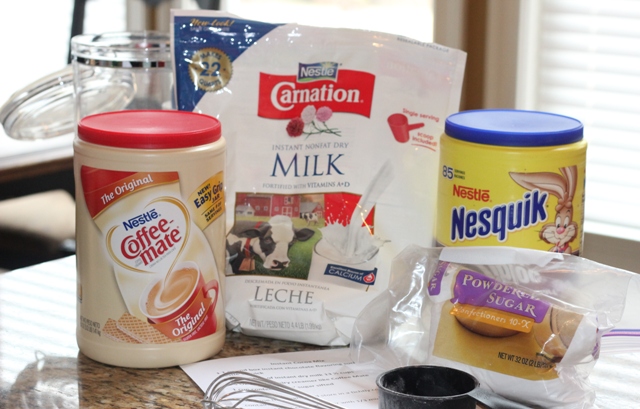 Alright.  I know.  The recipe doesn't use cocoa by itself.  It uses Nesquik.  I'm using the recipe as it was given to me. 😉
Instant Cocoa Mix Bulk Recipe
Instant Cocoa Mix Bulk Recipe
Print Recipe
Share by Email
Share on Facebook
Share on Twitter
Pin Recipe
Ingredients
1

pound

box

powdered instant chocolate flavoring such as Nestle Nesquik

8

quart

box of instant dry milk 13 ½ cups

5

oz

powdered non dairy creamer like Coffee Mate

1

cup

confectioners sugar

sifted
Instructions
Combine thoroughly and store in a tightly covered large container.

To use: Mix ¾ cup hot water with 1/3 mix.
Mix ingredients, combine thoroughly and store in a tightly covered large container.
To use: Mix ¾ cup hot water with 1/3 mix.
I added all of the ingredients and began stirring the mix.  Super Husband offered to shake it up instead.  I took these photos as my sons and I stood by laughing and waiting for the Glad Press n' Seal wrap to give way and cover my dear husband like a snowman.  We waited.  He shook the container…and shook it…and we watched and waited hoping it would break for a good laugh…hoping it would not break for good hot cocoa.  Guess what?
Yeah. The Glad Press & Seal wrap didn't break. No instant snowman dad for us. Sad. Well, we still had hot chocolate to drink! YAY!
I highly suggest putting some of the mix into a smaller container for daily use.  That keeps the big container from being knocked off, contaminated by winter illness and from being in the way.
Add 3/4 cup of hot water and then 1/3 cup of the mix and stir.  One of the first things we did was figure out what setting we could use on our Keurig to make this even faster. So, practice that! 😉
I'm a huge fan of dark chocolate.  That's definitely NOT what this tastes like.  I'd say…to me…this has a sort of a white chocolate flavor to it.
It's a milder hot cocoa/hot chocolate drink.  I'm so glad I made this.  It brought back such fond memories for my husband and making this as a family created new ones for us all.
Warm winter wishes to you and yours!