4th of July Drink Coasters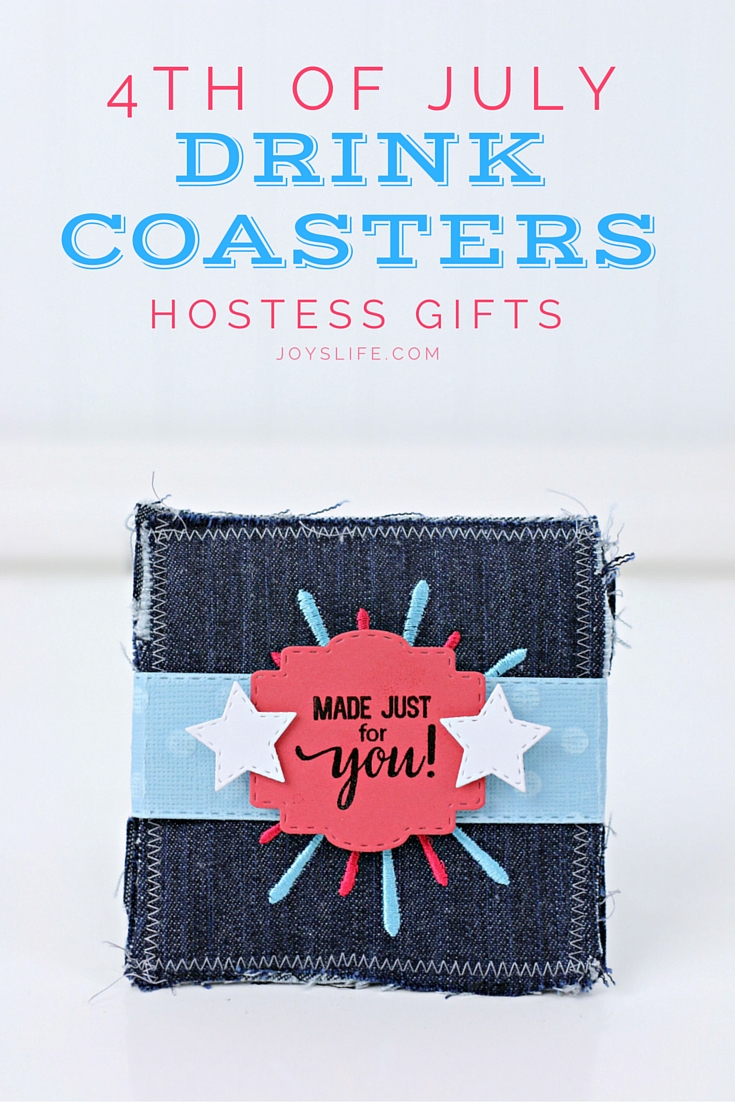 Happy 4th of July weekend, friends!  Here's a fun 4th of July drink coasters idea that will go perfectly with your celebration.  These make a fun shabby chic hostess gift or party gift for guests.  Add an adorable belly band, stars and a fun stamped tag and you're ready to go!
Let me show you how I made this…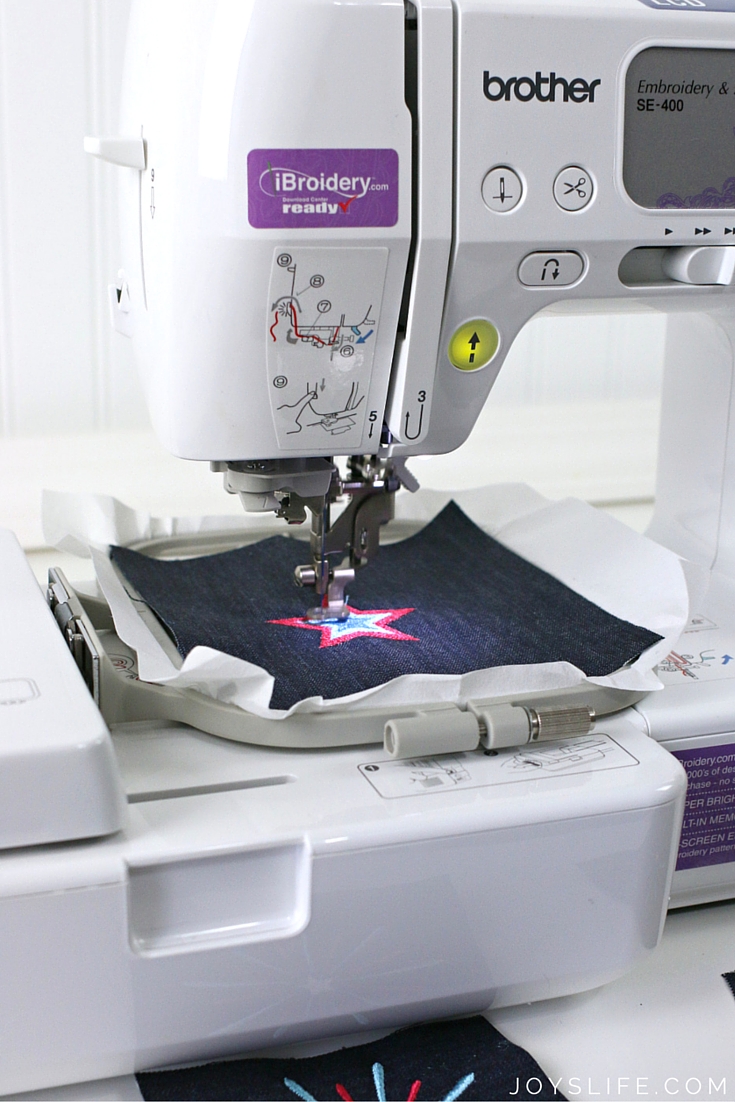 First, I embroidered some denim fabric with this firework and this star.  If you're using a small embroidery machine you'll be happy to know that these embroidery files will work for you!  I'm using a Brother SE400 and it uses a 4×4 hoop.
BUT WAIT! You don't have to embroider these coasters at all because they're cute plain too!
How to Make 4th of July Drink Coasters
Cut denim fabric into eight 3-1/2″ squares. This will make 4 coasters.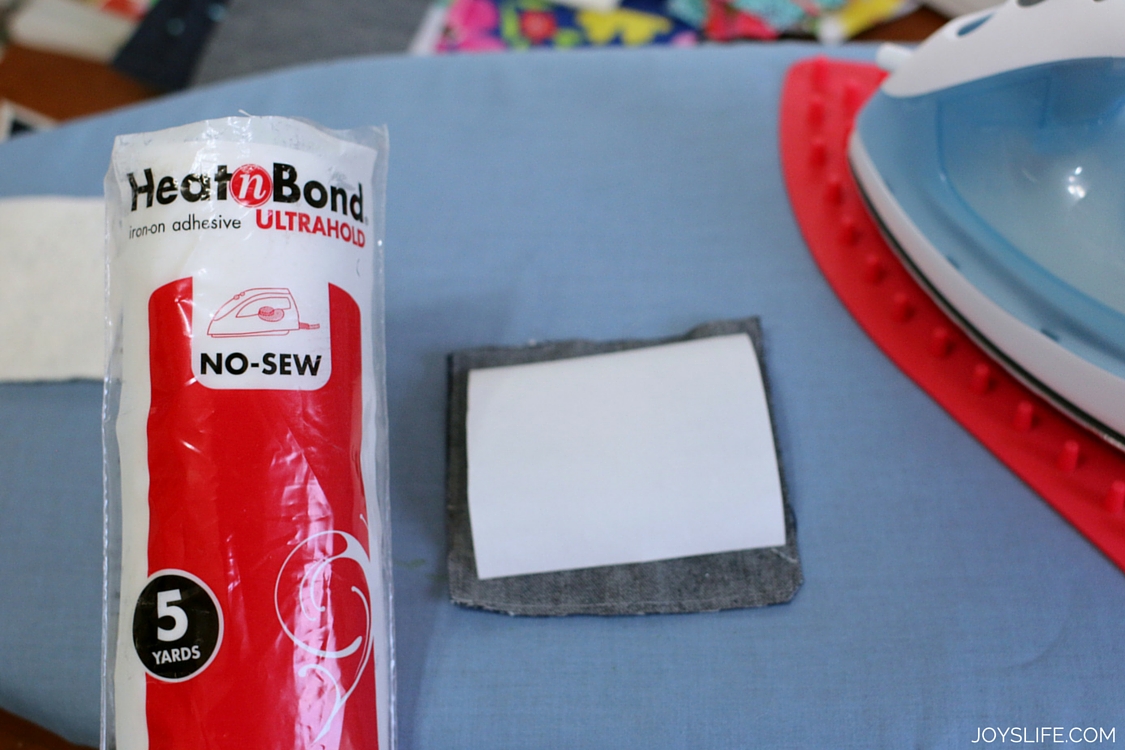 Cut both Heat and Bond and quilt batting to make four 3″ squares.  Iron the Heat and Bond to the wrong side of one of the pieces of fabric (read the package directions).  Remove the paper backing after you've ironed down the first side.  Cover that area with the batting and iron.  That adheres the batting.  Do this to four of the squares.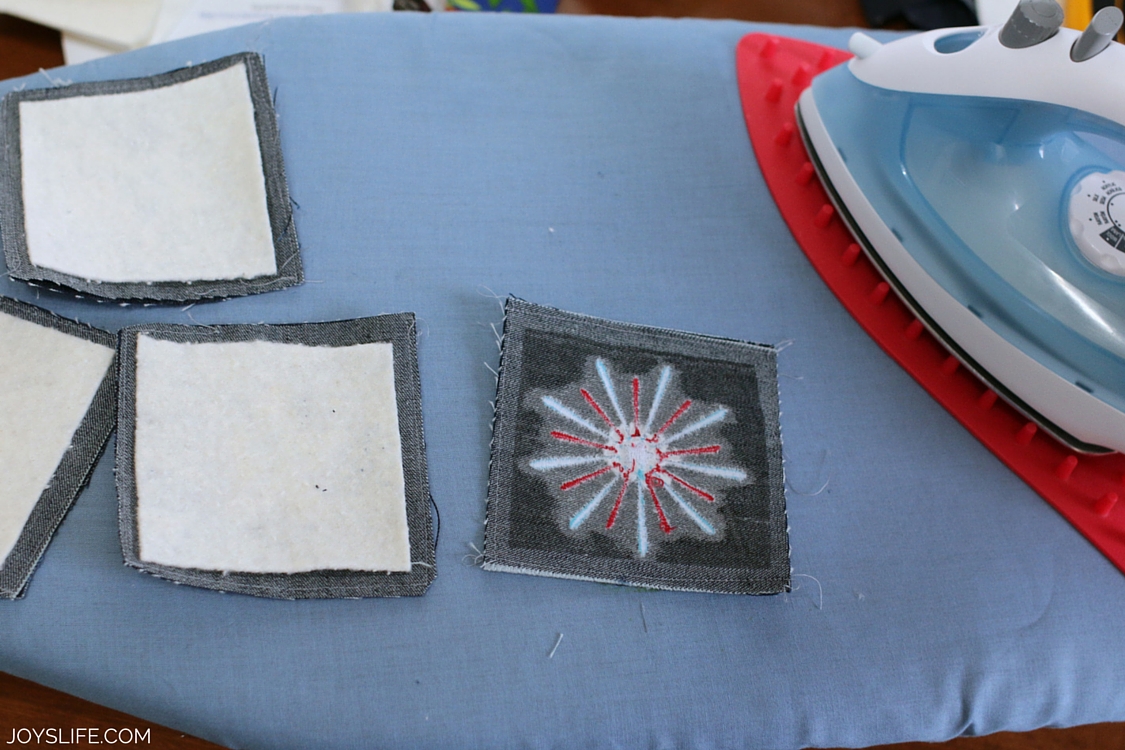 Now, cover the batting with the wrong side of the other piece of fabric, like you're making a sandwich. Line everything up and sew around the edges. That's it!
How to Make Your 4th of July Coasters Look Shabby Chic
If you want a shabby chic look and you're using a strong denim, straight stitch all four sides, leaving a small area unstitched. Now comes the fun, rip out all of the stitches! Really. I mean it. Reach into that unstitched area and pull the pieces apart by hand. That will leave ragged edges. Now go back to your sewing machine and sew the edges with a zig zag stitch. Don't be precise, that's half the fun of the look!
By the way the SE400 embroidery machine can also sew, but I was working on another project at the same time, so I used the Brother CS6000i.  It's a lightweight, easy to use machine that even comes with an extension table for quilting.  I recently bought it to take to my church quilting group, because it was easy to carry and use.  I love it!
Themed 4th of July Drink Coasters make a great gift, but they look even better when presented with a special touch or two. Adding a belly band, stars and a stamped sentiment really pull this look together and create a thoughtful touch.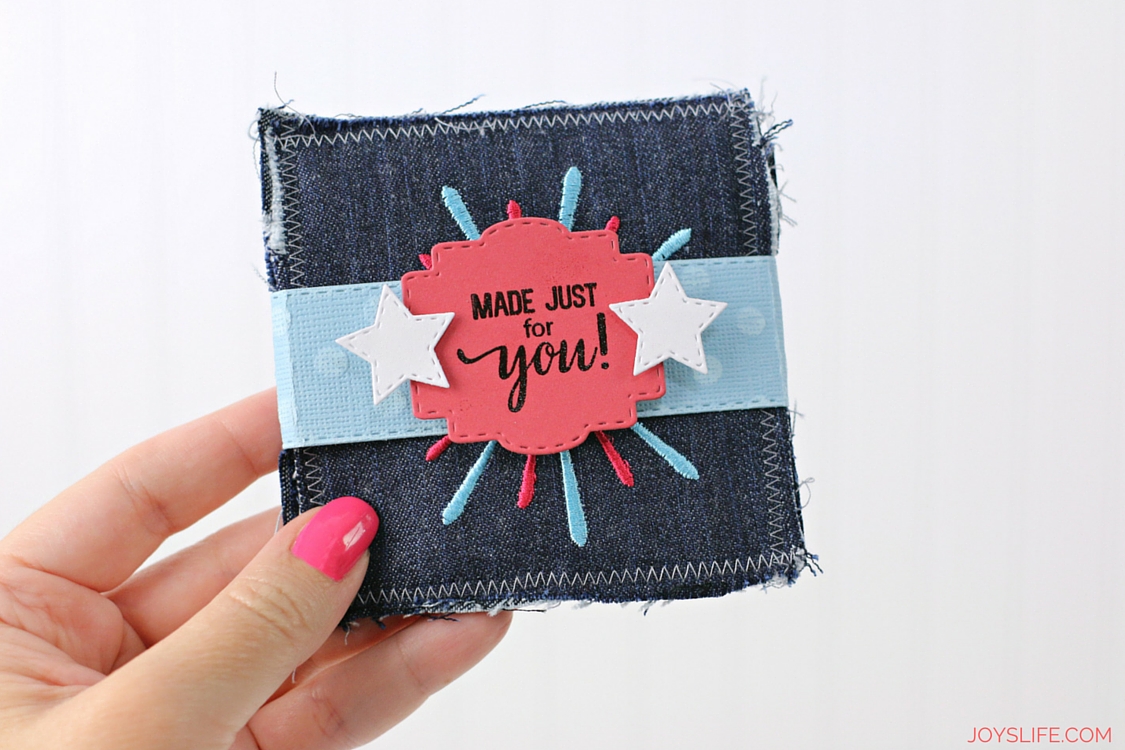 Doesn't the tag and belly band just make this gift?  The stamps and dies used to create this are by my friend Emma at My Creative Time.  She's been creating stamps and dies for years.  I admire the things that she comes out with.  She always releasing new products and staying on trend with her fresh ideas.  One of my favorite things about some of her dies is that stitching.  It's such a special touch that really makes creations pop!
Here's what I used:   Stitched Belly Band Dies, 3 Star Stitched Dies and the Belly Band Sentiments Stamp Set .  Go see what she has.  You'll be stuffing things in your cart before you know it.
I cut everything out using my Cut 'n Boss machine. It was nice to be able to fit everything in there at one time. They all cut beautifully on the first try.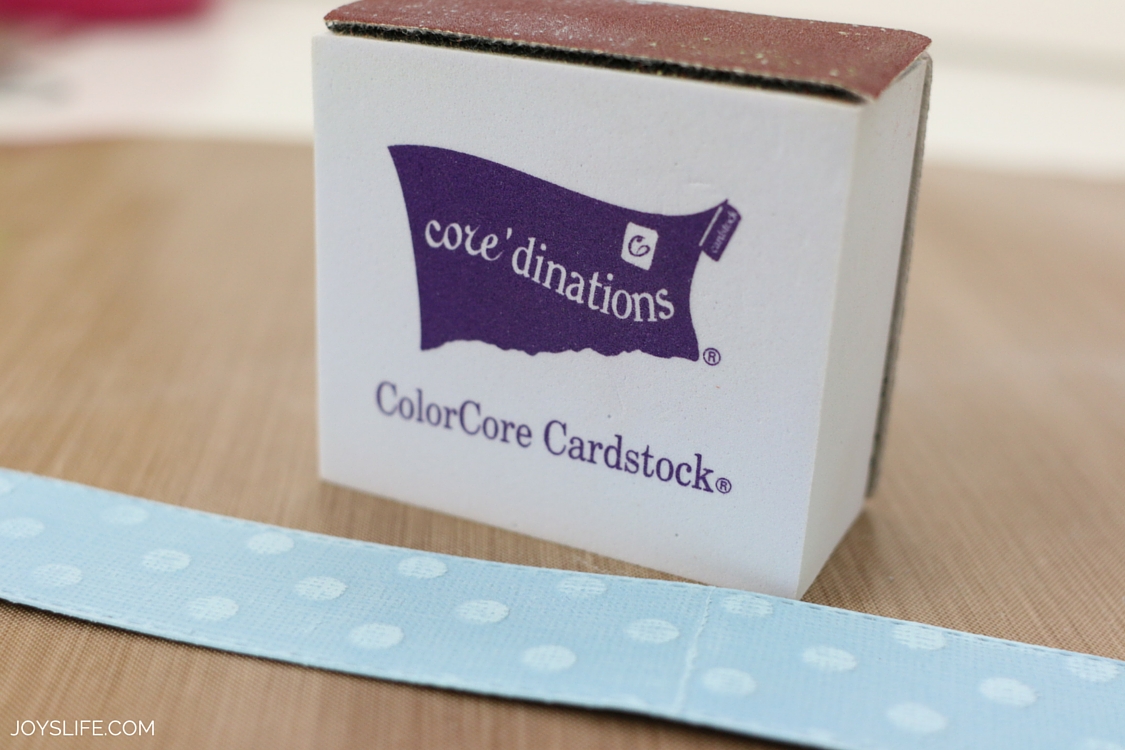 I used Core'dinations Spotted cardstock for the belly band. After I cut it out, I sanded it using the Core'dinations Sand It gadget. Doing that revealed the dots that were embedded in the paper.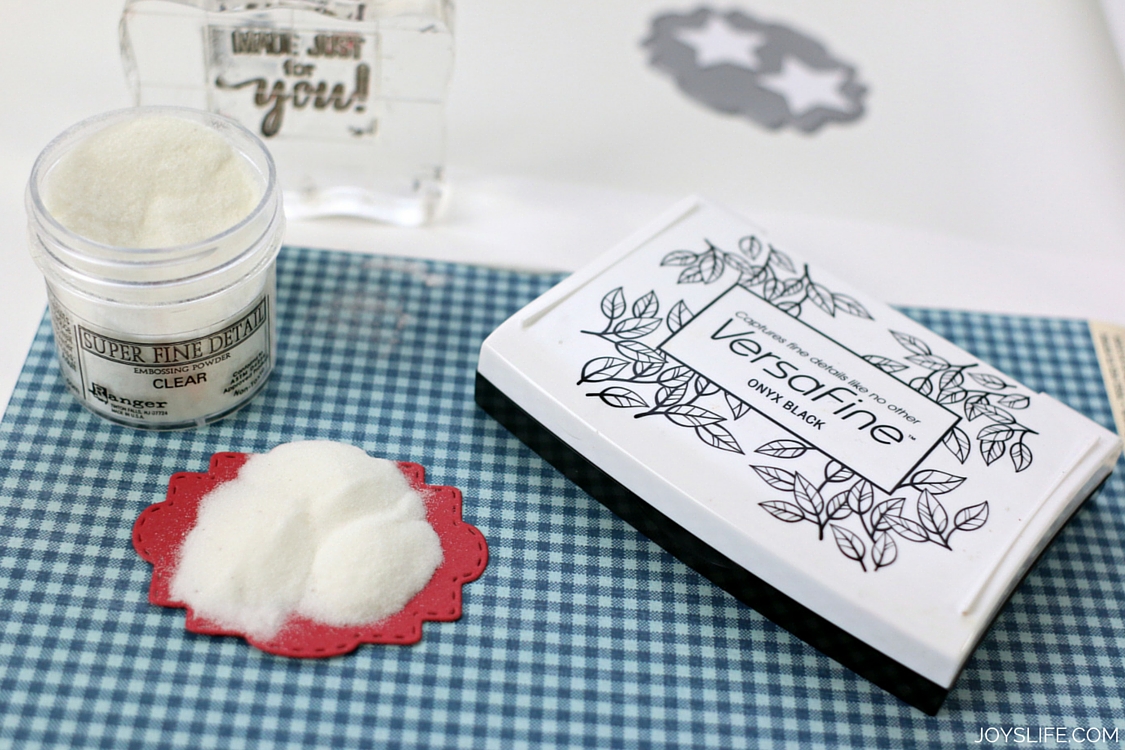 I stamped the "Made Just for You" stamp onto the Belly Band Tag using Versafine Onyx Black ink.  Quickly after I stamped the sentiment, I covered it with Ranger Super Fine Detail clear embossing powder.
I poured off the excess powder and used a heat gun to melt the powder.  The final result creates a glistening look to the words.  Look at how well those stitches around the edge of the tag cut!
I used 1.5″ Pop Foam Self Adhesive Dots to add more dimension to the fireworks style explosion, but honestly, using the My Creative Time dies is just easy.  You can spend more time creating sewing and other projects because you don't have to blow your mind trying to figure out what to do or how to use these dies and stamps.  They look great right away!  The belly band can even be expanded, by cutting out two and putting them together.  That way you can band as many things as you want.
I hope you enjoyed this tutorial! I had a blast making it!
Happy 4th, y'all!