Cricut Vinyl Subway Art Thanksgiving Sign
When I saw this pretty Thanksgiving word art on the Cricut Word Collage cartridge, I thought it would be the perfect project choice to decorate my mantel.  Last month, I made this sign using paint and vinyl in a different way.
Need vinyl?  I like to buy mine from Expressions Vinyl.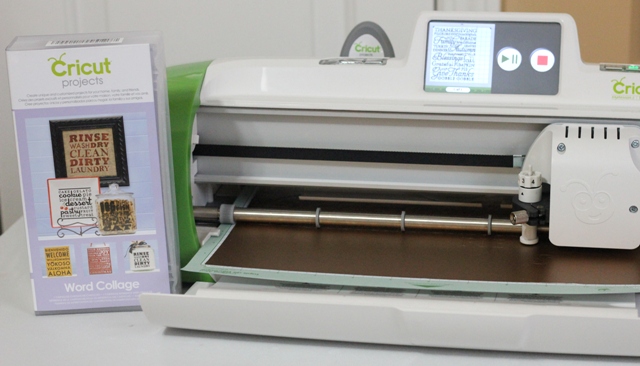 I'm using copper metallic indoor vinyl (Oracal 631) from Expressions Vinyl. This particular cut takes a while.  I started it and then began to paint my canvas.  Go slow on this vinyl cutting.  It's too delicate to cut at a high speed. Questions about using vinyl with your Cricut?  I've got answers!  Check out my Cricut Vinylology DVD.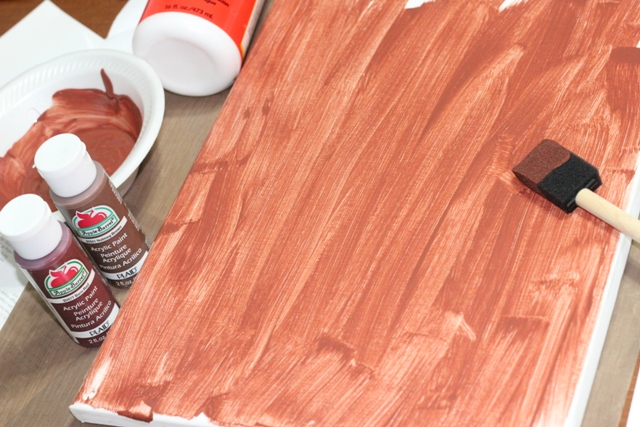 First I primed my canvas with Mod Podge.  After that was dry, I painted it with a mix of Apple Barrel paints by Plaid.  I think my final color turned into a barn red which was really goofy on my part because I have a barn red color from Plaid already.  Oh well! 😉
I'm impatient.  I almost never do multiple layers of anything.  However, I really wanted my canvas to have this color and be this completely covered.  I LOVE IT!  You know what the trick is for impatient people to paint several layers?  Do a layer, then go do something else.  Come back.  Do another layer.  That's what I did and it really worked for me.  If I don't do something else and come back, I end up standing over it, telling it to hurry, calling it names and wondering why it is taking so long to dry. Don't act crazy and talk to your drying canvas.  LOL!
Isn't that vinyl pretty?  I like how it looks brown and then you move a little and it's metallic.  So awesome!  Here I am weeding the cut vinyl.  I use a Fiskars Craft Knife
 for all of my vinyl work.  I love it because I can cut and weed with the same knife.
I'm all about the transfer tape.  Cover your weeded project with it so you can move it easily.  I'm using a clear transfer tape so I can see where I'm putting all these words.  Don't have transfer tape?  Use masking tape. 😉
Hey, nobody is perfect.  You can do the best job in the world and sometimes it just gets messed the "L" up.  If a letter doesn't want to come up…leave it.  Call it names.  Threaten it.  Wait.  No.  Just use a piece of transfer tape, lift it the "L" up and place it down where it belongs.  Having trouble getting the vinyl to stick to the canvas?  Try pushing against the transfer tape with your squeegee while you pull the tape up.  I teach that technique in the DVD.  It definitely works.  I FOR SURE had to use it to make this. 😉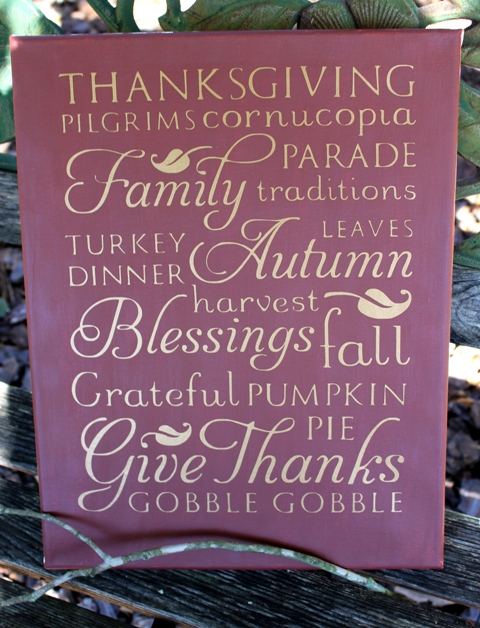 The subway art Thanksgiving sign is now celebrating the season on my mantel!  Here are some other things I've made using vinyl.
Happy Crafting!