How to Decorate a Paper Mache Gift Box with SEI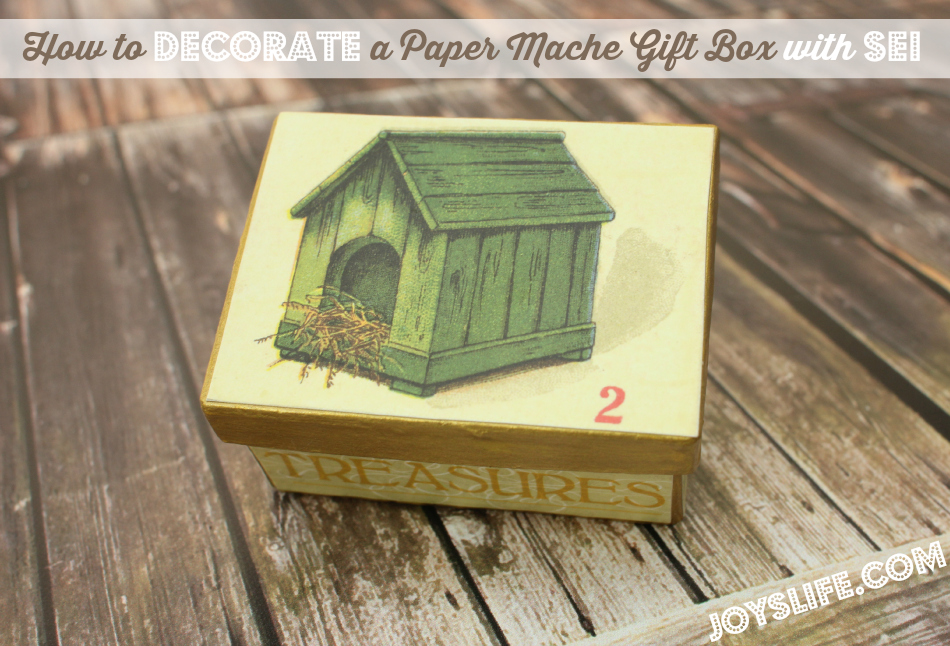 I love to do "makeovers" on things, like I did here and in this recent SEI project. I consider this a makeover even though the box isn't really made to stay plain.  I just think, "Hey, it could stay plain.  I mean, I've certainly wrapped plenty of boring boxes in wrapping paper before."  Well, since we're not counting down to the last second of the Christmas holidays, now is the perfect time to make some customized gift boxes for special friends and family.  They're so thoughtful and perfect for any special occasion!
I'm using a double side perforated sheet from SEI's lovely Athenaeum 12×12 Creative Pack.  After separating the pieces, I trimmed them to fit the box.
I started painting the box with that bright yellow thinking it would look great but it looked like Big Bird melted on it.  To counteract melted Big Bird, I added a metallic gold color.  Then I felt like a genius…all because it accidentally turned out well.  LOL!
Working on one side at a time, I covered each side of the box with Antique Matte Mod Podge, placed the paper pieces where I wanted them and then painted the Mod Podge over the pieces to seal them in place.  I LOVE the Antique Mod Podge!  It gives a slightly darkened hue to projects, which is perfect if you're going for an aged look.  Check out these projects where I also used it: Tim Holtz Tissue Box, Burlap & Paper Wall Art, Tim Holtz Metal Sign.  Want to see all of my Mod Podge projects?  Here they are! 🙂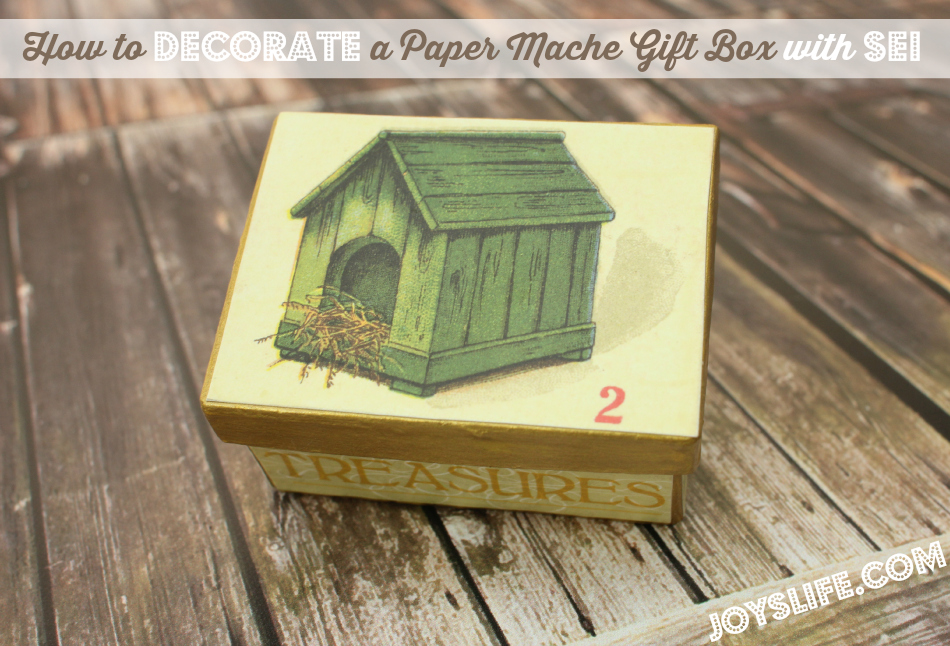 I love this finished box!  You can see all of my SEI projects here (on my blog) or here (on Pinterest).
I wrote this post while participating as a member of the SEI Design Team.
Happy Crafting!