Fabric Jingle Bells with Mod Podge

Isn't it fun to add your own special touch to Christmas and holiday decor?  I think so!  I used two kinds of Mod Podge and a few other cool products I received from Plaid to give these jingle bells a glittery fabric flair.  It's easy to do!  I'll show you how…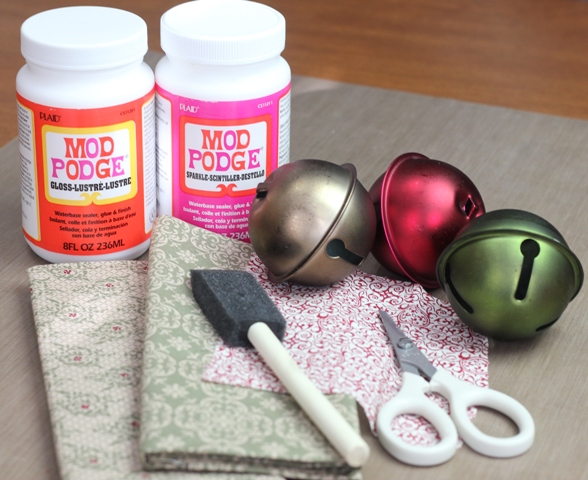 I'm using some big jingle bells I got at my local craft store, fabric, Mod Podge Gloss and (the lovely) Sparkle Mod Podge as well as Folk Art Extreme Glitter (silver) and Chunky (gold) Glitter acrylic paint.  Need a big glittery look?  Try the Folk Art Chunky Glitter acrylic paint.  It gave the plaid jingle bell seen in the main photo it's super glittery look.
First, cover your jingle bell in Mod Podge.  You can use the glitter or the gloss Mod Podge.  I'm using the gloss for this part.
Lay your fabric down on top of the Mod Podged areas of the jingle bell.  Smooth the fabric down.  Trim the fabric to a manageable amount.
Add the rest of the fabric, smooth it down and trim away the excess.
Next, cover the fabric with Sparkle Mod Podge.  You're going to LOVE that stuff!  It works like the regular Mod Podge but adds glitter.  Soooo nice.
Here are a few of my jingle bells in the process of drying.  The one on the right is the closest to being dry.  I just added a layer of Sparkle Mod Podge to the one on the left.  After they are completely dry, I will trim the jagged edges of the fabric.
 Now that the fabric layer is mostly dry, I turned the jingle bell over and coated it with FolkArt Extreme Glitter acrylic paint.  It helped turn this cute but dull jingle bell into Christmas ready.
I used Mod Podge Rub-On Transfers to add "Jingle All the Way" to my green jingle bell.  You can see it a bit in the photos.  It was tough to get a good photo of it.  Rub on's are easy to use.  Guess how you do it?  Yep.  You use that little craft stick and…wait for it…wait for it…rub it on. 😉
Visit Plaid Here:
Facebook: http://www.facebook.com/InspiredByPlaid
Twitter: http://www.twitter.com/PlaidCrafts
Pinterest: http://www.pinterest.com/PlaidCrafts
Check out these awesome holiday projects created with Plaid products!



I wrote this post as part of a paid campaign with Plaid and Blueprint Social. The opinions in this post are my own.
Have a Crafty Day!