Iris Fold Birthday Flower Card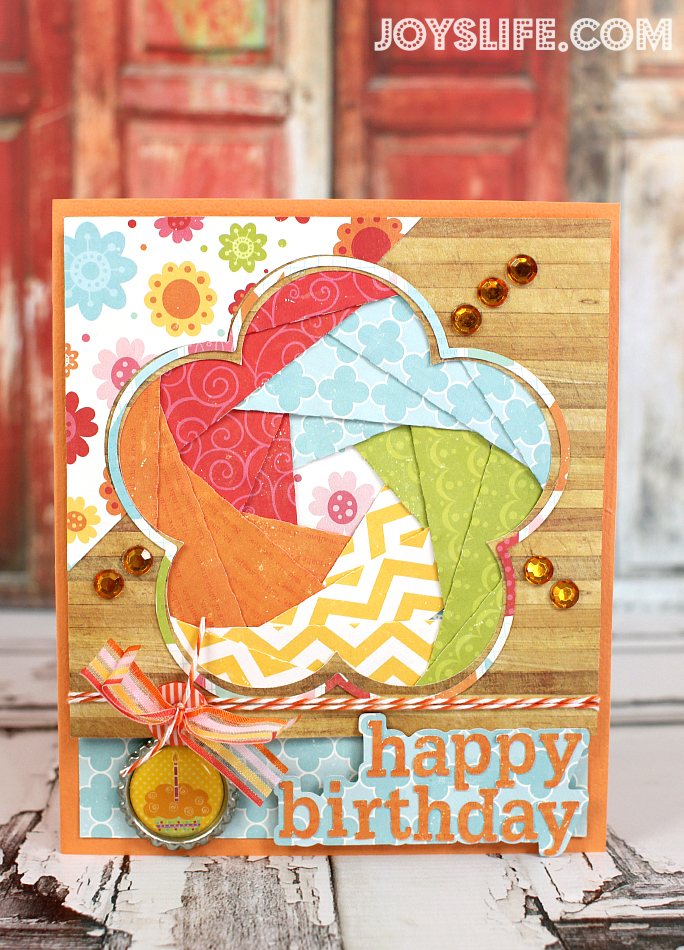 I bought the Iris Fold Cards SVG kit from SVGcuts a long time ago…and did absolutely nothing with it.  Why?  I was completely intimidated by it.  I mean, look at all those folds!  Right?  Well, it is MUCH easier than it looks AND there's an assembly video to go with it, so don't let it scare you off!
Probably the hardest thing is deciding what paper to use.  Choosing patterns and colors is not a natural gift for me, so I tend to buy coordinating paper kits that are double sided.  I always say how much I love them and I'm saying it again…I love them!  I'm using the Hello Summer Echo Park paper by Lori Whitlock but it's a few years old and might be hard to find.  Another close option is Summer Bliss Echo Park paper also by Lori Whitlock.  You should be able to find that without much trouble.
Need help with the Silhouette Cameo?  Check out my tutorials here.
You fold and glue all those pieces of paper that I showed in the previous photo, then you glue them down to the flower, alternating the colors.  Again, it's all in the video so don't freak out (like I usually do).  It's really not difficult.  You just need to pay attention to your color order.  So, maybe don't watch Orange is the New Black and talk to your friends on the phone while you do this…because you really will want to hit Larry…so you'll need both hands.  (If you don't watch Orange is the New Black then you won't need both hands to hit Larry, so you might be able to do everything at once.)
For real.  It's all about the Xyron X.  That's how adhering little letters doesn't make you want to crush things with your bare hands and rip your project to shreds.  Um…it's possible that I'm not terribly patient.  Just sayin'.  The Xyron…I love it.
We're almost done!  By the way, I got that wood grain paper from Lori Whitlock's This & That Echo Park paper pack.  To do all the detail gluing work, like that thin edge of a flower that's sitting on the wood grain paper, I used this clear liquid adhesive by Art Glitter with the ultra fine metal tip.  I also used it recently here.  When it came to the big pieces, I did what I always do and used my Scotch ATG gun.  I can't craft without it.
If I can find a way to add a bottle cap, I do it!  I don't know what my thing with bottle caps is but I love them.  You can find all of my bottle cap posts here.  In this post, I show you how I created a bottle cap embellishment like the one you see on this card.  I even have a bottle cap Pinterest board…so weird.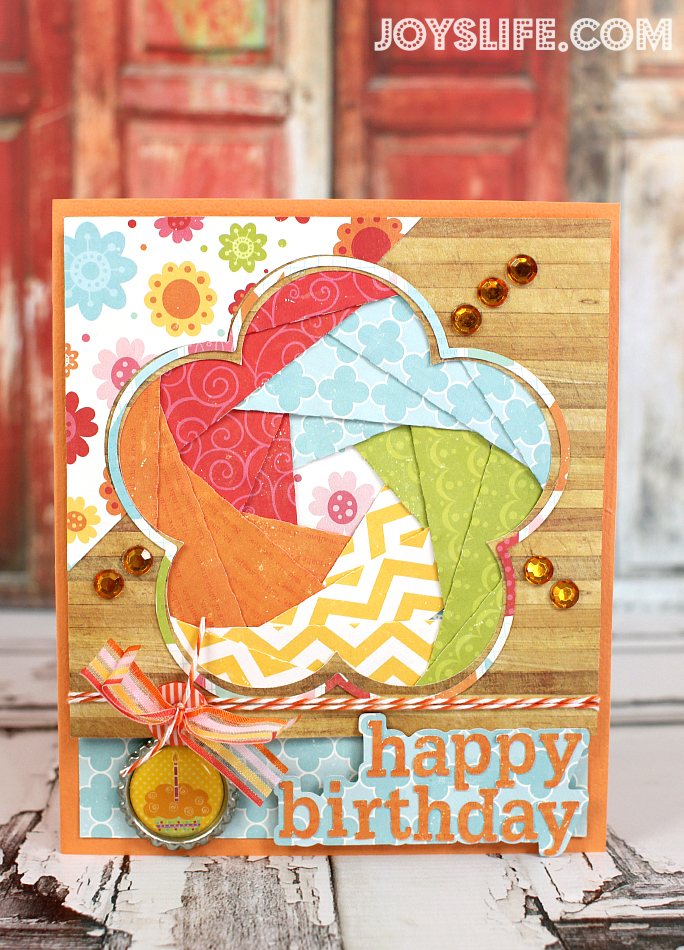 I added some bakers twine, ribbon and a button all from my stash.  Every time I can make ribbon work in one of my projects I'm super proud of myself because ribbon and I have just never been part of the same team.  I have to really struggle to find a way to make it fit in naturally but I think I did that here.  AND a button?!  It was like I won the "outside of my craft stash comfort zone" award on this one.  I sooo should have played the lottery today.
Do you struggle when it comes to using certain craft items?  What things are tough for you to incorporate?
Have a super crafty day!