How to Customize the Silhouette Cameo Control Panel
Silhouette Cameo owners you are going to LOVE THIS!  Why?  It's FREE, FAST & FUN.  That in itself is cool.  What you're able to do is customize the control panel to a look that fits YOUR STYLE!
 All you do is carefully remove the cover of your Cameo's control panel.  I used a craft stick because it has rounded edges and it was handy.  Scissors were handy too but I say that's a no-no if you want to minimize potential damage.

What you need to do now is go to your library in the Silhouette software (I'm using the Designer Edition) and find the control panel icon.  Click it to import it to your virtual mat.  DO NOT MESS WITH THE SIZE!!  It's perfect just as it is when you import it.  Don't monkey around with perfection.
NOTE: If you just got your Cameo and you can't find the 51 free images that came with it do this:
1. Open the Silhouette Studio software
2. Go to the "File" menu (PC) or "Silhouette Studio" menu (Mac)
3. Select "Preferences"
4. Select "Advanced"
5. Select "Restore the initial 51 designs"
I filled my control with this patterned Christmas paper by Lori Whitlock.  You don't have to do that.  You can just put some paper in your Cameo and cut it out.  I like this particular print and didn't have to disturb my nice paper for a piece that was just temporary.  I printed it onto my FAVORITE cheap paper.  It's 110 lb paper (a thick weight) and super cheap at Amazon.  I buy it all the time and highly recommend using it for printing, cardmaking, test runs of projects etc.  Here's a link to it on Amazon: Wausau Paper 250 sheets per pack
(I actually stopped and bought some more while I was writing this.)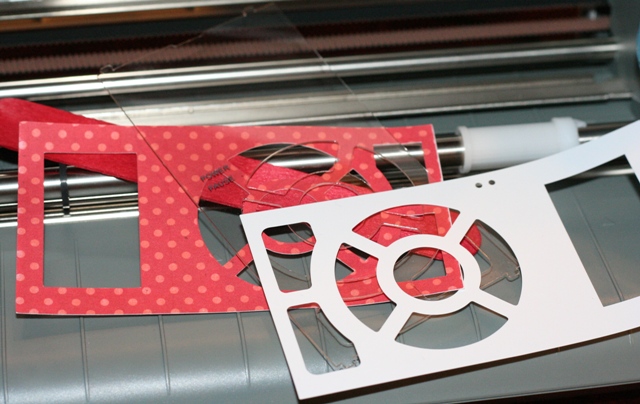 I had a photo of the machine cutting this out but it's really late and I accidentally deleted it.  Darn! Well, I was going to show you that I printed registration marks on my paper so the Cameo would know where to cut.  We'll just get into that another day.  So, here is the original control panel backing and the new one all cut out. 🙂
Just lay the paper back down, snap in the cover and you're all set!

What a thoughtful and fun addition to the Silhouette free images.  Thumbs up to Silhouette for that!!  Now go make your Cameo your own! 😉
Find more Silhouette tutorials here!
Happy Crafting!