Holiday Cards Blog Hop – Scandinavian Cricut Cartridge Dove Card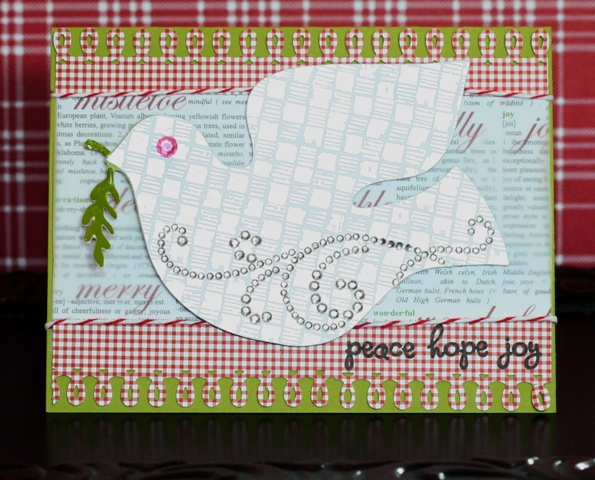 Welcome to the Holiday Cards Blog Hop!  I hope you enjoy looking at the different creations from everyone.  Be sure not to miss the blog hop line up/list at the end of this post.  You won't want to miss the GIVE AWAY either!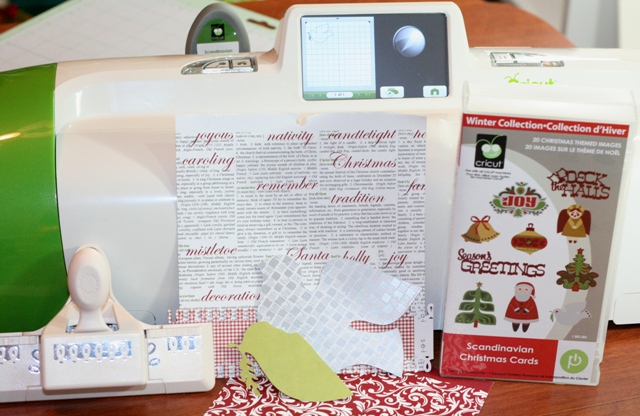 Today I decided to use my Cricut Expression 2 along with the Scandinavian Christmas Cricut cartridge.
That is a really pretty cartridge.  I'm glad I finally used it!  I cut the dove at 3.5″.  Wondering what happened to the green cutout?  Well, I only needed the greenery part to show so I used a piece of leftover paper that wasn't big enough for the whole dove.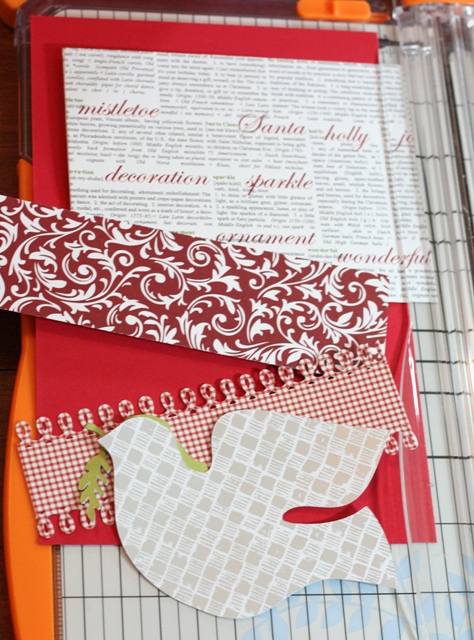 I tried to keep this card fairly simple. I took a 8 1/2″ x 11″ piece of paper and cut it in half to create two 4 1/4 x 5 1/2 cards. I'm only using one card today though. I used a Martha Stewart Loop punch on both ends of the red and white plaid paper and then I cut that piece right down the middle.
After I put everything together the way I wanted it I realized that the wording behind the dove really competed with the overall look of the card. I didn't want to radically change the card but I knew something needed to be done. What I think turned out to be a nice fix was to cover the worded paper with vellum, that way you can still see the wording but it's more subdued. About gluing vellum…so many companies claim to sell adhesives that don't show through vellum but I don't think any of them really do a good job. To be fair, I have not tried them all! 😉 Maybe there is one out there that could work. What most people do is use whatever glue they like and then cover the glued area with some kind of design element. Here, I covered the glued vellum with the looped punched paper.
I brought out the bling, string and anything…yes, I will stop rhyming now. Don't be afraid to take your pretty bling and cut it! Isn't that shocking? Well, that's what I did. I cut it and flipped and moved swirls to the areas where I needed them. Yes, those swirls look beautiful in the package just as they are but are you going to hang the package for display or make what's in the package fit your project needs? I know, I know you're going to hang the package. You crack me up.
I used a Viva Decor Pearl Pen in Kiwi
to add some dimension and shine to the greenery that the dove is carrying.  I tied bakers twine around the card.
I leave the bling on the clear backing and manuver it around my image until I determine how I'm going to lay it out.
  The stamp I used is from the Joy's Life Wintery Puns stamp set.
Hop Over and See What These Ladies Have Created
Joy: https://joyslife.com – You Are Here
Amanda: http://www.whiteruffles.blogspot.com
Anne: http://anniebeescraftroom.blogspot.com
Annette: http://www.aspoonfullofsugarcrafts.blogspot.com
Christine: http://www.stampynwifesspace.blogspot.com
Jennie: http://earthyscrap.blogspot.com
Maria: http://joyfulstamper.blogspot.com
Martha: http://pattisscrapingtime.blogspot.com
Melisa: http://melisascraftycreations.blogspot.com
Stacey: http://staceyscreativecorner.blogspot.com
Susie: http://www.thedieshaveit.com
Tracy: http://www.thepickledowl.blogspot.com
GIVE AWAY TIME!!
Leave a comment to be eligible for a chance to win the Scandinavian Cricut Cartridge or a set of Joy's Life Wintery Puns stamps!
I'll use Random.org to choose a winner on Saturday, December 10, 2012. Good Luck!!
Congratulations to the Winners:
The Winner of the Scandinavian Cricut cartridge is:
Susan says:
DECEMBER 3, 2011 AT 10:36 PM
I like the rhymes Joy! Your post crackes ME up! I do like your card, very pretty! I have not used Pearl Pens but after seeing how it really popped out the green I'm going to give them a try. I'm off to hop…thanks for sharing your project and hosting the hop! Susan cricutandgrasshopper.blogspot.com
The Winner of the Joy's Life Wintery Puns stamps is:
reneehere13 says:
DECEMBER 4, 2011 AT 5:09 PM
Love your Joy's Life site! I'm basically new to all of this. Today's the first time I've explored any site, blogs, and links in this much detail. I am so glad to feel your passion for creativity and am inspired!! Thanks so much for sharing. I've made a copy of your great cartridge checklist and am thrilled to begin the organizing of my cricut cartridges and card making supplies. Thanks for the inspiration!
I hope you enjoyed this post and have a nice time hopping to the other blogs and checking out their crafty creations!