Design Studio, Diamond Glaze & 15 B'day
My 1st Time to Use Diamond Glaze!!
I had such a good time making this card for my soon to be 15 yr old. This is an invitation to her b'day party.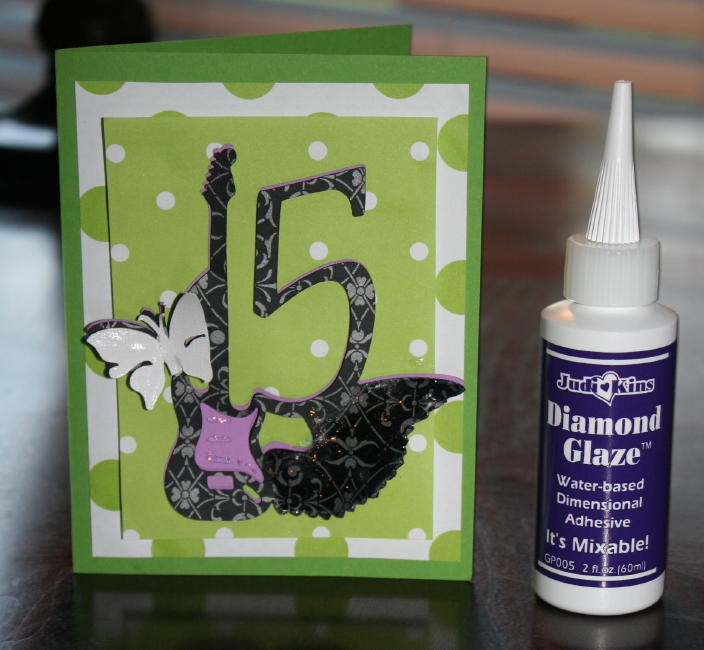 The Diamond Glaze is on the angel wing and the butterfly.  It gives things a glassy look.  It can dry in minutes if you do a thin glaze or dry in hours if you do a thick one, or depending on humidity.  I left it overnight and it was dry in the morning, so I'm not sure how long it really took.
I designed this card using Design Studio and the Indie Art cartridge for the images + Lyrical Letters cartridge for the numbers. My DD LOVES IT!!
I like the way it turned out too, but I probably would have done some more with the card if DH hadn't been driving me crazy to get it done so he could take it to his family who live nearby.  Usually DH doesn't mess with my creative process…but free delivery is free delivery, LOL.
Yes, I see several spots too.
BTW, you can clean that Diamond Glaze up with water if you get it up fast…but if it dries…you've got NO CHANCE. It will adhere to just about anything.
Also, there isn't glitter in it. The glitter you see is left from a series of unfortunate choices on my part. 1st I tried covering the Diamond Glaze with white flocking (more on that in an upcoming post), but that didn't look good at all. Next, I tried to cover up the flocking with a ton of Diamond Stickles, which created a gloppy, gross mess. (Does this remind you of the Cat in the Hat?) Happily, it was easily cleaned up. I just wiped it right off. Awesome. Then I reapplied the Diamond Glaze and left it alone…finally! However, that is why the finished product has some glitter in it. It's leftover Stickle guts.
Thanks for visiting!