3D Beveled Edge Frame from Cardstock – Lori Whitlock Design Team Post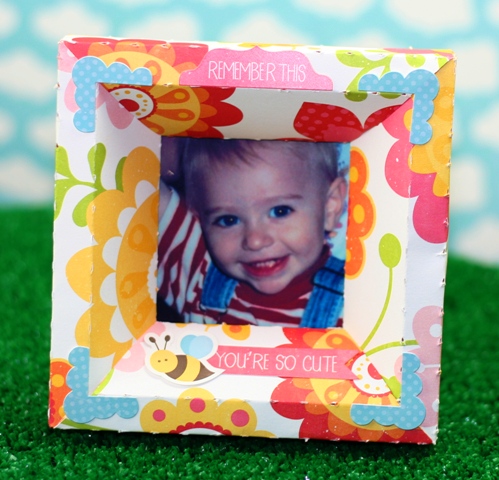 How many times do I say, "I can't believe you can make this out of a single sheet of 12×12 cardstock!"?  Well, mark me down for saying it one more time because you can make this whole frame, including a little stand all from a 12×12 sheet of cardstock.
I used Lori's newest Echo Park paper line called Hello Summer.  It's so cute!
  Here I am feeding it into my Silhouette Cameo.
You can get this cute beveled edge frame here.
After cutting out the pieces (from your single sheet of cardstock – AMAZING!) you just fold and glue to create the frame and stand.  If you have any trouble folding the paper into a frame you can watch this video tutorial that Lori created.  I did!  It helped!
After a bit of folding we have a frame!  Almost.  It needs glue and it's tiny triangular back so it can stand up.
 A little Zip Dry Paper Glue
and we'll be all set…or at least the paper will be.  Ba da dum!  (…see 'cause glue has to set…uh…as my Dad used to say…a joke loses something if you have to explain it…another theory…it's just not funny.  LOL!)
 Side view of the triangular stand.
I used some stickers from Lori's Echo Park Hello Summer paper kit
to add the blue corners, sentiments and the cute bee.
I hope you enjoyed this post.  It was fun making this frame.  It's sitting on my mantel in the den now.  You know what would be super cute?  Putting a bunch of these frames on the mantel using different cardstock and uh…maybe showcasing my other 2 kids.  LOL!
I wrote this post while a member of the Lori Whitlock Design Team.
Have a crafty day!