Tim Holtz Fabric Mod Podge Tissue Box
Fall is full of beauty.  It's my favorite time of the year.  However, it's also the time that keeps me reaching for my Puffs Plus tissues (the only brand I'll use) due to seasonal allergies.  So, it makes total sense that my project today is a tissue box makeover!  Check out the fabric…it's by TIM HOLTZ!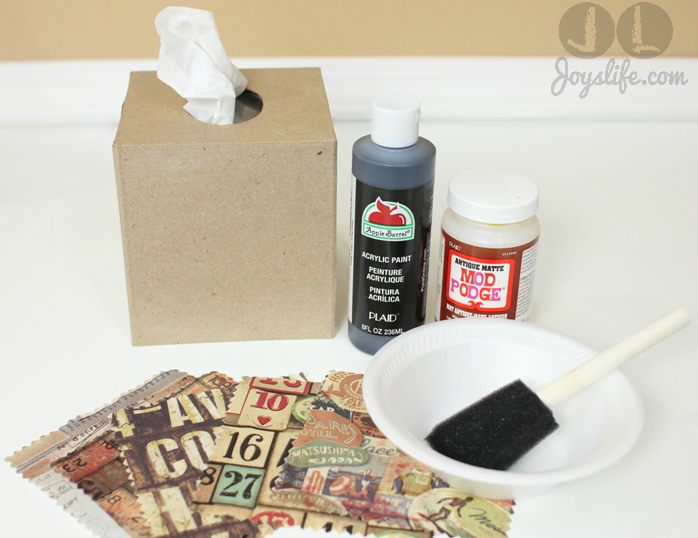 I'm using black paint, Antique Matte Mod Podge, Tim Holtz Eclectic Elements 5″ Charm Pack fabric, a paper mache tissue box by Darice, a styrofoam bowl and a foam brush.
First, I painted my tissue box black.  My craft room colors are the brown you see on the wall in the background, black and white with a few teal accents.
I've been giving my craft room a makeover.  Slowly but surely it's coming together.  One of the things I'm doing is finding lots of things that I already own and making sure to put them to good use.  First up is this sad little tissue box that I bought a year ago.  Pitiful that it's looked like this for so long.
I turned the box over on the fabric and drew an outline of the opening directly onto the fabric.  Then, I cut it out.
I covered the top of the box with Mod Podge.  Next, I placed the fabric down and covered it with Mod Podge.  Easy!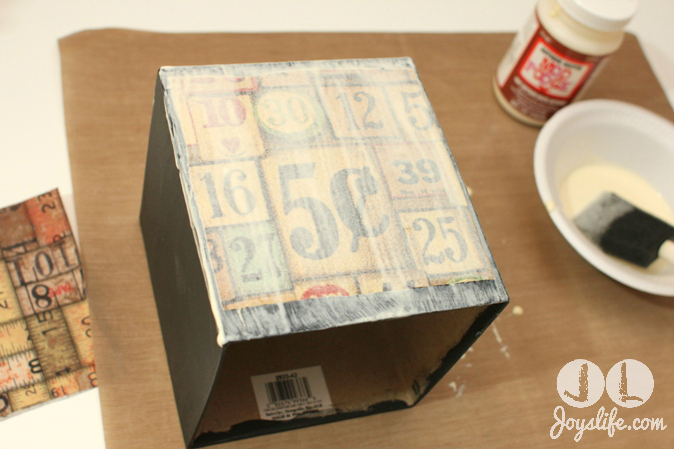 Repeat the Mod Podge process with all the sides of the box.  This is my very favorite piece of fabric.  I keep it facing out on my desk.
From the top!
I think this box is cool from all sides!  I hope you enjoyed my project!
Check out the projects from these talented ladies!
Joy – YOU ARE HERE!!
Laura: http://www.laurascraftsandmore.com
Lori: http://got2bcrafting.blogspot.com
Maria: http://asimplefive.blogspot.com
Stacey: http://staceyscreativecorner.blogspot.com
Kendra: http://luv2scrapnmakecards.blogspot.com
Julie:  http://muddypawsinkyfingers.blogspot.com
Dawn: http://dawnmercedes.blogspot.com
Time for a Giveaway!
Tell me what project that YOU'VE recently made is your favorite and why.  I'll post a winner of this fun Mod Podge starter pack on October 26, 2013 on this post.
And the winner is:
Sue D says:
OCTOBER 20, 2013 AT 1:23 PM
I just finished up 20 Thanksgiving cards for a lady at church and I think they turned out nice. Today we had a pastor appreciation reception and were to bring cards. I made one with turtles–he raises turtles–and it came out very cute.
Have a great day!