Crocodile Smile Pillow box & Card – Animal Blog Hop
I'm using the Love Bites Cut It's Projects from Lettering Delights to make these hilarious crocodiles.  I just thought they were so cute and funny, I had to make them.
The 3D croc pieces cut out really easily but I stared at them for a while before I figured out how they went together.  Actually, it's quite ingenious.  The scales and feet tuck into the cut lines in the crocodile.  The eyes sit in little slits too.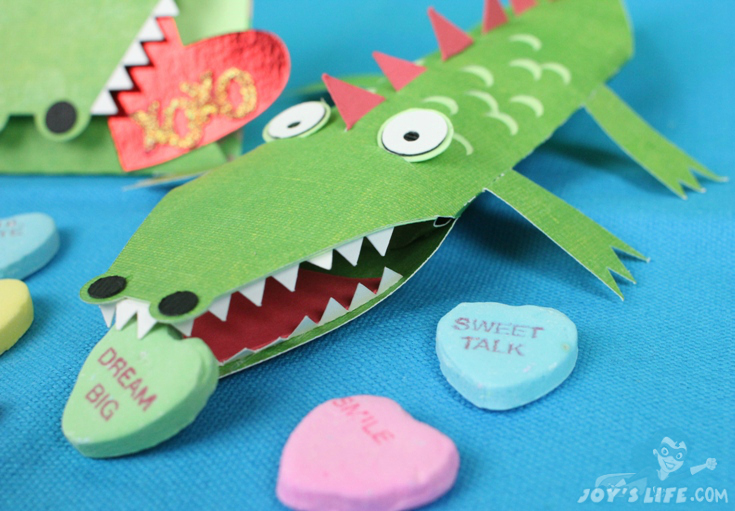 I did have some trouble making it work as a pillow box but maybe that was just my user error.  Regardless, he's ADORABLE and he does work as a pillow box, it just took me a while.
The card was as easy as pie to put together.  It's so cute too, don't you think?  I love it.  I used Stickles in the Fruit Punch color
 to give some glitter to the XOXO.  I love Stickles!  Don't know what they are?  Read these posts:  What's a Stickle?  and Stickles compared.
You'll have no trouble at all putting this card together!  It's perfect for Valentine's Day or any time that you want to make someone have a smile as big as a crocodile.  If you want to make these crocs and see some other great stuff too, this link will take you straight to the crocs page at Lettering Delights.  Here are some other Valentine things I've made.
Time for a Giveaway!
Leave a comment telling me your favorite Valentine's Day candy or favorite meal to be eligible to win a $15 gift certificate to Amazon, my favorite place to shop…ever!
AND THE WINNER IS:
crosskris1 says:
FEBRUARY 9, 2013 AT 1:09 PM
Your croc is too cute!! Love everything for your project. My favorite Valentine candy is anything chocolate!!  Thanks for a chance to win and for sharing your great project with us. Kris
Take a look at what the wonderful ladies from the Joy's Life Design Team have created.
Joy: YOU ARE HERE!  Welcome!
June: http://simplyelegantpapercrafts.blogspot.com
Cyndy: http://arcyscraps.blogspot.com
Megan: http://thoughtsoftraveling.blogspot.com
Patty: http://craftykitten1.blogspot.com
Sarabeth: http://www.chroniclesofsarita.blogspot.com
Debbie: http://bugjuiced.blogspot.com
Staci: http://preciousmem.blogspot.com
Maria: http://joyfulstamper.blogspot.com
Lori: http://got2bcrafting.blogspot.com
Kimberly: http://hellocutiecrafts.blogspot.com
Laura: http://www.laurascraftsandmore.com
Have a wonderful weekend!