Cricut Create a Critter 2 Bear Valentine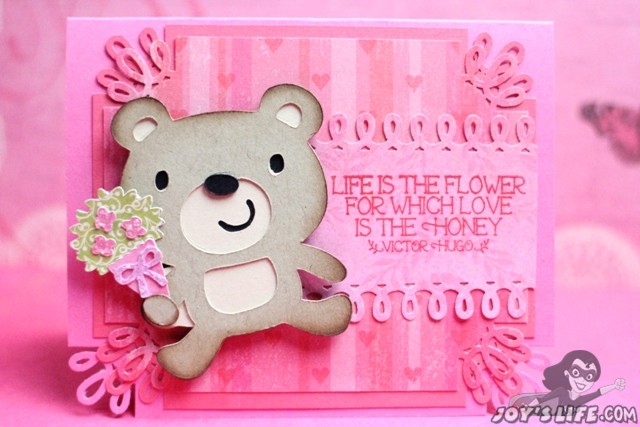 When people ask me what Cricut cartridge they should buy as one of their first ones, I always suggest the Create a Critter cartridge.  It's cute, fun and easy to layer.  I love it! .  Not too long ago, Cricut came out with the Create a Critter 2 cart, that's the one I'm using today.  Here are some other projects using Create a Critter.
You've seen me use my Silhouette Cameo a lot lately but my first love was the Cricut.  As I was discussing with my friend Susan F. on Facebook the other day, I am an equal opportunity die cut machine appreciator.  LOL!  Just because you love one machine doesn't mean you can't love another. 😉  I also use and enjoy the KNK Zing and the Sizzix Eclips as well as the Cameo.  Here are things I've made using the Cricut.  I even made a whole DVD about using vinyl with the Cricut!
I cut the bear out at 3″ and the flowers out at 1-1/2″.  Next, I ran the pieces through my Xyron.  Have you used one?  It's soooo easy!  You put your item through one side and pull it through (like with the X in the background) or crank it through (like with the blue Xyron on the left) and your crafty item comes out with adhesive on the back all ready to stick to your project.  There are other inserts for Xyron's too.  They're sooo cool!  Here's a post where I use a larger Xyron.
I have a love/hate relationship with glitter.  It looks pretty but it always ends up stuck to my face like a wild glitter weekend beauty mark or in my eye.  Solution?  Stickles.  I'm using them to give a glittery effect to the flowers and bow, without the mess.  Want to know more about Stickles?  Check out these posts: What's a Stickle? and Stickles Compared.
I'm using the Martha Stewart Punch Around the Page Loops Punch Set to help me create a border/tag and to punch the corners.  I also inked the bear in brown to give it some dimension.
This sentiment is from the "Tag You're It 2" stamp set.  Need more stamps that fit with the Create a Critter cartridge?  Check out my "Lots of Pun" stamp set.  I made it specifically to work with the first Create a Critter cartridge.  It has many other uses too!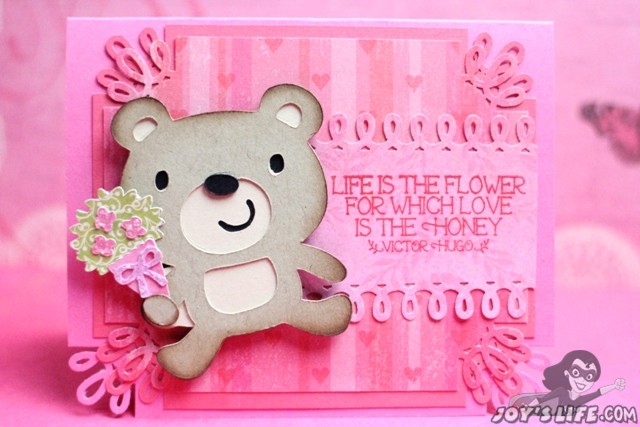 TIME FOR A GIVEAWAY
Woo hoo!  One winner will have a chance to win both a Xyron 150 and the Xyron 250.  I used both of these great products in my post above!
This giveaway is provided by:
Have you been to their site lately?  You should go check it out!  They have a new owner AND a new look!  Go visit them at www.memorymiser.com!
To be entered for a chance to win these 2 Xyron's: Leave a comment telling me what you like to make when you craft.  Do you scrapbook?  Make mini-books?  3d projects?  Vinyl?  What's your favorite thing to make? A winner will be chosen on January 22, 2013 and listed on this post…so check back! 😉
And the winner is:
JaimeLynn says:
JANUARY 20, 2013 AT 10:47 PM
Hi joy,  I am new to your site but so far have loved your projects. I found you looking for a way to make waxed paper bags. You see I am a girl scout leader and the very first girl scout cookies were cooked by mother and daughter at home and put in waxed paper bags with a girl scout sticker seal to hold it shut and sold door to door. I am plannig on replicating that for my parent cookie meeting. But on that note I do many projects that these machines would be useful for. At the end of the year, for one example I do what I call a memory page. I guess it's like scrap booking pages for a hole troop, than i laminate the page when i'm done a put a fancy ribbon to hang it from so the girls can see what they have done that year. Like i said it's alot of pages and glueing so this would help out greatly.  Thanks, Jaime D.
Happy Crafting!