Alabama Crimson Tide Cricut Football Fan – Football Friday Post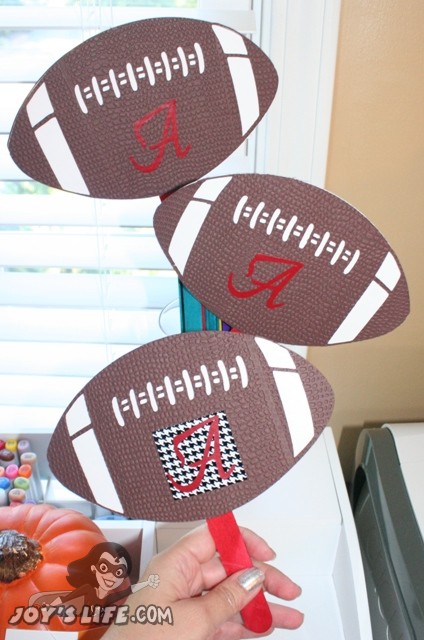 It's true.  Sometimes I make things just because they make me laugh, like my blog blog blog shirt.  Making a "football fan" cracked me up.  You know what?  It's funny, it's useful and can be obnoxious a great way to show team spirit.  Imagine fanning it every time your team gets a touchdown, like DH and I did every time Alabama scored last week in the Arkansas game.  We can be pretty ridiculous, but I was super happy that he used my fan.
In this post, I'm using the Cricut Cartridge Sports Mania cartridge.  All Sports is another good Cricut sports cartridge and both have footballs.
This is part of the file I created in the post I made Monday.  I'm using the "A" I used for my car vinyl to decorate my football fans.  I made 3 fans and cut them out at about 6″.  I cut 3 solid white shapes (for the middle), 3 solid brown shapes (for the back) and 3 of the shapes that make it look like an actual football.
I used the Cuttlebug Mesh Texture folder in my Big Shot to give the footballs that bumpy texture.
Curious about the difference between the Big Shot & the Cuttlebug?  I have a video comparing them.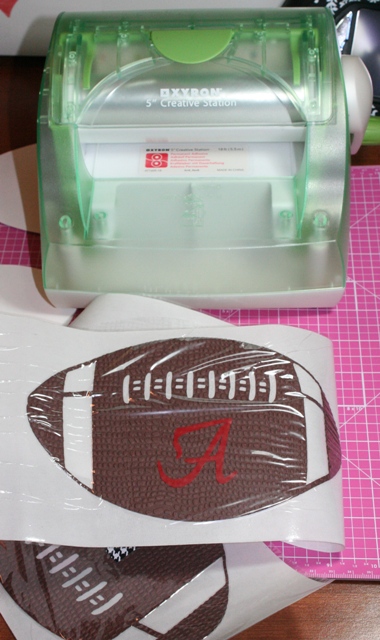 I used my Xyron Creative Station to quickly glue the back of each football.  Then I stuck them to the white background that I'd already cut.  Certainly you can use other adhesives, but this was quick and easy.
I bought these craft sticks (tongue depressors, popsicle sticks, whatever you want to call them) at Hobby Lobby.  I used Zip Dry Paper Glue to help me glue these sticks between the layers of the fan.  It worked great to seal both the paper and the sticks!
You can make soccer fans, basketball fans, etc. Since this is Football Friday I made FOOTBALL FANS! I hope you enjoyed this weeks Football Friday. I'll have a new edition of Football Friday … guess when? LOL! Who shouted next Friday? You, in the back! That's right! 😉
Don't miss the BLOG HOP tomorrow celebrating World Cardmaking Day!  See you here to start!