Heat Transfer Vinyl Blog Blog Blog T Shirt – Cricut Expression 2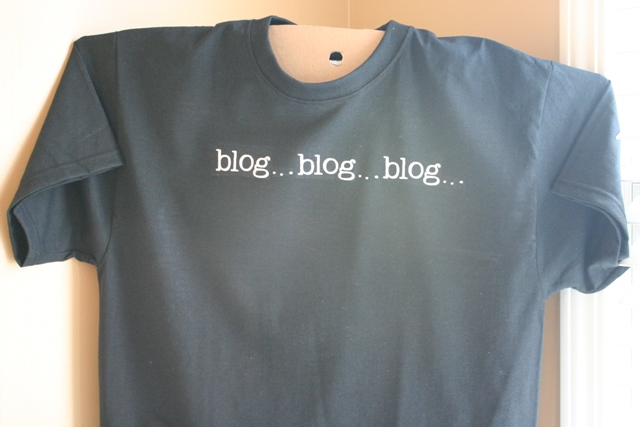 My version of "blah…blah…blah…". LOL!
I love my new blog…blog…blog… t-shirt. I woke up early one morning and was able to design this before everyone rolled out of bed. It was nice to debut my new shirt around the breakfast table. I did have to keep asking everyone what they thought of it because when I look at it in the mirror it says, "gold…gold…gold…". (Stay gold, Ponyboy. Is this a good time to mention I got S.E. Hinton to sign my copy of the Outsiders? I treasure that!)
And now…back to Heat Transfer Vinyl T Shirts…already in progress…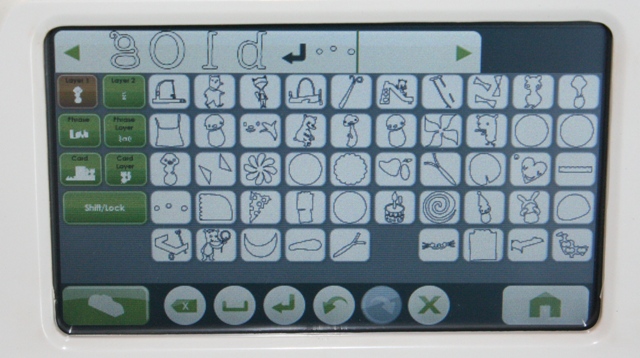 Cricut Expression 2 Screen – The dots come from the "Just a Note" pre-loaded cartridge.
In this project I'm using my Cricut Expression 2, but you DO NOT NEED to own a CE2 to use vinyl. You can use a variety of die cutting machines!
When cutting heat transfer vinyl, you need to remember to type everything backwards and flip it too.
That's why the screen above reads "gold", that's "blog" flipped and backwards.  The crooked arrow is a "return" key.  I added that in because I wanted the dots to be cut out below the word blog.  You might want to ask why I didn't just cut everything out in a straight line, right?  Well, that's because I was using scrap piece of vinyl and I didn't have enough white heat transfer vinyl to cut everything out in one line.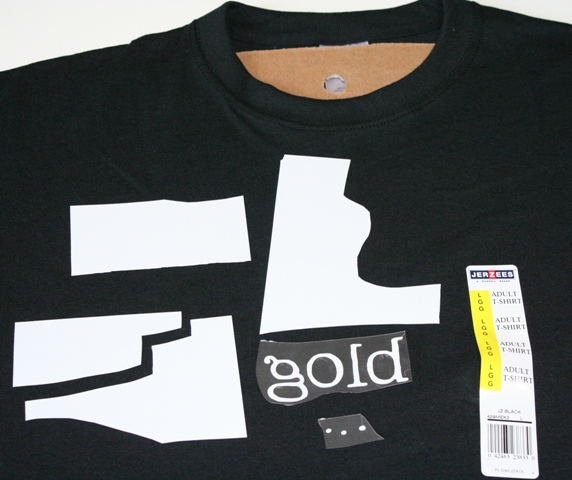 You can buy t-shirts at craft stores, Walmart, Target, etc.
See all those scrap pieces I have? I placed those on my mat and fit the word "blog" and the dots wherever I could.
If you don't flip and type your words backwards, you'll end up with the word being cut the wrong way once you're ready to iron it to your shirt. So, instead of having "blog" I would have "gold" as shown above.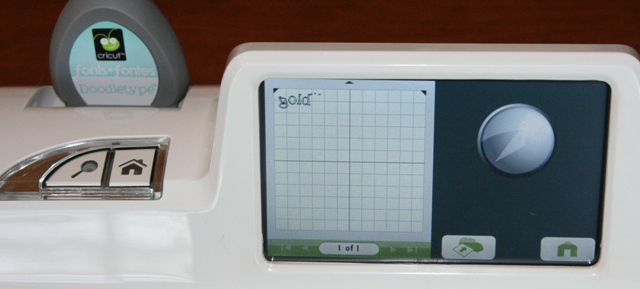 The screen shows how and where the word and dots will cut on the mat.
I'm sensing a question from some of you.  Is it, "Why are you using the Doodletype cartridge when the CE2 comes preloaded with the American Alphabet cartridge and they look JUST ALIKE?"  I knew it.  I KNEW you'd ask me that.  Well, they may look a lot alike, but they don't look JUST ALIKE.  I just had to have the Doodletype cartridge.  I actually bought it AFTER I got my CE2.  The Doodletype cartridge had the exact letter look that I wanted, plus I bought it for $15, so I'm trying to tell myself that it wasn't a totally dumb purchase. 😉  Let me instead use this as a lesson to tell you that …
you really don't have to own every last Cricut cartridge.
Well, if you want to, that's fine and you'll be in good company.  However, if you'll take a look at the cartridges
you may find that some of the contents are repeated in other places.
To create this shirt, I used the Doodletype Cricut cartridge as well as the dots from the CE2's pre-loaded Just a Note cartridge.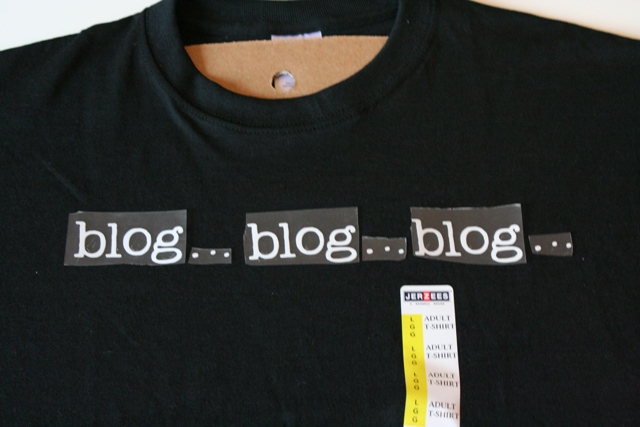 Creating this shirt would have been MUCH easier if I had used a single sheet of white heat transfer vinyl, but because I was using scraps I had to line each word and group of dots up just right.  My hint?  Use a giant clear ruler like the ones used in sewing.
What I have found about cutting vinyl with the CE2's preset vinyl settings: Their settings are wrong. They will cut the vinyl, but they will not perform (in my experience) the kiss cut settings needed for easily working with vinyl. Luckily, you can add in your own settings so you're not stuck with theirs. In my Cricut Vinylology DVD, I teach the settings for both regular and heat transfer vinyl.

After ironing, I have a shirt ready-to-wear with my sense of humor on the front. It's fun to use vinyl to create things that are unique and specific to your humor, likes and interests or those of the person receiving your creation.
Would you like to know more about using vinyl? It's a great way to express your creativity. Here's a whole DVD to teach you everything you need to know!
In this 2 Disc DVD, you'll get 3+ hours of instruction! You will learn all about Transfer Tape and kinds of Vinyl, Weeding, Embossing Vinyl, Glass Etching with Vinyl, Layering Vinyl, Creating Vinyl Magnets, Using Heat Transfer Vinyl, Car Vinyl, Wall Vinyl, Removing Vinyl, plus other techniques and projects.
You can buy the Cricut Vinylology DVD on my Products Page.
Have a Crafty Day!!