Joy's Life Cricut Vinylology – NOW SHIPPING
THANK YOU for the AMAZING RESPONSE to Cricut Vinylology! We're already into the 2nd manufacturing run! I'm so excited about this DVD and look forward to hearing what you think! 🙂 THANK YOU ALL!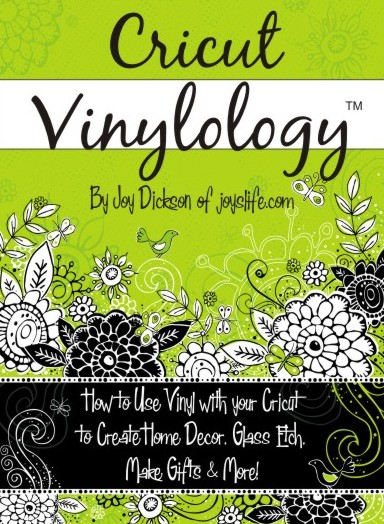 I've got some GREAT NEWS!! My Cricut Vinylology DVD is scheduled to begin shipping this coming Saturday TODAY!! AND…(but wait, there's more)…it is TWO DISCS of projects and information and over 3 hours of content!! You're going to SUPER LOVE IT!!
Here are some of the things you're going to learn to do:
Apply Vinyl to the Inside and Outside of Windows (like your house OR car!!)
Create Vinyl Wall Decor
Give Vinyl TEXTURE
Glass Etch
Create T-Shirts, AMAZING Glass Block Design, Magnets AND MORE!!
REUSE Vinyl
Layer Vinyl
Learn about different kinds of Vinyl AND Transfer Tape
Learn both Wet AND Dry Vinyl Application
In my DVD's You'll Learn Techniques to help YOU Release YOUR Vinyl Creativity!!
Wow…I'm out of breath just saying all of it! 😉
Click Here to Go to My Products Page so you can order yours!!