Silhouette SD Moroccan Treat Box
The stamps are from my Mother & Daughter and You're So Punny stamp sets.
I have to say, I was AMAZED that the Silhouette could cut out this incredibly intricate pattern. It's so cool! I made this for DH's Mom. 😉 Look below to see the pattern laid out.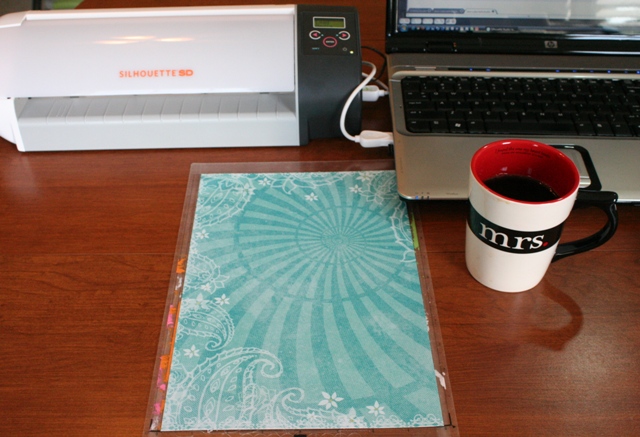 Isn't that coffee mug cute?  My SIL gave it to me along with a Mr. mug for DH.  We drink out of them a lot.
The Silhouette must be used with a computer to make it work. The software that comes with it is excellent and easy to use. I think this paper is PRETTY! I just bought it at Michael's a few days ago. It's "Abrianna" by K&Co. Next, I'll feed the paper into the Silhouette for cutting.
This is a screen shot from the Silhouette during its cutting time. I downloaded that cool pattern from the Silhouette site for .99.
After the Silhouette finished cutting, I removed the paper from the mat.  You can use any kind of scraper you have to clean all the bits off the mat.
Even though the Silhouette SD makes score lines, I thought it would help if I used the Scor-Pal
to help me score those marks even more.  With a project as detailed and fragile as this one I didn't want to bend or fold the wrong parts because it might interfere with the stability of the piece.  If you don't have a Scor-Pal or a paper trimmer with a scoring blade like the Fiskars Paper Trimmer then you might want to try the much loved Martha Stewart Scoring Board.
I used the "Mom" stamp from my Mother & Daughter stamp set to personalize the "You are a Treasure" set from my You're So Punny stamp set.  I used the Zutter Round-it-All Corner Tool
to…go on guess…yep, round the corners.  Remember when I bought that Sew Easy tool?  Click HERE to see the video I made about it.  Well, that's some of the thread from it.  I used it to make a bow on the tag. 😉
I used white tulle to wrap this candy.  I stuck a flower to the top using a 3D Zot .
Ok, how perfect is that stamp I used now that you know the candy is called Treasures?  I'm so pleased with myself.  LOL! 😉
Here's the finished back.
Here's a close up of the bow and stamp.
Time for a Super Joy loves her Super Friends Giveaway!!
The 14th of every month is Super Joy loves her Super Friends Day which always means … GIVEAWAY! It's my way of thanking you for being here. 😉 Today I'm giving away a Paisley Cricut Cartridge.
Just leave a comment and I'll post the winner on this post Thursday, May 26. GOOD LUCK!! 😀
AND THE WINNER IS…
mimicaro Says:
May 14th, 2011 at 5:53 AM e
WOW!!! What a beautiful box. I love the paper you used. Don't have the Paisley cart. Thanks for a chance to win one
Have a Great Day!