Summer Tea Party with David Tutera Casual Elegance Products
I had the most fun creating this simple summer tea party using David Tutera Casual Elegance products.  They make creating a special occasion, faster, easier and more lovely.  I love how the line is rustic but still elegant.
I used a large Mason jar decorated with David Tutera Lace Jar Wrap and Burlap Ribbon to hold some mint from my garden for the tea I served.  The mint makes a great centerpiece as it smells great and can go right into the tea.  The sign was created using David Tutera Chalkboard Stakes, Butterfly Accent and Burlap Flower.  I wrote directly on the sign using chalk.  This centerpiece was such a hit that my family later requested I refill it with mint and put it on our mantel.  It looks great there too!
I made Mason jar "wine glasses" for this tea party.  It's as easy as store bought pie!  You've seen me do something similar when I made cupcake stands and hurricane lamps.  I bought the candlesticks at the Dollar Store and glued them to the bottom of the Mason jars using E-6000 glue.  It's easy and perfect for a casual Southern tea party.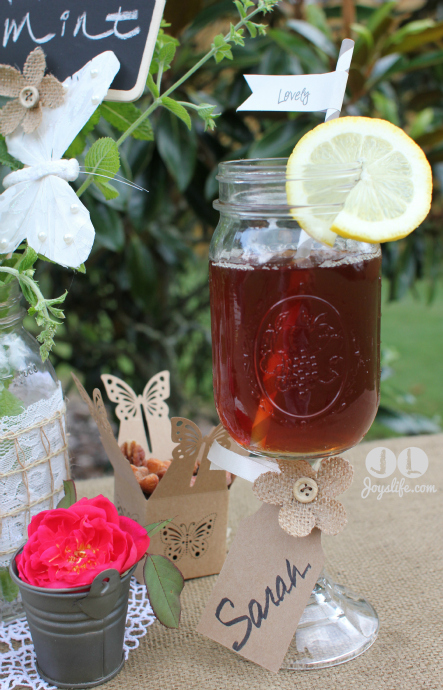 Next I added David Tutera Paper Straws, Tags, Printable Flag Labels and Burlap Flowers to the glasses.
I like to create name tags for glasses so everyone knows which glass is theirs.  You can add personalized details to this line of products and have the look of handmade.
I used the David Tutera Metal Buckets to hold roses from my garden.  The bucket is sitting on a doily from the same line.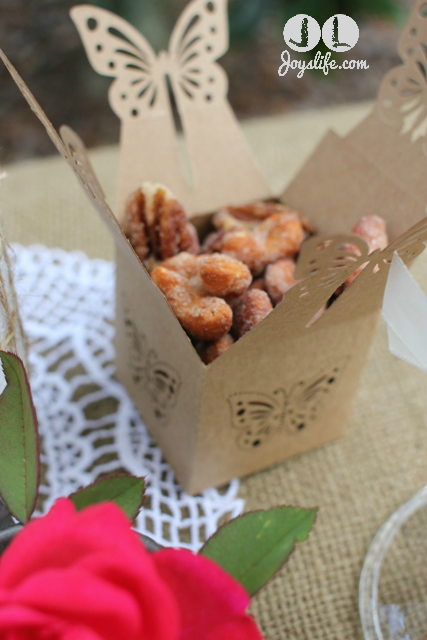 I added some sugar coated assorted nuts to that pretty Butterfly Favor Box.  This is lovely on a table and perfect to send home with guests filled with tiny treats.
I wove some David Tutera Hemp Cord and a Burlap Flower through one of those precious David Tutera Mini Wood Baskets.  I added a white cupcake liner to the basket and filled it with sugar cubes for the tea.
Here's another of the printable tags I used to make the flags for the straws.  I printed words like "sweet" and "lovely" to go on the straws.  I thought it would be nice to add happy words to the flags.
Have a super sweet day!