Joy's 1st Scrapbook Layout EVER – Cricut Country Life
It's very hard to take a photo of both pages at once…another thing to learn! 😉
I was asked by a friend to do a scrapbook layout for a challenge that she hosts. I've been asked to do scrapbook layouts before, but I never have. I didn't think scrapbooking was for me. Well, I tried it…and I LIKE IT! 😀 Remember, this is the first layout I've ever done. I know I have a lot to learn. I do like that as opposed to making a card, which tells a very small story, a scrapbook page can tell a much larger story. You have so much more room to be creative. Something I'll be working on? Planning the page and using different shapes. On this L/O, I cut first and planned later (like the last minute). (Good grief.) I'm crazy like that. 😉
Joy, why use the Country Life cartridge? Do you live in the Country?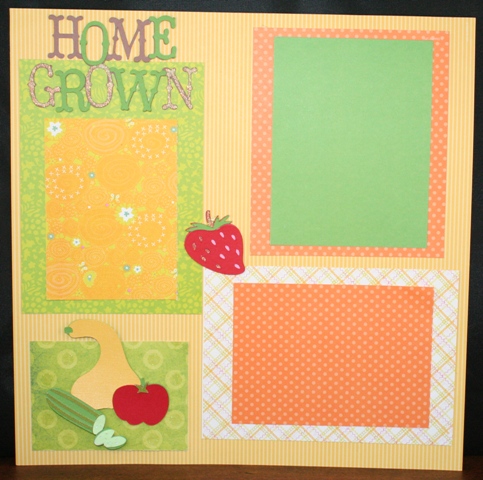 Page One (Left Side)
Nope. I'm a city girl…well, a suburbs girl. I live about 45 minutes north of Atlanta, GA. I LOVE the city. My top four favorite cities are (in order) New York, Washington D.C., Atlanta and Boston. So why the Country Life theme? Ah HA! That's because DH (dear husband) and my 3 Super Babies are helping create a garden in our backyard. We had a small one last year and this year we are expanding. DH is also teaching the boys (one of whom is almost 6 feet tall already…still my baby) how to pour a concrete pad so we can extend our patio. I stay very busy during all that so I don't have to A: worry or B: help (LOL).
Page 2 (Right Side)
I know that scrapbook pages typically have journaling and photos in them, but I'll have to add those later. 😉 Also, I don't have many photos of my family on my blog because I feel weird about putting them up here. I respect their privacy, but sometimes I'd like to share more of them with you. They're all super cute. They look like hearts (in '09) or a PEEP (a few days ago) though. Here's a beary sweet family photo.
ABOUT THE PAGES…
I mostly used Stampin Up and K&Co paper and I just about WORE OUT MY XYRONS!! Check this out:
Yep. I Xyroned everything I could. I used my Xyron 510 Creative Station
for the big pieces and the Xyron 150 "X"
for all of the little things. I also used the Country Life Cricut cartridge
.
I used my Baby Bug (Cricut Personal) for this whole Layout!
Want to know the difference between the Cricut Personal, Cricut Create, Cricut Expression and Cricut Imagine? Click HERE for my post about the differences in those machines. Soon there will be a new Cricut released. It's the Cricut Expression 2.
I decided to use the Baby Bug because I wanted to sit in my bedroom and watch TV. I sat in a recliner and pulled a small side table in front of me. I was able to put the Cricut Personal on it and create my whole page. WANNA SEE?
What's on my shelf? Movies and light bulbs. Yes, I agree. That is a weird combo. Yes, I do need to organize it. LOL!
The Baby Bug is a good machine to take to crops because it is small. I will say that I was a bit irritated when I tried to make a tree bigger than 5 1/2 and I couldn't. Hey, everything has it's limitations. Size and the lack of extra functions is the drawback of the Baby Bug compared to the Expression, but I couldn't work on a tiny table with the Expression. 😉 I ended up not even using the tree, but it sure was cute. I'll show you…
Isn't that tree pretty? I love it! Too bad it didn't fit when I was done. Well, that goes back to my scrapbook layout inexperience. I'll figure it out. It just might take me a while. 😉
I hope you enjoyed my post! I gave my teenage daughter this Baby Bug and the same day I also took it back and made this layout. Nice, Mom. LOL! I'm giving it back, don't worry! I want to show you soon what she made with it. She'd never used a Cricut before and I only gave her a few pointers. She blew me away with her first time out creation. 😉
HAVE A GREAT DAY!!!