How To Make a 2 Liter Bottle with Gifts Inside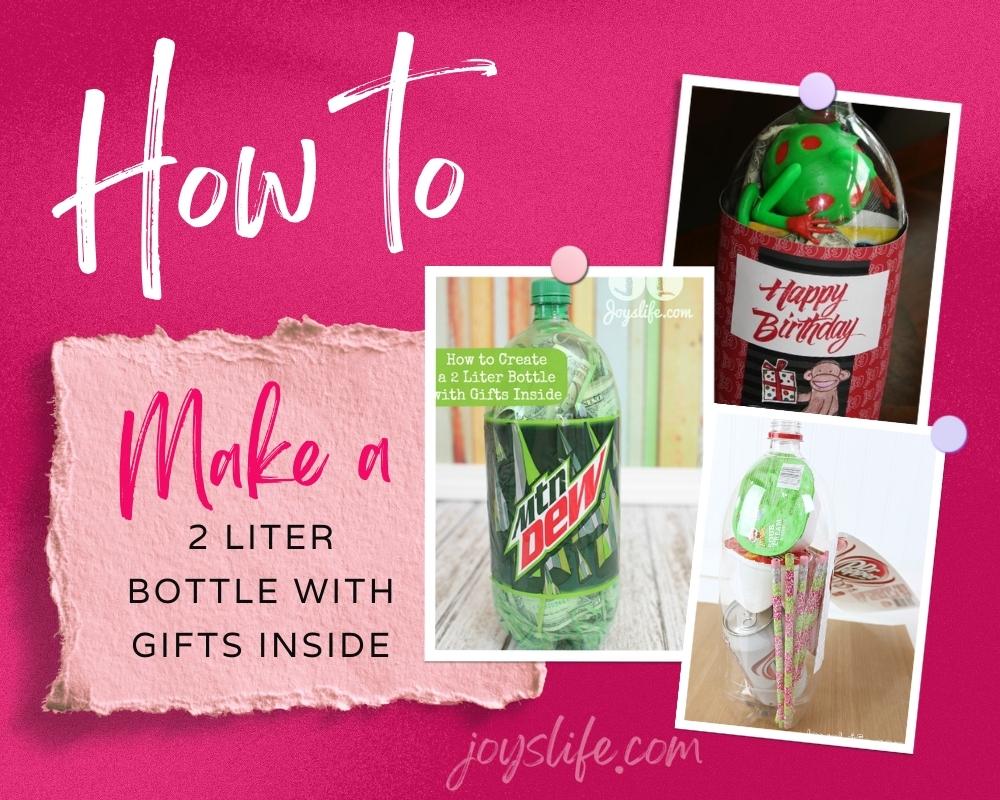 Links + Video at the bottom of this post for more help!
I confused children and adults alike with this project!
This was a gift for my nephew. He was really happy when he figured out how to get inside, so he could get to the cash. IDK what he bought with the money, but it was around the time that he bought rocks you could slam together and they'd make a spark and a jaw breaker that wouldn't quite fit in his mouth. An excellent choice for spending, I think.
Here's what You'll Need:
2 or 3 liter Soda Bottle
Scissors, knife or hot knife
Steps to Make a 2 liter bottle with Gifts Inside:
STEP ONE: Well, it's actually pretty easy!  You take an empty 2 (or 3) liter soda bottle and take the label off of it.
STEP TWO: You cut a sideways "U" shape out of the side (Also known as the letter "C" but needs to be deeper like a sideways "U".)
STEP THREE: Then you cram all the things in there that you can think of.
STEP FOUR: Seal the "U" closed.
I used clear packing tape, which was awesome because even when my nephew took off the label I made, he still couldn't find the opening because I'd sealed it so well.  ha ha ha ha ha ha ha heee heee hee (Sorry, it's been months and I'm still laughing about that.)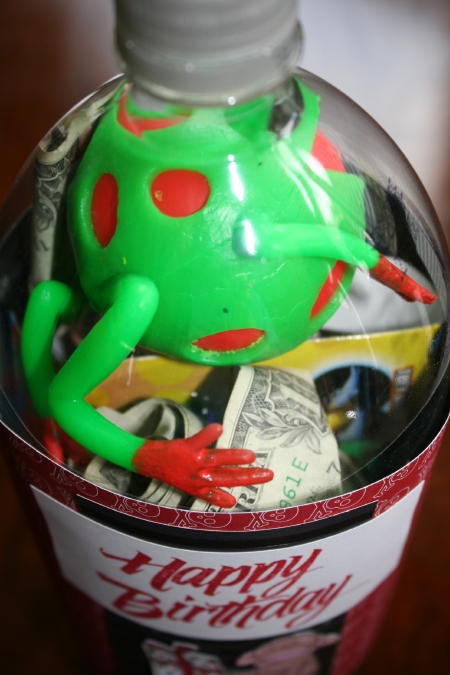 Label Covers the Hole
I used scrapbook paper, but you could use any kind at all.
Everyone was amazed with this gift. It was really fun making it and giving it to him. Before he even opened it, the adults kept asking me how to get into it. It was pretty funny.
That adorable sock monkey and the gift he holds come from a Stampin' Up stamp sets called "Sock Monkey" and "Sock Monkey Accessories".
This is a fun way to give a gift!! I should know…I've made a bunch!
More 2 liter gift bottle posts and video!
Now Go Trap Someone's Gift in a Bottle!