Featured Designer – Cricut Create a Critter Snake in Cupcake Card Using Lots of Pun Stamp Set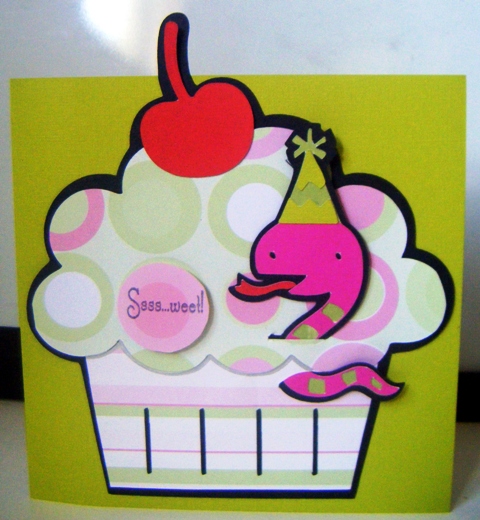 Joy's Life Featured Designer – Super Holly
The snake in the party hat cracks me up, but now he's in a cupcake.  Hilarious!!  He can hang out with me at any party.  🙂  Holly sure made this card fun using the "Ssss…weet!" stamp from my "Lots of Pun" stamp set!  So cute Holly!!  Thanks for creating this!
Here's What Holly Had to Say:
Can I tell you how excited I am about these stamps?   I'm absolutely In love with them!
I hope you like this slithery card! :) I will be creating another very shortly I'm sure!  So much fun!!! :)
Here's What Holly Used:
Joy's Life Lots of Pun "Ssss…weet" Stamp
Card Size – 5 ½ " x 5 ½"
Provo – craft Rainbow Card stock
Pattern Paper – Paperbilities Smitten stack
Create a critter Cartridge – cupcake and snake
Gypsy (to hide the cupcake eyes and create my layout)
Thank You Holly!!